FLORIDA STATE vs. UCLA
ESPN'S TAKE
Normally, one expects the offenses to be shaky after a long layoff before bowl games. However, in this case both defenses were rusty (both are normally pretty good). Florida State and UCLA both gave up several big plays -- long runs and long passes. At times, they made two average quarterbacks (Patrick Cowan and Drew Weatherford) look stellar with blown assigments, blown coverages and missed tackles. But in the end, FSU's Tony Carter made the play of the game with his pick six when UCLA appeared to be about to cut FSU's lead to three late in the 4th quarter. In the end, defense finally showed up.
-- Rod Gilmore


BOWL TRAVEL GUIDE
Plan a trip to your favorite team's big game with ESPN SportsTravel's Bowl Travel Guide.

Fantasy
Here's your chance to be the expert and pick the Bowl winners. Create your FREE entry and compete for a chance to win a home theater system.
College Bowl Mania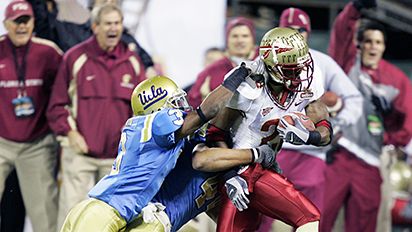 (AP Photo/Marcio Jose Sanchez)
Emerald Style
If FSU had finished all season the way it did against UCLA, the Emerald Bowl may not have been the last game for OC Jeff Bowden. Either way, a 31-point second half gave the 'Noles a 44-27 victory and a winning record for the 30th straight season.
Story
•
Highlights

| GamePlan Online:
Watch the Emerald Bowl
EMERALD BOWL OVERVIEW
It was over when ...
---
Tony Carter picked off UCLA QB Patrick Cowan and returned it 86 yards for a TD to give FSU a 44-27 lead late in the fourth quarter.

Game ball goes to ...

---
FSU RB Lorenzo Booker. The California native ran for 91 yards, caught five passes for 117 more and scored two touchdowns.

Stat of the game ...

---
1-1. The Seminoles and outgoing offensive coordinator Jeff Bowden converted their only fourth-down conversion, a 30-yard TD to Greg Carr on fourth-and-9 that put FSU up for good (30-27) in the fourth quarter.


SIMULATIONS FROM ACCUSCORE
Click here for individual projected statistics.