WEST VIRGINIA vs. GEORGIA TECH
ESPN'S TAKE
West Virginia QB Pat White stole the show in the second half, directing the offense to an 18-point comeback without one of the Mountaineer's biggest threats -- running back Steve Slaton. White did a great job of making plays, and the offensive line did their job protecting him and opening up holes. White gives coach Rich Rodriguez another running back; he is explosive, very tough and can take on defenders. He carried this team on his back -- and his legs -- and proved he is the true MVP of this team.

Georgia Tech junior receiver Calvin Johnson had one of the best game of his career, thanks to the play of left-handed sophomore QB Taylor Bennett. Bennett, who was filling in for the suspended Reggie Ball, completed 19-of-29 passes (a better completion percentage than Ball) for 326 yards, three touchdowns and one interception. More importantly, Bennett was able to get Johnson involved early and often. This should have been happening in every game this season. It is mind-boggling that Johnson, who most likely will jump to the NFL next season, wasn't catching eight to 12 passes on average all season. -- Mel Kiper


BOWL TRAVEL GUIDE
Plan a trip to your favorite team's big game with ESPN SportsTravel's Bowl Travel Guide.

Fantasy
Here's your chance to be the expert and pick the Bowl winners. Create your FREE entry and compete for a chance to win a home theater system.
College Bowl Mania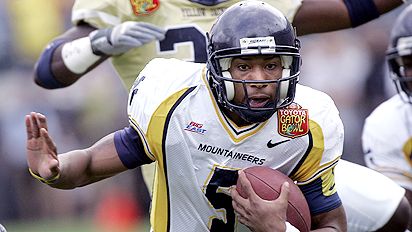 (AP Photo/Phil Coale)
White Knight
Down 35-17 and missing star running back Steve Slaton, no one would have faulted Pat White and West Virginia for quitting. But a third-quarter surge -- fueled by White's two touchdown passes and a run for another score -- helped the Mountaineers get past a tough Georgia Tech squad.
Story
GATOR BOWL OVERVIEW
It was over when ...
---
Pat White said it was over. The sophomore sensation was quarterback, running back and coach in West Virginia's 38-35 defeat of Georgia Tech.

Game ball goes to ...

---
White. Without teammate Steve Slaton to carry some of the weight, White took over, completing 9-of-15 passes for 131 yards and two TDs and running for another 145 yards and a score. Kudos also go to Georgia Tech's Taylor Bennett, who tossed three TDs while filling in for the academically ineligible Reggie Ball, and receiver Calvin Johnson, who caught nine passes for 186 yards and two TDs.

Stat of the game ...

---
132, 143. Pat White rushed for 143 yards -- 11 more than he passed for. White is known as a running quarterback, but this was just the fourth time this season that he has passed for less yards than he gained on the ground.


SIMULATIONS FROM ACCUSCORE
Click here for individual projected statistics.