ARIZONA STATE vs. HAWAII
ESPN'S TAKE
Jerry Glanville's impact as the Hawaii's defensive coordinator was evident once again in the Hawaii Bowl. The Warriors held Arizona State to just 10 points through three quarters and QB Rudy Carpenter finished the game completing only 50 percent of his throws. However, the story of the game was Hawaii QB Colt Brennan, who threw for 559 yards and five touchdowns in the 41-24 win over Arizona State. In the process, Brennan set the NCAA Division I single-season record for touchdown passes with 58. The previous record of 54 was set by David Klingler (Houston) in 1990. Should he decide to forgo the 2007 NFL draft, Brennan will have one more season within coach June Jones' scheme to rewrite the record books at Hawaii. It also helps that three of Brennan's top receivers (Davonne Bess, Jason Rivers and Ryan Grice-Mullen) will be back in 2007, which puts next year's team in position to eclipse the school-mark for victories (11) that it tied this season. Bess had the best production on the season, but Rivers was the most outstanding receiver in the Hawaii Bowl. The junior finished with 308 receiving yards and two touchdown catches against ASU's hapless defensive secondary. Unfortunately for Sun Devil fans this was a fitting ending to a disappointing season (7-6). ASU was unable to send lame-duck coach Dirk Koetter out with a victory. It will be up to newly hired Dennis Erickson to restore confidence in a program that continues to come close but can't seem to turn the corner as one of the upper-echelon teams in the Pac-10. -- Todd McShay


BOWL TRAVEL GUIDE
Plan a trip to your favorite team's big game with ESPN SportsTravel's Bowl Travel Guide.

Fantasy
Here's your chance to be the expert and pick the Bowl winners. Create your FREE entry and compete for a chance to win a home theater system.
College Bowl Mania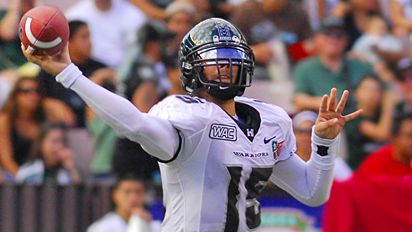 (Ronen Zilberman/AP Photo)
Hang Loose
Budding star Colt Brennan and Hawaii's No. 1 run-and-shoot passing offense wore down Arizona St. in a 41-24 victory. Brennan's five TDs made him the NCAA Division I touchdown king.
Story
|

HAWAII BOWL OVERVIEW
It Was Over When...
---
Hawaii quarterback Colt Brennan threw his 57th touchdown of the year, a 21-yard toss, to Davone Bess with a little over five minutes remaining in the game after ASU had scored 14 unanswered points to give Hawaii a 34-24 lead.

Game Ball Goes To...

---
Colt Brennan. The touchdown sultan performed up to his billing, throwing for 559 yards and etching his name into the NCAA record books.

Stat of the Game...

---
308. Someone had to play pitch-and-catch with Brennan, and the one who had the most fun was Jason Rivers. The Hawaii Bowl co-MVP finished with 14 catches for 308 receiving yards, including a 79-yard touchdown late in the fourth quarter to put the icing on the cake.


SIMULATIONS FROM ACCUSCORE
Click here for individual projected statistics.