WESTERN MICHIGAN VS. CINCINNATI
ESPN'S TAKE
Cincinnati jumped out to a 24-0 lead just five minutes into the second quarter. It looked like an early blowout but Western Michigan showed resolve scoring 17 unanswered points in the second quarter and then tying the game at 24 points a piece in the fourth quarter.

The Broncos' blitz-crazy defense gave QB Nick Davila fits for the majority of the final three quarters and RB Brandon West diced up the Bearcats defense for 111 yards on the ground. But despite scoring just three points in the game's final 40 minutes, the Bearcats were able to hold on for the win in the inaugural International Bowl. The victory was Brian Kelly's first as head coach of Cincinnati and his second of the season versus Western Michigan. Kelly was hired prior to the bowl game after leading Central Michigan to a MAC title with a 7-1 record in conference, which included a 31-7 win over Western Michigan on Nov. 10.

Davila had a decent showing in just his second career start, throwing for 220 yards with two touchdowns but also two interceptions. The one-two punch of RBs Butler Benton and Greg Moore, which combined for 120 rushing yards, proved to be the biggest difference for Cincinnati down the stretch.
-- Todd McShay


BOWL TRAVEL GUIDE
Plan a trip to your favorite team's big game with ESPN SportsTravel's Bowl Travel Guide.

Fantasy
Here's your chance to be the expert and pick the Bowl winners. Create your FREE entry and compete for a chance to win a home theater system.
College Bowl Mania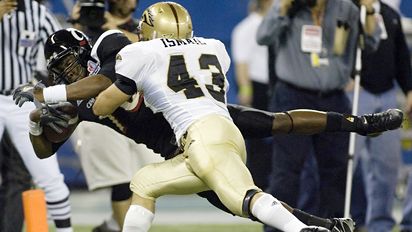 (AP Photo/Adrian Wyld)
Canadian Bear
Cincinnati jumped out to a 24-0 lead Saturday only to watch Western Michigan roar all the way back to tie it. But the Bearcats would connect on a 33-yard field goal while the Broncos missed a 51-yard attempt with 1:21 left as Cincy won 27-24.
Recap
INTERNATIONAL BOWL OVERVIEW
It was over when ...
---
Western Michigan kicker Nate Meyer missed a 51-yard field with 1:21 left in the game that would have tied the contest.

Game ball goes to ...

---
Dominick Goodman. The Cincy receiver caught seven passes for 109 yards and two touchdown.

Stat of the game ...

---
1. Cincinnati's win was the first the first bowl game played in Canada and first held outside the United States since 1937.


SIMULATIONS FROM ACCUSCORE
Click here for individual projected statistics.