BYU vs. OREGON
ESPN'S TAKE
This was a classic example of how motivation and momentum often times trump talent in bowl games. Oregon's roster is loaded with bigger, faster and stronger athletes, but BYU was the better team. This was supposed to be a track meet between two of the nation's top-20 scoring offenses. Both teams stumbled out of the blocks but at least BYU held up its end of the bargain. QB John Beck put a proper bow on his storied collegiate career, passing for 375 yards and two touchdowns for the Cougars. Now it's off to the NFL for Beck, who projects as a possible late first-day selection in April's draft. And matching up against Jonny Harline (6-foot-4, 240 pounds) proved to be a nightmare for the Ducks' defense. The senior tight end-wide receiver hybrid led both teams with nine receptions for 181 yards and a score. Oregon, on the other hand, continued to sputter offensively. Entering the game with a rotation at the quarterback position was a mistake in my opinion. Brady Leaf never found his rhythm as a passer and he's not mobile enough to properly operate Gary Crowton's balanced-spread scheme. Furthermore, bringing Dennis Dixon in off the bench did nothing to bolster the talented but erratic dual-threat quarterback.
-- Todd McShay


BOWL TRAVEL GUIDE
Plan a trip to your favorite team's big game with ESPN SportsTravel's Bowl Travel Guide.

Fantasy
Here's your chance to be the expert and pick the Bowl winners. Create your FREE entry and compete for a chance to win a home theater system.
College Bowl Mania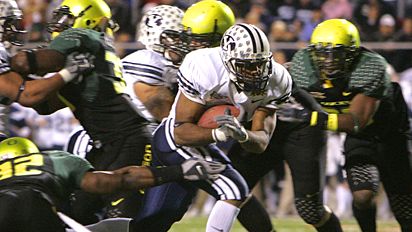 (R. Marsh Starks/AP Photo)
Thought Provoking
For anyone who doubted how good BYU was this season, the No. 19 Cougars sent a resounding message in their 38-8 win over Oregon in the Las Vegas Bowl. For BYU, it marked the 10th straight win this season and the first bowl win since the '96 season.
Story

LAS VEGAS BOWL OVERVIEW
It was over when ....
---
BYU TE Jonny Harline caught a 41-yard TD pass in the final minutes of the first half to give the Cougars a 17-0 lead.

Game ball goes to ...

---
John Beck. The BYU QB threw for 375 yards and two TDs -- and ran for one TD -- in leading a Cougars offense that racked up 550 total yards.

Stat of the game ...

---
120. Oregon's offense was limited to just 120 yards through three quarters. The Ducks managed to put up 140 total yards in the fourth quarter but it was too little, too late.




SIMULATIONS FROM ACCUSCORE
Click here for individual projected statistics.