SOUTH CAROLINA vs. HOUSTON
ESPN'S TAKE
It will be tough to match the tempo of this year's Liberty Bowl, which featured 68 passes attempted and 80 points in South Carolina's victory over Houston. This was classic Steve Spurrier football. South Carolina QB Blake Mitchell efficiently distributed the ball through the air for 323 yards with four touchdowns and just one interception. Star WR Sidney Rice provided the big plays with an average of 17.4 yards on his eight catches. And the Gamecocks were able to keep things balanced with strong efforts from RBs Cory Boyd and Mike Davis, who combined for 165 yards and two touchdowns on the ground.

Houston deserves lots of credit for its efforts, as well. Senior QB Kevin Kolb proved why he's a possible first-day pick in next April's NFL draft. He consistently used his mobility to avoid the rush and buy extra time in the pocket for his receivers to get open. Kolb also threw for 386 yards and three touchdowns in the final game of his record-setting career with the Cougars.

In the end, though, the two turnovers forced by DE Jordin Lindsey proved to be the difference in an exciting shootout between two freewheeling, offensive-minded programs. -- Todd McShay


BOWL TRAVEL GUIDE
Plan a trip to your favorite team's big game with ESPN SportsTravel's Bowl Travel Guide.

Fantasy
Here's your chance to be the expert and pick the Bowl winners. Create your FREE entry and compete for a chance to win a home theater system.
College Bowl Mania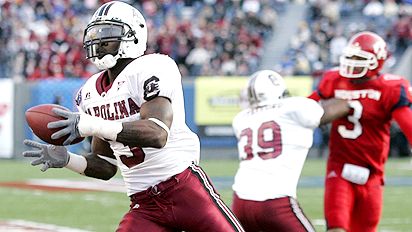 (AP Photo/Mary Ann Chastain)
Sweet Liberty
Memphis is known for the blues, but the South Carolina and Houston offenses treated the city to a different brand of music. Blake Mitchell tossed four touchdown passes to lead the Gamecocks to a wild 44-36 win in the Liberty Bowl win.
Story
LIBERTY BOWL OVERVIEW
It was over when ...
---
Houston's Vincent Marshall was tackled 32 yards from the end zone on the final play of the game.

Game ball goes to ...

---
South Carolina QB Blake Mitchell, who threw for 323 yards and tied a Liberty Bowl record with four TD passes.

Stat of the game ...

---
1,062, 80. The Gamecocks and Cougars combined for 1,062 yards of offense and 80 points.


SIMULATIONS FROM ACCUSCORE
Click here for individual projected statistics.