MIDDLE TENNESSEE VS. CENTRAL MICHIGAN
ESPN'S TAKE
Central Michigan's Dan LeFevour proved why he ranks with Texas' Colt McCoy among the top freshman quarterbacks in the country. LeFevour's passing and running sparked the Chippewas in the first half of the Motor City Bowl. Middle Tennessee had a difficult time adjusting to CMU's speed on offense in the first half and the Blue Raider offense couldn't handle the pressure applied by Dan Bazuin and the rest of the Chippewas' defensive front. The Blue Raiders did a good job keeping the ball away from the Chips in the second half, but their big edge in time of possession didn't translate into points on the scoreboard. Interim coach Jeff Quinn did a nice job for the Chippewas. CMU was prepared and played hard for him. It's always good to see a coach come through in a tough situation. -- Jim Donnan


BOWL TRAVEL GUIDE
Plan a trip to your favorite team's big game with ESPN SportsTravel's Bowl Travel Guide.

Fantasy
Here's your chance to be the expert and pick the Bowl winners. Create your FREE entry and compete for a chance to win a home theater system.
College Bowl Mania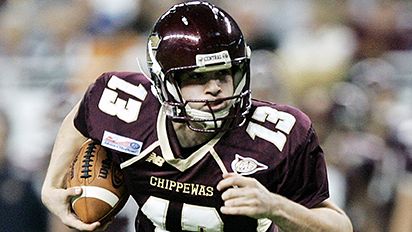 (AP Photo/Paul Sancya)
Pleasantville
Dan LeFevour sparked Central Michigan to a fast start to guarantee the Chippewas would have a pleasant ride back to Mount Pleasant. The freshman QB ran and passed the Chips to a first-half lead and the defense held off Middle Tennessee in CMU's 31-14 win.
Story
•
Highlights

| GamePlan Online:
Watch the Motor City Bowl
MOTOR CITY BOWL OVERVIEW
It was over when ...
---
Central Michigan's Doug Kress picked off Middle Tennessee QB Clint Marks early in the third quarter and returned it 56 yards for a touchdown to put the Chippewas up 28-7.

Game ball goes to ...

---
CMU quarterback Dan LeFevour, who set the tone early with his running and passing. The freshman finished the night with 156 yards and a TD though the air and 70 yards on the ground.

Stat of the game ...

---
2, 0. The stats were fairly even in the Motor City Bowl, but Blue Raiders turned the ball over twice, while the Chippewas didn't commit a turnover.


SIMULATIONS FROM ACCUSCORE
Click here for individual projected statistics.