MIAMI VS. NEVADA
ESPN'S TAKE
As was the case all year, Miami's defense was outstanding while the offense struggled. Nevada's "pistol offense" couldn't handle Miami's defensive line as QB Jeff Rowe was harassed most of the night. The only time Nevada had any success (one TD and four field goals) was when it moved the pocket to get Rowe away from the rush. But DB Chavez Grant made the play of the game by picking off Rowe's pass with less than 30 seconds to go and Nevada moving into position for a winning field goal.

The Miami offense struggled all night and could not run the ball. However, QB Kirby Freeman did come up with a couple of long TD passes of 78 and 52 yards off of broken plays/blown coverages.

Nevada head coach Chris Ault should regret his first-half decision to go for two points following the touchdown that put Nevada ahead 8-7. Nevada failed and, naturally, lost by one, 21-20. This is why coaches should never go for two early in the game. There's just too much game left to take those chances, as Nevada found out Sunday.
-- Rod Gilmore


BOWL TRAVEL GUIDE
Plan a trip to your favorite team's big game with ESPN SportsTravel's Bowl Travel Guide.

Fantasy
Here's your chance to be the expert and pick the Bowl winners. Create your FREE entry and compete for a chance to win a home theater system.
College Bowl Mania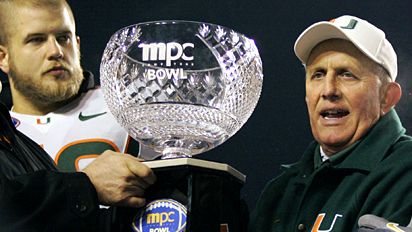 (Rick Scuteri-US Presswire )
Leaving On A High Note
Although Miami didn't live up to lofty expectations this season, quarterback Kirby Freeman and the Hurricanes helped send coach Larry Coker riding into the sunset with a 21-20 victory over Nevada in the MPC Computers Bowl on Sunday night.
Story
|
Watch

MPC BOWL OVERVIEW
It was over when...
---
Miami freshman Chavez Grant intercepted Nevada quarterback Jeff Rowe's pass with 18 seconds remaining in the game.

Game ball goes to...

---
Miami quarterback Kirby Freeman. He threw for 272 yards, two touchdown passes and rushed in for a score in the win.

Stat of the game...

---
78. Miami receiver Sam Shields caught a 78-yard touchdown from Freeman in the third quarter to give the Hurricanes a 21-14 lead.


SIMULATIONS FROM ACCUSCORE
Click here for individual projected statistics.