NOTRE DAME vs. LSU
ESPN'S TAKE
There was no surprise in this game. We've seen good teams blow out Notre Dame regularly in big games. In the last year, we've seen Ohio State, Michigan and USC do just that with speed and great quarterback play. Notre Dame lacks speed in the secondary and in its pass rush. We knew that LSU had superior speed and athleticism going into this game.

JaMarcus Russell was just the latest quarterback to exploit the Notre Dame defense. Russell threw the deep ball with accuracy and touch -- including two 58-yard bombs. Russell was easily the best quarterback on the field Wednesday night and is ready for the NFL.

Notre Dame's best offensive weapon was running back Darius Walker. Walker kept the game close in the first half with tough runs and catches. But the Irish didn't get nearly enough out of Brady Quinn (his ill-advised third quarter pick shifted momentum). Poor special teams play (missed field goal and a silly failed fake punt) also hurt Notre Dame.

Notre Dame simply has to have more speed if it's going to compete with the elite teams. We keep repeating that year after year. -- Rod Gilmore


BOWL TRAVEL GUIDE
Plan a trip to your favorite team's big game with ESPN SportsTravel's Bowl Travel Guide.

Fantasy
Here's your chance to be the expert and pick the Bowl winners. Create your FREE entry and compete for a chance to win a home theater system.
College Bowl Mania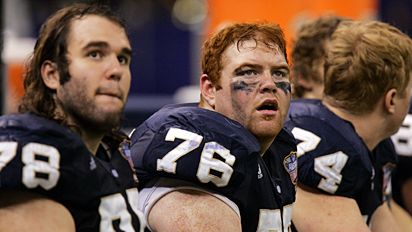 (Rogelio V. Solis/AP Photo)
Sweet And Low
LSU's 41-14 rout of Notre Dame in the Sugar Bowl showcased the Tigers' immense talent. But it also exposed what many have whispered for nearly two decades: Notre Dame no longer belongs among the nation's elite.
Mark Schlabach
SUGAR BOWL OVERVIEW
It was over when ...
---
LSU QB JaMarcus Russell regained the Tigers' lead in the second quarter on a 5-yard touchdown run. The score gave LSU momentum heading into the half and a lead the Tigers would never relinquish.

Game ball goes to ...

---
Russell. The signal-caller was unstoppable, completing 21 of 34 passes for 331 yards and two TDs. He also rushed for 19 more yards and a score.

Stat of the game ...

---
43. Brady Quinn completed just 43 percent of his passess -- a full 20 percent lower than his season average.


SIMULATIONS FROM ACCUSCORE
Click here for individual projected statistics.