ALLSTATE BCS CHAMPIONSHIP GAME
New Orleans - Jan. 7, 2008
FOX, 8 p.m. ET
What A Way To Geaux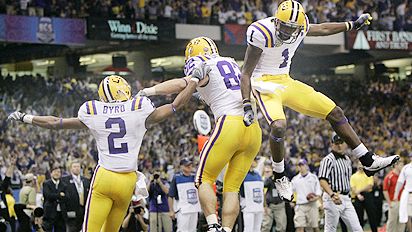 AP Photo/Charlie Riedel
LSU beat Ohio State 38-24 to win the BCS national championship.
It took till the last game of the season, but we finally found a fitting end to an unpredictable year -- the first two-loss BCS champ.
Ivan Maisel
•
Wojciechowski: Miles deserves a wa-hooo
|
Forde: Buckled Under
•
LSU takes title
...

|
Analysis
|
In-game blog
|
Rank the champs
•

Miles
|
Dorsey
|
Tressel
|
GameDay
|
Forde/Schlabach
Bowl Overview
It was over when...
LSU scored 31 answered points to turn a 10-0 deficit into a 21-point lead. From there is was a matter of running out the clock to end the season No. 1.
Gameball goes to...
Matt Flynn
. The LSU quarterback went 19-of-27 for 174 yards and 4 TDs in leading the Tigers to their second national title in the BCS era.
Stat of the game...
0-9
. With the second straight loss in the BCS title game, Ohio State fell to 0-9 all-time vs. the SEC in bowl games.
LSU vs. OHIO STATE
ESPN'S TAKE
In the early going, it was clear that Ohio State was much better prepared this year than it was a year ago. There's a phrase that's used a lot by coaches -- sort of a code word -- "ready to play." Ohio State was ready to play. LSU was not ready to play. Jim Tressel focused on two things: the long layoff, which his staff said was a big factor in last year's BCS game, and the disparity between OSU and the SEC in bowl games. Ohio State is now 0-9 in bowl games against the SEC -- not a reasonable stat when you consider the two leagues, the prestige and quality of athletes and coaches at Ohio State. The Buckeyes came out and out-hit LSU and knocked the Tigers off the ball. Todd Boeckman showed poise handling the ball, Chris Wells looked all-world every time he touched the ball and the offensive line took control with excellent pass protection. The defense for LSU was being manhandled.
But then there was a blocked field goal. Besides the obvious fact of losing three points, that kind of play can seem inconsequential at times. But after that, it was like the teams changed jerseys. Matt Flynn, once tentative, suddenly was confident. Boeckman made a very poor throw against man coverage that resulted in an interception. Then he got rattled and started holding the ball, taking sacks at times when he should have been getting rid of the ball.
There were two drives that ended up in LSU scores that were helped by personal fouls on Ohio State -- a total of 60 yards in penalties. Those foolish penalties were un-Tressel like.
Sloppy tackling is not what you expect out of the No. 1 defense in the country. Where was LB James Laurinaitis? He made a lot of tackles but they did not come at or behind the line of scrimmage.
From the middle of the third quarter on, Ohio State looked like an ordinary football team. It looked as if the score could have been much worse if LSU had decided to put the hammer down. When the Tigers wanted or needed to score, that's exactly what they did.
-- Bill Curry
Team Stat Comparison
1st Downs
25
17
Total Yards
326
353
Passing
174
208
Rushing
152
145
Penalties
4-36
7-83
3rd Down Conversions
11-18
3-13
4th Down Conversions
1-1
2-3
Turnovers
1
3
Possession
33:56
26:04
Fantasy
Here's your chance to be the expert and pick the Bowl winners. Create your FREE entry and compete for a chance to win a home theater system.
College Bowl Mania

Official Web site
For more information on the Allstate BCS National Championship Game please visit the official bowl Web site.

LSU Passing
C/ATT
YDS
TD
INT
M. Flynn
19/27
174
4
1
Ohio State Rushing
CAR
YDS
TD
LG
C. Wells
20
146
1
65