FEDEX ORANGE BOWL
Miami - Jan. 3, 2008
FOX, 8 p.m. ET
Soul To Squeeze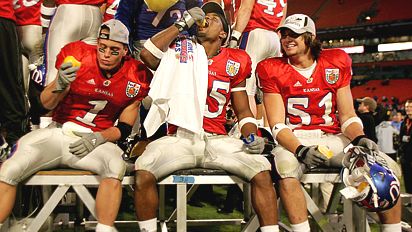 Marc Serota/Getty Images
There's nothing left to prove on the field for Kansas.
Kansas believed in itself all along. And now after its 24-21 win over Virginia Tech in the Orange Bowl, the Jayhawks proved to all the doubters that they belonged.
Heather Dinich
|
Recap
...

Bowl Overview
It was over when...
Kansas recovered an onside kick with three minutes remaining in the fourth quarter and proceeded to run out the clock with three first downs.
Gameball goes to...
Kansas defense
. Overlooked coming into the game, the Jayhawks defense forced three turnovers that led to 17 Kansas points, including the game's first seven on Aqib Talib's 60-yard interception return for a TD.
Stat of the game...
5
. After totaling just 21 sacks during the regular season (80th in nation), the Jayhawks had five against Virginia Tech, including four in the first quarter.
VIRGINIA TECH vs. KANSAS
ESPN'S TAKE

First off, give credit to Kansas. A lot of people questioned whether KU really deserved to be in the Orange Bowl and the Jayhawks came out and answered that. With that said, I don't think it was a particularly well-played game.
Kansas beat Virginia Tech at its own game. Kansas played great defense by creating interceptions that led to points, and it beat VT in special teams game, blocking a kick and faking a punt where the Hokies were outschemed. Kansas also recovered an onside kick and had great punting. The Jayhawks punter may have been the MVP.
I was a little bit surprised, particularly early in the game, that the Hokies came out and really threw the ball as much as they did. Maybe that was because RB Brandon Ore was suspended for the opening quarter. I'm not a big fan of alternating QBs. Tyrod Taylor has an interception returned for a TD and then VT continues to throw it. The Hokies had a hard time protecting the quarterback.
In the second half, VT really returned to Beamer Ball. The Hokies ran the ball a little better, and they had the reverse on the punt return for a touchdown, but that was just a brief spurt there. I'm surprised they didn't run the football a little bit more. Credit to the VT defense for playing well. Kansas didn't particularly win the game on offense, they won it with defense and special teams.
I think something that this game confirmed to me even more is that is really comes down to the quarterback in college football. Todd Reesing wasn't the reason KU won the game, but he's probably the reason that they had such an outstanding season. And when you look at VT, I don't the Hokies were ever solidified all season -- or in this game -- at quarterback.
A big win for Kansas. The Jayhawks proved they belonged, but I think Virginia Tech leaves this game kicking itself because the Hokies did not give their best effort tonight.
-- Bob Davie
Team Stat Comparison
1st Downs
19
20
Total Yards
344
306
Passing
249
171
Rushing
95
135
Penalties
5-70
4-27
3rd Down Conversions
6-17
7-17
4th Down Conversions
2-3
1-1
Turnovers
1
3
Possession
30:17
29:43
Fantasy
Here's your chance to be the expert and pick the Bowl winners. Create your FREE entry and compete for a chance to win a home theater system.
College Bowl Mania

Virginia Tech Passing
C/ATT
YDS
TD
INT
S. Glennon
13/28
160
1
2
Virginia Tech Rushing
CAR
YDS
TD
LG
B. Ore
23
116
1
14
Virginia Tech Receiving
REC
YDS
TD
LG
J. Harper
4
64
1
24