ROSE BOWL PRESENTED BY CITI
Pasadena, CA - Jan. 1, 2008
ABC, 4:30 p.m. ET
Trojan Force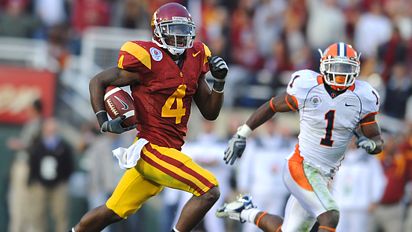 Kirby Lee/Image of Sport/US Presswire
Joe McKnight had 206 all-purpose yards and one TD in USC's rout.
After a dominating 49-17 win over Illinois in the Rose Bowl, it's not a stretch to say that 11-2 USC is the best team in the nation -- and one that should be playing for the BCS championship.
Mark Schlabach
•
Feldman: McKnight's impressive coming-out party
|
Game analysis
•
McKnight, USC dash past Illini
Highlights

|
Breakdown

|
Blog
Bowl Overview
It was over when...
USC converted two Illinois third-quarter turnovers into TDs and extended an 11-point lead into a 35-10 score.
Gameball goes to...
Joe McKnight
. The USC freshman RB ran for 125 yards (1 TD) and also caught six passes for 45 yards.
Stat of the game...
1,078
. Illinois and USC racked up over a thousand yards in total offense, lead by the Trojans' 633.
ILLINOIS VS. USC
ESPN'S TAKE

As a former coach and a current analyst, I have to applaud what coach Pete Carroll has done at USC. In the past six years, he's won two national championships, has a 5-1 BCS bowl record and six consecutive Pac-10 titles. On Tuesday, we saw what a healthy Trojans team is capable of -- fast on defense and boasting so many different elements on offense. The Trojans have the ability to make plays happen. Against Illinois, USC finally looked like the team we expected to see in the preseason.
Illinois fought the jitters in the beginning of the game, but did a good job of fighting back. The Illini had a few opportunities, but it's tough to win when you turn the ball over four times against the Trojans. For a team that had won just four games in the two seasons prior to the 2007 season, the Illini have made leaps and bounds, and they showed heart and toughness against USC. Illinois will continue to improve, and this game will be a great learning experience for a young team.
-- Jim Donnan
Team Stat Comparison
1st Downs
19
30
Total Yards
445
633
Passing
301
289
Rushing
144
344
Penalties
6-66
11-130
3rd Down Conversions
4-14
6-13
4th Down Conversions
0-1
0-0
Turnovers
4
1
Possession
29:20
30:40
Fantasy
Here's your chance to be the expert and pick the Bowl winners. Create your FREE entry and compete for a chance to win a home theater system.
College Bowl Mania

USC Passing
C/ATT
YDS
TD
INT
J. Booty
25/37
255
3
1
Illinois Receiving
REC
YDS
TD
LG
A. Benn
5
80
1
56