Boston College Eagles

Doug Flutie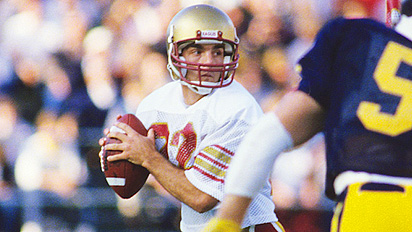 Ronald C. Modra/Sports Imagery/Getty Images
In 1984, Flutie became the first player in school history to win the Heisman Trophy. He's heralded as much for overcoming the perception he was too small to play as he was for his remarkable accomplishments on the field. At 5-foot-9, Flutie earned the nickname "Little Doug," but he also earned a reputation for his late-game heroics, seemingly always able to find a way to win if any time was left. Flutie finished his career at BC with a record 11,054 yards of total offense, 10,579 of which were passing yards. -- Heather Dinich
ESPN.com's Signature Moment

On Nov. 23, 1984, Boston College trailed defending national champion Miami 45-41 with six seconds remaining and 48 yards to go. Flutie scrambled to the right and launched a Hail Mary to Gerard Phelan for the game-winning catch.


We've made our pick; now it's up to you, SportsNation, to make yours. You've given the suggestions. Help decide the Face of the Program.
His 41-yard-field goal in 1993 gave BC a 41-39 victory at Notre Dame, the program's first win over the Irish.
No matter what happens in BC football, the lasting image will be Doug Flutie leaping into the arms of his lineman after the TD against Miami.