Arizona Wildcats

John "Button" Salmon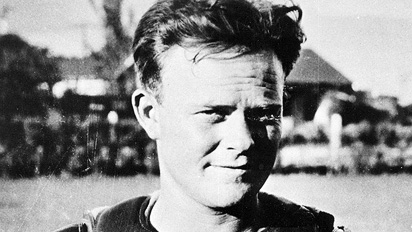 Arizona Athletics
If Arizona had become a football power, John "Button" Salmon might approximate the stature of Notre Dame's George Gipp. As it is, Salmon continues to inspire the Wildcats as the source of the program's greatest tradition: The slogan, "Bear Down." Salmon was Arizona's student body president as well as a football player in 1926 when he was severely injured in a car accident. Before he died, he whispered his message for his teammates. Shortly thereafter, students painted his words on the roof of University Gymnasium, which has become known as "Bear Down Gym." A Salmon memorial was dedicated in 1986 as the centerpiece of the Bear Down Plaza outside the McKale Center, and the UA fight song is "Bear Down, Arizona." -- Ted Miller
ESPN.com's Signature Moment

"Tell them … tell the team to bear down." Salmon's deathbed message to his teammates, spoken to J.F. "Pop" McKale, Arizona's coach and athletic director, became the school's slogan and rally cry.


We've made our pick; now it's up to you, SportsNation, to make yours. You've given the suggestions. Help decide the Face of the Program.
He led the "Desert Swarm" in the mid-1990s before winning three Super Bowls -- and beating a stroke -- with the Patriots.
Tedy Bruschi and the Desert Swarm of the 90's powered the best U of A teams of the school's history.