Rutgers Scarlet Knights

Nov. 6, 1869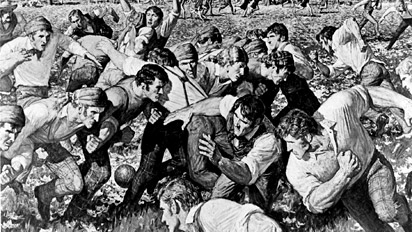 Rutgers Athletics
Rutgers and Princeton played the first intercollegiate football game on Nov. 6, 1869. The game was played on a plot of land where the Rutgers gym now stands in New Brunswick, N.J. The teams consisted of 25 players each. William J. Leggett, later a distinguished clergyman of the Dutch Reformed Church, was the Rutgers captain; William Gunmere, who later became chief justice of the Supreme Court of New Jersey, captained the Princeton squad. The game was played under rugbylike rules, and the ball could be moved only by kicking or hitting it with feet, hands, head or sides. Each score counted a "game," and 10 games were played in front of about 100 spectators. Rutgers won, 6-4. College football was born. -- Mark Schlabach
ESPN.com's Signature Moment

College football rivalries were hatched the same day the sport was born. Immediately after Rutgers won the first game ever played, Princeton's players were literally run out of town by Rutgers students. The Princeton men jumped in their carriages and quickly made the 20-mile trek back to their campus.


We've made our pick, now it's up to you, SportsNation, to make yours. You've given the suggestions. Help decide the Face of the Program.
The bruising runner gained 2,775 yards and scored more points than any other Rutgers player.
I love the BIRTHPLACE OF COLLEGE FOOTBALL. But I have to go with Greg Schiano, who singlehandedly overcame the Rutgers culture of losing football.