Syracuse Orange

No. 44 Jersey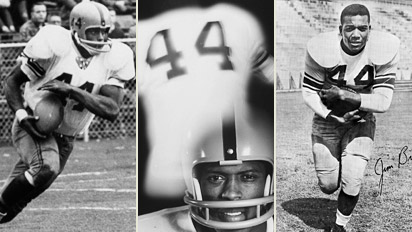 Getty Images
Few jersey numbers in all of sports are as revered as Syracuse's No. 44. Since 1954, 11 players wore the jersey and three of them -- Jim Brown, Ernie Davis and Floyd Little -- are regarded among the greatest running backs in college football history. Brown led the Orangemen to a Cotton Bowl and scored an NCAA-record 43 points in a game before becoming the NFL's all-time leading rusher. Davis became the first African-American to win the Heisman Trophy in 1961 and helped lead Syracuse to the 1959 national championship. Little was a three-time All-American and one of the most feared kick returners in history. Fullback Rob Konrad was the last Syracuse player to wear the No. 44 jersey in 1998. The number was retired on Nov. 12, 2005. -- Mark Schlabach
ESPN.com's Signature Moment

Forty-four is certainly more than a jersey number at Syracuse. The university's postal zip code was changed from 13210 to 13244 and its phone exchange was switched from 423 to 443.


We've made our pick; now it's up to you, SportsNation, to make yours. You've given the suggestions. Help decide the Face of the Program.
The defensive end had a school-record 17.5 sacks as a senior and finished his career with 34, second-most in school history.
Jim Brown is the best to ever play the game, football's equivalent of Babe Ruth. If not him then Ben Schwartzwalder. Ernie Davis would be nice as well but we'll never know how much he could have accomplished. Not a bad choice either way.