Vanderbilt Commodores

Dan McGugin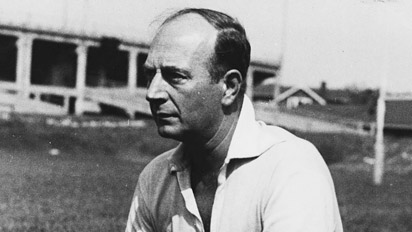 Vanderbilt Athletics
A member of the College Football Hall of Fame, McGugin coached Vanderbilt for three decades and compiled a 197-55-19 record. His first Vanderbilt team in 1904 went 9-0 and outscored its opposition 474-4. He coached four unbeaten teams and 11 one-loss teams. The one-time Michigan star and law school grad missed the 1918 season while on military duty during World War I. For many years, McGugin coached football during the season and practiced law during the offseason. He retired as coach following the 1934 season and became the school's athletic director. He died soon afterward, Jan. 19, 1936, at the age of 56. The Vanderbilt athletic building, the McGugin Center, bears his name. -- Chris Low
ESPN.com's Signature Quote

Former Nashville Banner columnist Fred Russell wrote of McGugin, "For years he ruled supreme in Dixie, and his teams won many glorious intersectional victories. More than any one man, he was responsible for the progress of southern football."


We've made our pick; now it's up to you, SportsNation, to make yours. You've given the suggestions. Help decide the Face of the Program.
The former Vandy head coach and quarterback is best remembered for engineering a 14-10 upset of No. 13 Alabama in 1969 despite a hurt shoulder.
Dan McGugin: 197-55-19 in a 29 year career as head football coach. Not recent but still very good and nobody else has come close.