Washington State Cougars

Mel Hein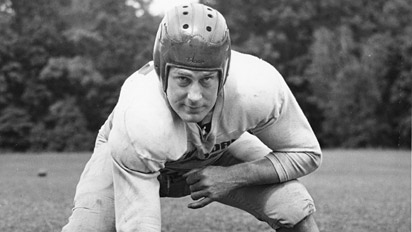 TSN/Icon SMI
Hein, a member of the pro and college football halls of fame, is widely considered the greatest center in football history. An All-American in 1930, he led Washington State to an unbeaten record and the Rose Bowl. During his three years in Pullman, the Cougars ran up a 26-6 record. His No. 7 jersey was the first retired by the school. After college, he played for the New York Giants and never missed a down due to injury. He won NFL MVP in 1938 and remains the only offensive lineman to win the award. -- Ted Miller
ESPN.com's Signature Moment

A member of the NFL's 50th and 75th Anniversary Teams, Hein was presented with a "Distinguished Alumnus Award," Washington State's highest honor.


We've made our pick; now it's up to you, SportsNation, to make yours. You've given the suggestions. Help decide the Face of the Program.
The No. 1 overall pick in the 1993 draft, Bledsoe rewrote the passing record book and was named Pac-10 Player of the Year.
If we are going fabled coach it has to be William "Lone Star" Dietz, the only coach in Cougar history to win a Rose Bowl and also considered by many Die-Hard Cougs to have put a curse over the program.