USC Trojans

Tailback U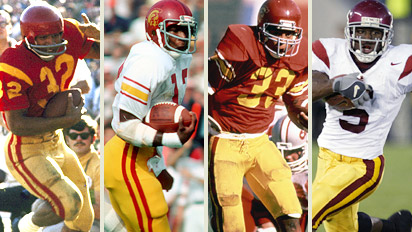 Getty Images, US Presswire
The term emerged for one reason: No other program boasts such an extraordinary list of tailbacks in the modern era, starting in 1965 with Mike Garrett, the first of five Trojans at the position to win a Heisman Trophy. Other names on the list include: O.J. Simpson, Anthony Davis, Ricky Bell, Charles White, Marcus Allen, LenDale White and Reggie Bush -- among many others who later thrived in the NFL. Besides the extraordinary talents, USC also emphasized the running game -- see coach John McKay infamous "student body left" and "student body right" -- while the rest of the Pac-10 mostly focused on throwing the football. -- Ted Miller
ESPN.com's Signature Moment

Since 1965, five different USC tailbacks won the Heisman Trophy. No other program can match that.

We've made our pick; now it's up to you, SportsNation, to make yours. You've given the suggestions. Help decide the Face of the Program.
Carroll has rebuilt USC into a college football colossus. He's 76-14 in seven years, winning a pair of national titles.
USC's recent success seems to be unparalled to many but John Mckay should be the face of the USC football program. He had 4 national championships, two Heisman winners and domination of his intersectional and local rivals.