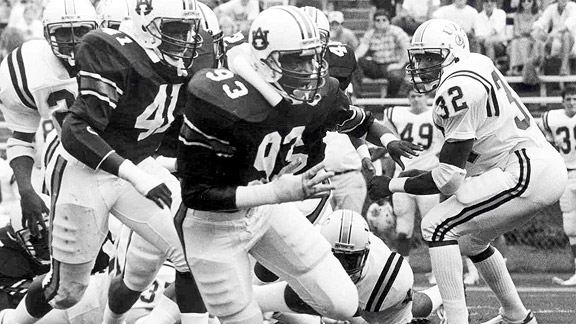 Auburn Athletics
29. Aundray Bruce
Linebacker | Auburn
Opinions on the 6-foot-5, 235-pound outside linebacker varied when the Atlanta Falcons made him the No. 1 overall pick in the 1988 draft. Some said he was the next Lawrence Taylor. The New York Times declared him "the least heralded No. 1 pick this decade."
Bruce played 11 seasons in the NFL, but started only 42 games and never lived up to expectations and very rarely resembled LT.
Bruce had excellent junior and senior seasons at Auburn but admitted that his effort fluctuated with the level of the opponents. He was a talented player who probably was criticized because he was tagged with the top-pick burden.
-- Pat Forde