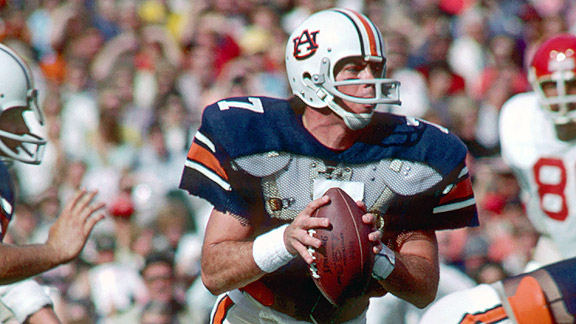 Malcolm Emmons/US Presswire
23. Pat Sullivan
Quarterback | Auburn
Four decades later, "Sullivan to Beasley" is still as much a part of Auburn football lore as "Bo Knows" and Toomer's Corner. Sullivan was a two-time SEC Player of the Year and the 1971 Heisman Trophy winner.
During his senior season in 1971, Sullivan threw for 2,012 yards with 20 touchdowns, many of them to teammate Terry Beasley. Though he was a second-round selection of the Atlanta Falcons in the 1972 NFL draft, Sullivan was considered to be too short for a pro quarterback, and retired after playing in 30 games in five seasons.
He is a cancer survivor and coach of Samford University in Birmingham, Ala.
-- Mark Schlabach