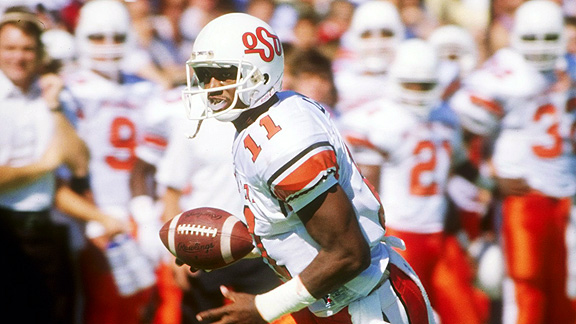 Getty Images
49. Hart Lee Dykes
Wide receiver | Oklahoma State
You're a big deal when four schools spend time in the NCAA slammer in part because of violations committed trying to get you on campus. Dykes was that guy, when his confessions to the NCAA helped put Texas A&M, Oklahoma, Illinois and Oklahoma State all on probation.
The Cowboys won the bidding war for the 6-foot-4 receiver for a reported $23,000. When Dykes departed he was the Big Eight career leader in catches and receiving yards.
A promising start to a pro career ended with a broken kneecap -- Dykes had 83 receptions and seven touchdowns in his first 26 NFL games, then never caught another pass.
-- Pat Forde