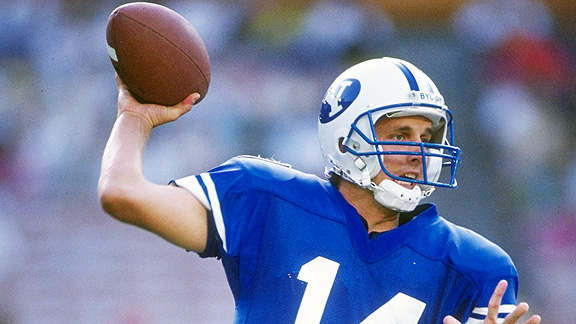 Stephen Dunn/Getty Images
18. Ty Detmer
Quarterback | Brigham Young
No college football quarterback was as prolific as Detmer, who broke 59 NCAA records and tied three others during his four-year career at BYU. He won the 1990 Heisman Trophy after passing for 5,188 yards with 41 touchdowns.
He finished his career with an NCAA-record 15,031 passing yards and led the Cougars to four bowl games. Detmer also guided BYU to one of its biggest football victories, a 28-21 upset of No. 1 Miami in 1990.
After being drafted by the Green Bay Packers, Detmer served as Brett Favre's backup for four seasons. He started 25 games in 14 NFL seasons, but never matched his golden college career.
-- Mark Schlabach