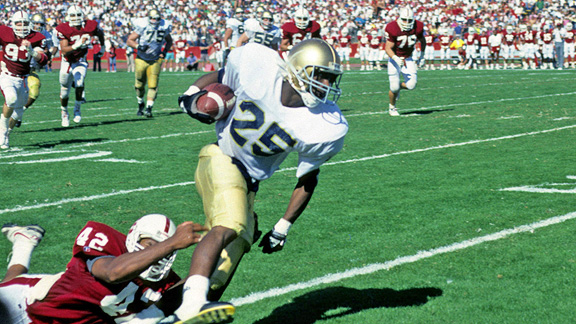 Kevin Reece/Getty Images
13. Raghib Ismail
Wide receiver | Notre Dame
One of the most electrifying players in Fighting Irish history, Ismail earned the moniker "The Rocket" because of his blinding speed.
After helping Notre Dame win the 1988 national championship and finishing second in Heisman Trophy voting in 1990, Ismail was a fourth-round selection of the Oakland Raiders in the 1991 NFL draft.
He bypassed the NFL and signed the richest contract in Canadian Football League history, before returning to play 10 seasons in the NFL. Although Ismail had two 1,000-yard receiving seasons in the NFL, "The Rocket" mostly fizzled in pro football.
-- Mark Schlabach