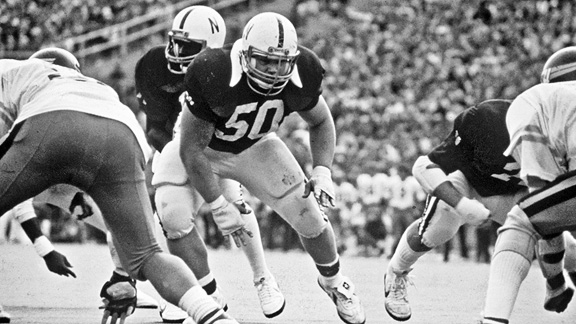 Nebraska Athletic Department
7. Dave Rimington
Center | Nebraska
He was a vital cog in the Cornhuskers' pulverizing running attack in the early 1980s. He was such a dominant blocker that they named a national award after him -- the best center in the country gets the Rimington Trophy annually.
And he remains the only two-time winner of the Outland Trophy, in 1981 and '82, which goes to the nation's best lineman on either side of the ball -- at 290 pounds in '82, he was the heaviest lineman at the time to win the award.
Despite all that, Rimington was just a serviceable pro. He was the NFL's all-rookie center in 1983 and a starter for the Cincinnati Bengals from '83-'88, but never a star.
-- Pat Forde