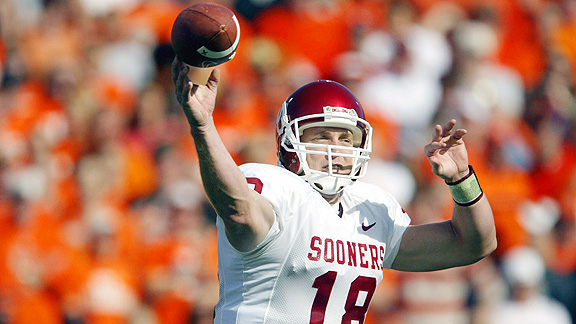 Jeff Gross/Getty Images
45. Jason White
Quarterback | Oklahoma
In 2003-04, White was a statistical superman -- throwing for more than 7,000 yards, 75 touchdowns and only 19 interceptions. He won the Heisman Trophy in 2003, guiding the Sooners to consecutive appearances in the national title game.
But the '04 Sugar Bowl against LSU and '05 Orange Bowl against USC hinted at White's limitations. He completed just 37 of 73 passes for 346 yards, two touchdowns and five interceptions in those games.
White went undrafted in 2005 and even had to wait several weeks to get a free-agent contract. He never made an NFL roster -- but he does have a street named in his honor in his hometown of Tuttle, Okla.
-- Pat Forde