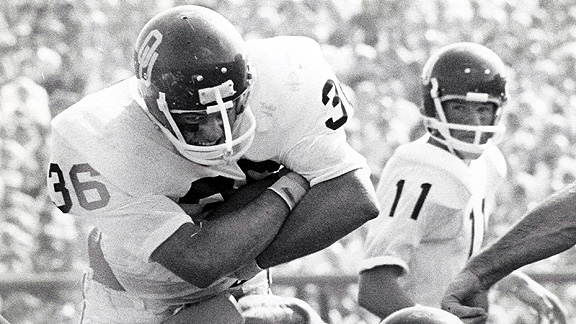 Malcolm Emmons/US Presswire
43. Steve Owens
Running back | Oklahoma
A homegrown hero from Miami, Okla., Owens was one of the most durable and prolific runners in Oklahoma Sooners history.
During his record-setting college career, Owens ran for 100 yards or more in 17 consecutive games and won the 1969 Heisman Trophy. He ran for an NCAA-record 1,649 yards in 1968 and carried the ball 958 times during his career.
The No. 19 pick in the 1970 NFL draft by the Detroit Lions, Owens became the first Lions player to run for 1,000 yards in a season in 1971. But a serious knee injury derailed his pro career and he retired after the 1974 season.
-- Mark Schlabach