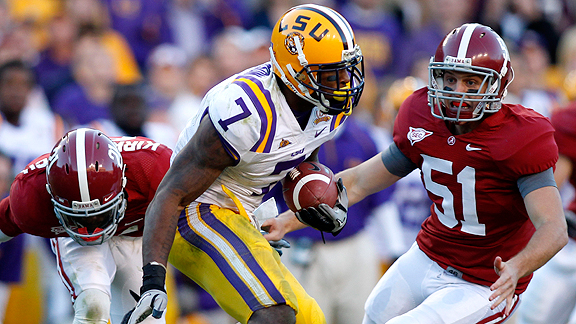 Tyler Kaufman/Icon SMI
Patrick Peterson
Cornerback | LSU
LSU junior corner Patrick Peterson's talent can best be seen by what didn't happen.
Few quarterbacks dared to throw near him. Alabama's Julio Jones made 10 catches for a total of 89 yards, with a long gain of 19 yards. It was against LSU and Peterson that we discovered how well Heisman Trophy winner Cam Newton can run (217 yards). There's a reason he threw for only 86 yards.
Peterson made four picks for 134 yards this season. He also finished in the top 10 in punt returns (sixth, 16.1 yards, two touchdowns) and kickoff returns (seventh, 29.3 yards).
-- Ivan Maisel