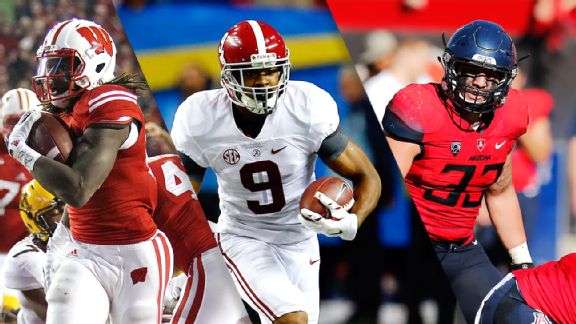 Getty Images, AP Photo, AP Photo
The rise of the Pac-12 this season is reflected in the ESPN All-America Team. Both the SEC and the Pac-12 contributed eight players to the team. However, the Pac-12's players came from seven different schools, a reflection of how the conference raised its game as a group, especially on the defensive side of the ball. Five of the team's front seven are from the Pac-12, including the top three FBS players in sacks.
We selected three wide receivers, an indication of the disappearing tight end. The two running backs came from the Big Ten, and really, where else would we have looked?
Alabama leads all teams with three players, including the only freshman to make the team, punter JK Scott. Kicker Roberto Aguayo of Florida State is the only repeat honoree, and he is a sophomore. The two of them are evidence of a revolution in the development of kicking specialists. They arrived at college ready to shine.
Then again, everyone on this team shines.
-- Ivan Maisel