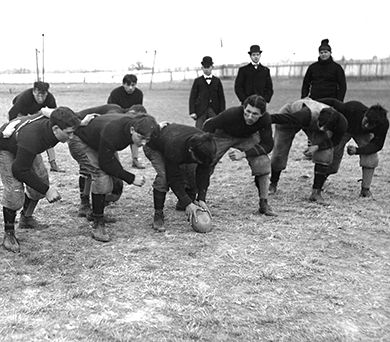 AP Photo/Cumberland County Historical Society, Carlisle, Pa.
#98
TRICK OR TREAT
Cambridge, Mass. | Oct. 31, 1903
Legendary coach Pop Warner loved his trick plays. Warner's Carlisle Indians led mighty Harvard 5-0. Indians quarterback Jimmy Johnson took the second-half kickoff and shoved it in the back of guard Charles Dillon's jersey. Dillon, empty arms swinging, sprinted the length of the field ignored by the Crimson. Referee Mike Thompson, forewarned by Warner, ruled it a touchdown. Harvard came back to win, 12-11. In 1911, the NCAA changed its rules, condemning the hidden-ball play to backyards forever.