Three weekend observations
1. Miami's 21-16 upset of No. 12 Florida was anything but. For the first time in years, Miami won a game by being the better-disciplined team. The Canes for so long under Larry Coker and Randy Shannon were a sum lesser than their parts. In the third season under Al Golden, Miami won the turnover battle 5 to 1 and committed five penalties to Florida's 10. That's the highest-ranked team Miami has beaten in four years, and it was no fluke.
2. No. 19 Northwestern, with its 48-27 rout of Syracuse, has won four consecutive games by at least 14 points -- Illinois and Mississippi State (Gator Bowl) last season and Cal last week are the others. That's something that not even the sainted Rose Bowl Wildcats of 1995 did. In fact, the last Northwestern team to win four straight by 14 points or more shared the Big Ten title -- in 1930.
3. The complexion of the Big 12 race changed greatly Saturday. TCU lost starting quarterback Casey Pachall for "multiple" games to an arm injury. No. 15 Texas' defense got exposed at BYU. No. 16 Oklahoma struggled to put away West Virginia. No. 13 Oklahoma State has notified the NCAA of allegations of vast wrongdoing that are reported to be made by Sports Illustrated. And then there's No. 23 Baylor, which put up 70 points and 781 yards against Buffalo a week after getting 69 and 689, respectively, against FCS foe Wofford. Should we trust Baylor? Ignore the travails of everyone else?
Week 2 Impact Performances
GameDay crew final thoughts
RECE DAVIS
It's obviously very early in the season, but if we get to a scenario at the end of the year when we have one-loss teams in contention for the championship game, I think the past two weeks' wins by ACC teams against SEC powers at home will help the cause of teams like Clemson or Florida State. Maybe it won't be such a no-brainer that the one-loss team from the SEC automatically goes to the top of the pile.
There's a lot of football to be played, and certainly circumstances can change, but the ACC with these two wins -- Miami over Florida on Saturday and Clemson over Georgia last week -- has set the foundation to be a much bigger player in the national championship race even if it doesn't have a team that's undefeated.
Helmet stickers go to ...
• QB Nathan Scheelhaase, Illinois
• QB Taysom Hill, BYU
MARK MAY
Saturday was a major rebound for the Georgia Bulldogs. Mark Richt did a terrific job of coaching their offensive line, which did much better than anyone thought it would after the four sacks it allowed against Clemson. Aaron Murray had a big game, and if you look at Todd Gurley, he is a beast running the football.
Who's going to stop Oregon running up and down the field? De'Anthony Thomas, Marcus Mariota, that defense has played extremely well the first two weeks. They get a little bigger test next week against Tennessee, but nobody has slowed this offense down.
Looking at Texas A&M, Johnny Manziel had another big game. I've been impressed with his pocket presence and throwing the ball vertically from the pocket. He had excellent touch in the game and he's ready to go in their matchup with Alabama next week.
How does Texas, with the talent and facilities it has, go to Provo and get run out of the stadium? BYU had 550 yards rushing; that's embarrassing for the Longhorns. Mack Brown and that program need to get a quick wake-up call. Take your hats off to BYU -- Bronco Mendenhall had the Cougars ready to play.
Helmet stickers go to ...
• QB Devin Gardner, Michigan
• LB Denzel Perryman, Miami
LOU HOLTZ
For South Carolina, Notre Dame and Florida, Saturday's losses are really going to hurt them after they look at the film. It always happens when you look at film, you get sick watching it. Those things can be corrected. But Texas has to really examine some things -- it didn't play very well.
I think you have a different team every week. You think you're going to have the same team, but as the season unfolds those are two great wins for the ACC -- Miami beating Florida and Clemson beating Georgia.
What really bothered me: 34 games Saturday were against FCS opponents. That's not the way college football should be. I applaud teams like Northwestern that play a really tough nonconference schedule.
We'll be getting into conference races soon. I think Michigan's win over Notre Dame was really big because it validates the Big Ten to a certain extent. If Wisconsin can beat Arizona State and Nebraska can beat UCLA in Week 3, that would really validate the conference. Northwestern's going to be an interesting team to keep an eye on. I'm looking forward to the conference races starting.
Helmet stickers go to ...
• RB Todd Gurley, Georgia
• QB J.W. Walsh, Oklahoma State
What we learned in Week 2
Click below to see what our bloggers learned in each conference after the second weekend.
---

It's not The U of old after two games, sure, but Miami is looking good in big games. ACC
---

So much excitement, and so much letdown. So it goes for Texas in its recent history. Elsewhere around the league, though, hope radiates. Big 12
---

Since last season's undefeated run, Ohio State has been assumed the top of the pack in the Big Ten. But the Buckeyes have company in the form of their biggest rival, Michigan. Big Ten
---

The Pac-12 did really well in nonconference contests -- a welcomed step up from Week 1 -- but disappointment still existed in the league slate. Pac-12
---

The Georgia-South Carolina game proved the SEC East is up for grabs, but Florida won't have a chance at it if it doesn't get its offensive act together. SEC
Helmet stickers for Week 2
Every week our bloggers will hand out helmet stickers to the week's top players, coaches, teams or anything else worth this honor.
• ACC: Andre Williams, Brandon Connette, Miami's defense
More ACC stickers
• Big 12: Brennan Clay, Tramaine Thompson, Bryce Hager
More Big 12 stickers
• Big Ten: Nathan Scheelhaase, Shilique Calhoun, Jeremy Gallon
More Big Ten stickers
• Pac-12: Taylor Kelly, Travis Wilson, Jared Goff
More Pac-12 stickers
• SEC: Aaron Murray, Tennessee's secondary, Odell Beckham
More SEC stickers
Photos from Week 2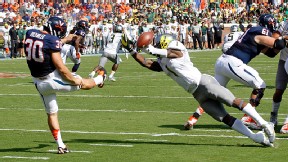 AP Photo/Andrew Shurtleff
Take a tour around the country and check out the best images from Week 2 in college football. Best of Week 2