Countdown To Kickoff: Storylines For 2012
By Mark Schlabach
ESPN.com
There are plenty of storylines for the 2012 season. Here are 10 we can't wait to see:
1. TCU and West Virginia move to the Big 12/Texas A&M and Missouri move to the SEC.
After the latest round of conference realignment, the Big 12 welcomes the Horned Frogs and Mountaineers to its league and the SEC adds the Aggies and Tigers. Fans of all four schools might need maps to locate their new rivals.
[+] Enlarge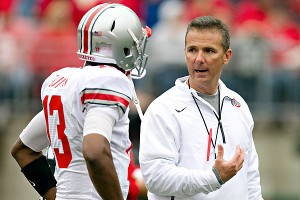 Greg Bartram/US PresswireWhat does Urban Meyer have in store for his first season at Ohio State?
2. Urban Meyer returns to coaching at Ohio State/Rich Rodriguez tries to build a winner at Arizona/Mike Leach lands at Washington State.
Some big-name coaches are returning to college football in 2012. Meyer, who guided Florida to two BCS national championships, takes over at Ohio State. Rodriguez, who was fired at Michigan, landed at Arizona, and Leach, who was fired by Texas Tech, was hired at Washington State.
3. SEC goes for seven BCS national championships in a row.
Can anyone slow the SEC? The country's pre-eminent conference won its sixth BCS national championship in a row in 2011, when Alabama defeated LSU 21-0 in January. Those two teams, along with Arkansas, Georgia and South Carolina, might be BCS title contenders in 2012.
4. Bill O'Brien replaces iconic Penn State coach Joe Paterno and takes over a scandal-ridden program.
Perhaps no coach has ever inherited a more difficult job than O'Brien, who replaces Paterno, college football's all-time winningest coach. For the first time since 1966, someone other than Paterno will be leading the Nittany Lions.
5. Stanford tries to remain a top-10 program without quarterback Andrew Luck.
The Cardinal were able to survive without former coach Jim Harbaugh, who left to coach the San Francisco 49ers after the 2010 season. Can Stanford remain relevant without Luck, the No. 1 pick in April's NFL draft?
6. Defending BCS national champion Alabama tries to rebuild its stingy defense.
Alabama will have to replace many of the defensive stars that helped it win its second BCS national championship in three seasons. Gone are linebackers Dont'a Hightower and Courtney Upshaw, cornerbacks DeQuan Menzie and Dre Kirkpatrick, and All-American safety Mark Barron.
7. Interim coach John L. Smith takes over at Arkansas after Bobby Petrino was fired.
Arkansas might be good enough to challenge Alabama and LSU in the SEC West, but the Razorbacks will have to do it without Petrino, who was fired for lying about an affair with an employee. Smith, who coached at Michigan State and Louisville, was hired on an interim basis.
8. Florida, Florida State and Miami try to return to national prominence.
The Gators and Hurricanes will again try to return to the sport's upper echelon after struggling last season. Florida State seems the closest to getting there and will enter the season ranked in the top 10 of most preseason polls. Meanwhile, the Gators will look to rebound from a 7-6 finish in coach Will Muschamp's first season.
9. Matt Barkley returns at quarterback to lead No. 1 USC.
After two years of NCAA probation and no bowl games, the Trojans are a popular choice to finish No. 1 in 2012. Barkley, who passed up the NFL draft to return to USC for his senior season, leads what should be one of the country's most prolific passing games.
10. The long, slow death of the Big East.
Can the Big East survive without many of its marquee programs? TCU and West Virginia have already left, and Pitt and Syracuse are close to walking out the door. The Big East added new members from coast to coast, but is it too little, too late?
Game On: Top Matchups
By Mark Schlabach
ESPN.com
The top 10 games for the 2012 season:
1. Alabama versus Michigan (Arlington, Texas), Sept. 1 Wolverines quarterback Denard Robinson gets his chance against Alabama at Jerry's World. The Crimson Tide, the defending BCS national champions, have to rebuild much of their stingy defense.
2. Florida at Texas A&M, Sept. 8 The Aggies will play their first SEC game against the Gators at Kyle Field in College Station. The SEC opener also will be the first big test for new Aggies coach Kevin Sumlin, who guided Houston to a 13-1 record in 2011.
3. Alabama at Arkansas, Sept. 15 Arkansas lost two games last season -- to Alabama and LSU, which played for the BCS national championship. If the Razorbacks are going to defeat the Crimson Tide this season, they'll have to do a better job of protecting quarterback Tyler Wilson.
4. Georgia at South Carolina, Oct. 6 The biggest game of the SEC East season moves from Week 2 to early October. Gamecocks coach Steve Spurrier has always enjoyed beating the Bulldogs, who enter the 2012 season with lofty expectations.
5. Oklahoma versus Texas (Dallas), Oct. 13 The Longhorns will try to end a two-game losing streak to Oklahoma in the Red River Rivalry game at the Cotton Bowl. OU handed the Longhorns a 55-17 whipping last season.
6. Notre Dame at Oklahoma, Oct. 27 The Fighting Irish travel to Norman to play the Sooners, nearly 55 years to the day since they ended OU's 47-game winning streak with a 7-0 upset on Nov. 16, 1957.
7. Alabama at LSU, Nov. 3 The teams played twice last season, with LSU winning 9-6 in overtime in Tuscaloosa, Ala., and the Crimson Tide winning 21-0 in the BCS Championship Game in New Orleans. What will the stakes bring this time?
8. Oregon at USC, Nov. 3 USC quarterback Matt Barkley ripped the Ducks for 323 passing yards with four touchdowns in a 38-35 victory at Oregon last season. The loss ended the Ducks' 21-game home winning streak, which was the longest in the country.
9. Oklahoma at West Virginia, Nov. 17 Might West Virginia contend for a Big 12 championship in its first season in the league? Mountaineers quarterback Geno Smith will try to shred OU's defense, which struggled against many Big 12 quarterbacks last season.
10. Michigan at Ohio State, Nov. 24 First-year Michigan coach Brady Hoke guided the Wolverines to a 40-34 victory over the Buckeyes last season, their first win in the rivalry since 2003. New Ohio State coach Urban Meyer will try to flip momentum in his first game against Michigan.
Forward Thinking: Predictions

Danny O'Brien is no Russell Wilson. The newest upperclassman quarterback to transfer to Wisconsin won't push the Badgers to the Rose Bowl. Wilson led the nation in passing efficiency; more important, he was the kind of leader who arrived on campus in August and immediately got the locker room behind him. O'Brien showed neither those athletic nor people skills at Maryland.

Derek Dooley will be fired before the end of the season. I hope I'm wrong. Dooley is a good, ethical coach. But the signs are there -- a traditional power (Tennessee) stuck in mediocrity with restless fans and a new athletic director (Dave Hart). Dooley took over a program in turmoil two seasons ago after Lane Kiffin's 12-month misrule. Injuries last season exposed a lack of depth. Executing a one-season turnaround in the tough SEC is like pulling to an inside straight.

Ohio State will win nine games. North Carolina State will win 10. Don't forget -- the Buckeyes won't play a 13th game in 2012. But a slightly less intense Urban Meyer will stoke a young team to match his level of fire. Ohio State plays at Michigan State, Penn State and Wisconsin and will win at least one of those games. Cal, the toughest nonconference opponent, comes to the Shoe. The Wolfpack have a senior quarterback, one of the most experienced offensive lines in the nation and the best defensive back in the game in David Amerson.

Florida State is back The Seminoles went 9-4 last season despite a rash of injuries. They are healthy now, have two very good quarterbacks and two of their most talented athletes -- wide receiver Kelvin Benjamin and tailback James Wilder Jr. -- are second-year players. This team will only get better.

Joe Southwick will play better than Nick Florence or Brett Nottingham or Josh Nunes. Southwick, Boise State's junior quarterback, can do more of what Kellen Moore did well than Florence, the Baylor senior, can replicate the derring-do of Heisman winner Robert Griffin III. Florence has an edge in experience, going 2-6 as a freshman starter in 2009 after Griffin tore his ACL. Nottingham and Nunes are battling to replace Andrew Luck as Stanford quarterback. Neither has done more than mop up.

Oklahoma State will return to reality. Mike Gundy has matured into a formidable coach for his alma mater. But the Cowboys lose the best receiver in the nation (Justin Blackmon) and the coolheaded quarterback, 28-year-old Brandon Weeden, who found him downfield. The step down from 12-1 and a No. 3 finish is inevitable. How far down depends on how a young team handles its inherited success.

Florida State and Clemson will move to the Big 12. Once upon a time, tradition, geography and commitment counted for something. But the last two years have proved that money makes the decisions. There's one other issue at play -- Florida State and Clemson are football-first athletic departments. The ACC loves its hoops. The next question -- does the ACC look to raid the Big East? Of course it does.