Location, Location, Location
By Adam Rittenberg
ESPN.com
It figures that the most important meetings to determine college football's future postseason structure are taking place this week in Hollywood, Fla.
After all, every other meaningful event in the sport occurs well south of the Mason-Dixon Line.
[+] Enlarge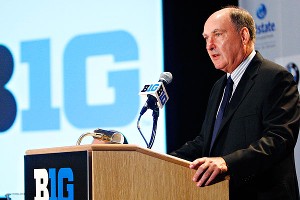 Jerry Lai/US PresswireIt's clear that Jim Delany and the Big Ten are making studying concussions a major priority.
Big Ten commissioner Jim Delany needs to make sure that changes, no matter which playoff format the BCS leaders ultimately choose. Forget the laughable "Four Teams Plus" plan that keeps the Rose Bowl in the mix for determining the national champion but has virtually no chance of being approved by commissioners not from the Big Ten or Pac-12. While Delany loves the Rose Bowl and always will, his top priority this week in South Florida should be proximity.
If a four-team postseason plan is green-lighted, as many expect, Delany must ensure that it's possible for at least some of the games to be played in or near the Big Ten footprint, because the current system doesn't serve the Big Ten or its fans.
There are myriad reasons for the Big Ten's downturn during the BCS era, but the location of the most significant bowl games, including the national championship, undoubtedly hurts the league, which has played several virtual road contests.
Since the BCS launched in 1998, the Big Ten has dropped two games to LSU in New Orleans, including the national title game after the 2007 season. The Big Ten also is 0-4 against USC at the Rose Bowl. While there are exceptions, such as Penn State's Orange Bowl win against Florida State, Big Ten teams generally become roadkill in these matchups.
The Big Ten's destination dilemma is inherent within the current bowl/BCS system. The big bowl games always have been played in the South and West, and because of the "double-hosting" model, the same holds true for the national championship games. Most Big Ten fans understand the reasons behind this, and have willingly hopped on airplanes every December and traveled far and wide to see their teams play. It's this willingness that has made Big Ten teams so attractive to BCS bowl committees.
But the future postseason structure will bring change. A four-team setup would create two semifinals, which might take place within the current bowl structure, but most likely will not. The semis could take place at on-campus sites belonging to the higher seeds, a plan Delany advocates, or at neutral sites like Indianapolis' Lucas Oil Stadium and Detroit's Ford Field. The Edward Jones Dome in St. Louis? Beats facing LSU in NOLA.
"Yes, has to be," Ohio State athletic director Gene Smith recently told ESPN.com. "If you go neutral sites, you've got to have one in the Midwest. You've just got to. If it's campus sites, it's hard to dictate that, because it depends on the rankings. If you go campus sites, you hope some Midwest team is up there and they get to host."
Although Big Ten fans travel better than any in the country, the cost of making two long trips -- for the semifinals and championship game -- in a short span around the holidays will be too much for many to bear.
"If you think about it, just about every conference now has a [championship game], so you expect your fans to go to that," Wisconsin athletic director Barry Alvarez, who is attending the BCS meetings along with Delany, told ESPN.com. "Now you're going to go to a bowl site, and if you're in a championship game, that's three games you want them to travel to. It would be nice if one of those games would be at a home site, or two of them."
There's also the possibility the national championship game moves away from the bowl sites and goes to the highest bidder, which could bring venues like Lucas Oil Stadium and Ford Field into the rotation. The chance to play for a title on Big Ten soil will excite fans around the Midwest, but they'll settle for having some type of nationally relevant football game within driving distance in late December or early January.
Delany's ideal setup likely would call for semifinal games on campus, and the national title game at the Rose Bowl every year. Don't hold your breath on either element coming to fruition, but having a neutral-site semifinal in the Midwest every year certainly isn't too much to ask.
Big Ten fans have served their league and its teams extremely well by traveling in droves to big-time bowl games in faraway destinations.
It's time for Delany to return the favor by ensuring they'll have a chance to see their teams play meaningful games closer to home.
Rosey Future?
The Pac-12 blog's official stance on the Rose Bowl: It's awesome. Has been since 1902. If you've ever been to one, you are nodding.
If you are not nodding, you are either ignorant of the Rose Bowl experience or are untroubled by being wrong. And I mean that in the nicest possible way.
[+] Enlarge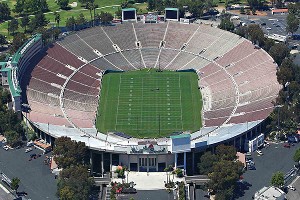 Tom Szczerbowski/US PresswireThe Pac-12 is focused on protecting its historic relationship with the Rose Bowl.
Our position on this is unambiguous. When the BCS power brokers meet in Hollywood, Fla., this week with the intention of transforming the college football postseason, the Rose Bowl must be given special status. Why? If you were to request a list from the sports' cognoscenti on the greatest traditions in college football, most would rate the Rose Bowl No. 1.
Some ACC, Big 12 and SEC fans might be shrugging. Their conferences don't play in the Rose Bowl, other than in a couple of BCS-mandated exceptional cases. Why should they care?
Well, I don't live in Egypt, but I care about the pyramids. We're talking about history, folks, about tradition, about maintaining a connection to the past. If our postseason endgame somehow ends the Rose Bowl, it would be like knocking down the Washington Monument because we feel like we can build a bigger and better pointy thing in our nation's capital.
We know that one of the four options that will be discussed -- as first reported by USA Today -- is the "Four Teams Plus" plan. It would make the Rose Bowl an automatic part of a "playoff" that would determine the national champion.
The four highest-ranked teams at the end of the regular season would meet in semifinals unless the Big Ten or Pac-12 champion, or both, were among the top four. Those leagues' teams still would meet in the Rose, and the next highest-ranked team or teams would slide into the semis. The national championship finalists would be selected after those three games.
This plan has been widely ridiculed, and for good reason. It's ridiculous. It continues to add subjectivity to the process instead of having more decided on the field of play. That's what we are trying to get rid of.
As I've said before, it doesn't seem that complicated to have a four-team playoff set, then let the Rose Bowl choose next, likely the best available teams from the Pac-12 and Big Ten.
Why should the Rose Bowl get priority? Because it's the Rose Bowl.
Should there be flexibility to the Big Ten-Pac-12 matchup? Perhaps. It's already happened without great loss of life (though there has been a bit of wincing, particularly one year in Berkeley). It might be unavoidable. The game itself, however, is the most sacred relic.
The hope here is this won't end up being only a Jim Delany and Larry Scott crusade. The Big Ten and Pac-12 commissioners obviously have the most at stake among all the pooh-bahs in Florida, but there's no reason for SEC don Mike Slive et al to go all Sun Tzu on the Rose Bowl just to score an Art of War point.
It would be great if Slive et al would take the high-grounded position and recognize the Rose Bowl's special status in college football.
There will be a lot of smart folks in Florida. Let's hope they are smart enough not to drive a carelessly placed wingtip into the game they are charged with protecting.
ACC: Crown the champs
By Matt Fortuna
If you're ACC commissioner John Swofford, you've carved out a pretty nice life for yourself lately. Less than two years ago, you landed a long-term television deal with ESPN. Less than a year ago, you secured the move of Big East bedrocks Pitt and Syracuse, making your conference the unquestioned leader in men's college basketball.

If these upcoming BCS meetings take a couple of unforeseen turns, who knows, just maybe you can provide a safe landing spot for Notre Dame, expanding your conference's footprint to the Midwest and, to an extent, across the nation in a way no other league would be able to match.
For more, check out the ACC blog.
Big 12: Title game issues
By David Ubben
For the second consecutive year, the Big 12 is beginning play with an all-new lineup.
For the second consecutive year, the Big 12 is beginning play with just 10 teams.
Perhaps most importantly, it's beginning with no Big 12 championship game. The Big 12 lucked out in 2011 on the season's final weekend.

Who said there was no Big 12 championship? Oklahoma and Oklahoma State played for the Big 12 title and a trip to the Fiesta Bowl on championship weekend, providing a fitting end while the SEC played its title game and the Big Ten and Pac-12 held their inaugural games.
For more, check out the Big 12 blog.
Big East: Keep the AQs
By Andrea Adelson
The BCS as we know it is set to change.
How it changes remains up in the air, as another round of discussions on the future of the BCS are set to resume in South Florida this week. But what seems almost certain is a radical shift that could have huge ramifications on the Big East.

I am not talking about the addition of a playoff.
I am talking about the loss of automatic qualifying status.
Imagine this nightmare scenario: Not only does the Big East lose a guaranteed spot in the BCS every year, it loses a portion of its incoming teams to boot. Which is the scarier proposition?
For more, check out the Big East blog.
SEC: Let the best play
By Chris Low
Thomas Jefferson so famously penned more than 230 years ago that all men are created equal.
Obviously, there will be many who disagree, but that same concept simply does not apply to college football conferences, which is why a playoff that includes only conference champions is more flawed than any system we've seen to date when it comes to determining the national champion.

Assuming it's a four-team playoff we see adopted in 2014, the goal is to assemble the best four teams in the country -- period -- and let those four teams play it off on the field.
Why place any restraints on the process?
For more, check out the SEC blog.
Notre Dame: Special status
By Matt Fortuna
Colleague Ivan Maisel's
story on this week's postseason meetings
in South Florida has a phrase so natural that it may as well be ingrained in the college football lexicon. Most other stories regarding BCS changes include some version of it, as well.
"The 11 FBS commissioners and Notre Dame athletic director Jack Swarbrick …"

That sound you hear is the sigh of relief from every Irish fan with an attachment to the program's history in the national landscape. The relevance of Notre Dame football, often called into question, might never be on display more than it will be this fall. In addition to playing regular rivals Boston College, Michigan, Michigan State, Stanford and USC, the Irish will open their season against Navy more than 3,000 miles away in Dublin, Ireland; will face old rival Miami (Fla.) in Chicago; will host independent brethren BYU; and will travel to Oklahoma to play the perennial Big 12 favorite. Notre Dame will also host Pitt, which might be playing its final season in the Big East.
For more, check out the Notre Dame blog.