Penn State Tries To Turn The Page
By Gene Wojciechowski
ESPN.com
CHICAGO -- It was one of Joe Paterno's final acts, written not out of defiance perhaps, but out of desperation and obligation.
"This is not a football scandal and should not be treated as one," insisted Paterno in a letter written seven months before his death and published several weeks ago.
[+] Enlarge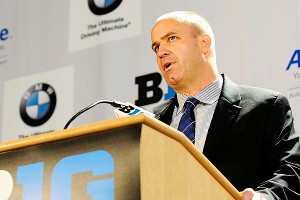 Reid Compton/US PresswireBill O'Brien has been talking with the parents of current players, outlining reasons why players should stay at Penn State.
Tell that to first-year Penn State coach Bill O'Brien and the three Nittany Lions players he brought to Thursday's Big Ten Conference media function. For every one question about actual football -- and there weren't many -- there were a dozen others about the aftermath of crippling NCAA sanctions levied against the program.
"Penn State's taken a lot of punches over the past five or six months," said O'Brien. "It's time to punch back."
On Monday the NCAA hit Nittany Lions football flush in the face. Or, say some Penn State supporters, sucker punched.
The most severe of the NCAA penalties will subject O'Brien's program to four years without bowl or postseason appearances and four years of crushing scholarship reductions. And because of the width and breadth of those staggering penalties, Nittany Lions players can transfer to other programs and play immediately. Already, State College has become the cherry-picking capital of college football.
"Monday was a tough day," said O'Brien, in one of the great understatements.
But this is Thursday, which means O'Brien is way past pity-party mode. When asked if his program and his university were, in essence, being blamed for all that is wrong in college athletics, O'Brien said, "It's not for me to comment on that. It's for me to tell everybody in Penn State Nation to turn the page."
Nobody is trying to flip those pages forward and faster than O'Brien and the players committed to staying. He has had conference calls with the parents of Penn State players and will meet with more parents throughout the weekend. He has perfected a campaign speech -- a recruiting pitch, actually -- that outlines the reasons why PSU players shouldn't bolt the program.
O'Brien is chin strap deep in a scenario in which there is no instruction manual. So he trusts his instincts, and his instincts tell him to get out in front of the Penn State bashing.
"At the end of the day, life's about a lot of things," he said. "NCAA sanctions aren't the end of the world."
They aren't the end of the world, but as the penalties begin to seep into Penn State's blood stream, it will likely be the end of Nittany Lion football, in a competitive sense, for the foreseeable future. Even the most die-hard PSU followers would have to admit to that football truth.
It is one thing to see those penalties in the abstract, but quite another to see them through the eyes of Penn State's players. And make no mistake, you can still see the hurt on their faces.
[+] Enlarge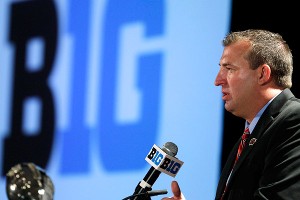 AP Photo/M. Spencer GreenBret Bielema's team welcomes its role as the hunted.
"It's a sad reality," said Jordan Hill, a senior defensive tackle. "It's sort of like a movie, where you watch it and say, 'This stuff will never happen to me.'"
Except that it did happen to Hill and his teammates. They begin their season knowing they will play 12 regular-season games and nothing more.
Hill was 7 years old in 1998, when a mother first complained about the actions of then-Penn State assistant coach Jerry Sandusky.
"I was focusing on Power Rangers and Ninja Turtles," he said.
But it is Hill and his teammates, who played no part in the scandal and silence that unfolded during the ensuing years at Penn State, who find themselves at the center of the NCAA punishment. Fair? There is no fair.
"We've been set up to be torn apart," said senior linebacker Michael Mauti.
He was talking about the open season on Penn State players by opposing coaches. According to Mauti, some of those coaches are calling some Penn State players 10 to 12 times, camping outside their apartments and even their classrooms.
"They're playing under the rules, write that down," said Mauti. "But you have coaches saying, 'We wish the best for Penn State,' but at the same time they're trying to recruit our players."
There is anger and sadness. This has been an out-of-body experience for these players. But there is also a renewed sense of team. You saw that in their faces, too.
"We don't want to lose a game, especially in our last year," said Hill. "It will be a very emotional season."
Game 1 of 12 begins Sept. 1 against Ohio. That's the day the first Penn State punch is thrown.
Wisconsin Deals With A Lead
By Adam Rittenberg
ESPN.com
CHICAGO -- Despite the temptation, the Big Ten didn't present Wisconsin with the 2012 Leaders Division championship at Thursday's preseason media sessions.
But if the Badgers don't show up Dec. 1 in Indianapolis for the Big Ten championship, things will get ugly in America's dairy land. Their path to Naptown is as open as a straightaway at the Indianapolis Motor Speedway during a qualifier.
Wisconsin might have been the division favorite even if Ohio State and Penn State had been eligible for postseason play -- and the Big Ten championship game. When Ohio State received a one-year postseason ban in December, Wisconsin became the near-consensus pick. When Penn State received a four-year postseason ban on Monday, Wisconsin became the only reasonable choice. No disrespect to Purdue, Illinois or Indiana, but those teams need to make a major jump to overtake a Badgers team that has reached the past two Rose Bowls and boasts 32 victories the past three seasons.
Bret Bielema's team finds itself in a unique position: facing pressure to win the division but also having to ward off complacency.
"A lot of fans think we have an easy ride to the Big Ten championship game because two teams in our division are eliminated," left tackle Ricky Wagner said. "But we definitely don't feel like that. And if we start to feel like that, we're going to have a bad year."
Bielema has preached a "1-0 mentality" throughout his Wisconsin tenure, which his players have embraced. The Badgers also welcome their role as the hunted.
"It's more pressure on us, which is good because we love it," senior running back Montee Ball said. "We already had pressure before the Penn State deal because we are two-time champions in the Big Ten. We're trying to get a third one."
Ball and Wagner are trying to instill the philosophy in their younger teammates.
"Just putting on the jersey doesn't mean you're going to win games like we have in the past," Wagner said. "We've got to let them know anything can happen."
Bielema notes that while Ohio State and Penn State can't get to Indy, both teams can shape who does. Division games have added significance, and Wisconsin finishes the regular season with matchups against the Buckeyes (home) and Penn State (road).
Despite an easier road, Bielema doesn't expect his team to ease off the gas. Wisconsin has plenty of incentive to keep the pedal down.
"It's never been done before at Wisconsin," he said. "They've had back-to-back Big Ten championships, but they've never had three, so it's an unprecedented process."
Ohio State Pair Could Return Soon
By Austin Ward
BuckeyeNation
CHICAGO -- Official reinstatement hasn't yet been granted for tight end Jake Stoneburner and left tackle Jack Mewhort.
But at this point, it appears to be merely a matter of days for the Ohio State veterans.
Buckeyes coach Urban Meyer initially suspended them both indefinitely for their offseason arrests in June before stripping them of their scholarships, making them work out separately from the team and also placing stipulations they had to meet before receiving full clearance to rejoin the program. Both Stoneburner and Mewhort are apparently on track to return, though Meyer won't be marking it down as a done deal until next week.
"I anticipate it," Meyer said during an interview session at Big Ten media days on Thursday. "But it's obviously eight days away.
"If they continue, if they fulfill their community service and a variety of things I'm not going to list [they will be cleared]. There are a variety of things they've done and they have to continue to do that. If it continues as is, they will report next Friday."
When practice opens, though, the Buckeyes aren't likely to be joined by Storm Klein after the senior linebacker's dismissal earlier this month following charges of domestic violence and assault.
Meyer seemed to leave the door open for the 10-game starter last season by indicating that his status could be reevaluated if there is a change in his legal situation, and he stressed that was still the case as the Buckeyes prepare to enter training camp. But Klein is not listed on the current roster and doesn't appear to have a clear path to get back on the field, unlike Stoneburner and Mewhort.
"Storm has a good reputation, good grades, good student, good guy," Meyer said. "He made a severe violation, and from day one, my first meeting was very clear about what we expect.
"It's non-negotiable, and he knew it, he understood it."
The expectations were clearly defined for Mewhort and Stoneburner as well.
And while they have met them all so far, they still have another week to go before there is an official change in their status.
Penn State OL John Urschel
One Good Thing

Illinois: Graham Pocic is one of the league's top centers but might not stay there. Illinois plans to give him some snaps at tackle and guard during training camp as it tries to figure out its line. Makes sense, since the 6-foot-7 Pocic is very tall for a center. "I feel comfortable at any spot on the line," he said.

Indiana: The Hoosiers hope to make progress in Year 2 under Kevin Wilson but will be incredibly young again. Wilson said Indiana will have only five scholarship seniors this year and eight total, which IU said is the fewest of any FBS team this year. Wilson said seniors Will Matte, Larry Black and Adam Replogle will be essential for leadership.

Iowa: Coach Kirk Ferentz said incoming freshman running back Greg Garmon, who was convicted on drug paraphernalia charges earlier this month, would not be suspended for any games. Garmon could face some internal discipline. Also, backup cornerback Jordan Lomax suffered a shoulder injury last week and will likely miss the year.

Michigan: Coach Brady Hoke did not rule out the return of starting running back Fitzgerald Toussaint for the season opener against defending national champion Alabama on Sept. 1 in Arlington, Texas. When asked if Toussaint -- who was arrested last weekend in Ann Arbor, Mich., on suspicion of DUI -- would be available against the Crimson Tide, Hoke said, "I haven't made any decisions."

Michigan State: No surprise that Mark Dantonio was asked about Michigan after his "Where's the threat?" comment this spring. Here's what the Spartans coach said on Thursday about the rival Wolverines: "I would just say they've been favored pretty much the last four years. ... But it only matters: Are they favored or not in the locker room? And in our locker room, they won't be favored. So we'll start with that."

Minnesota: Quarterback MarQueis Gray led the Gophers in rushing last season, as the running backs were inconsistent at best. But coach Jerry Kill said the running game could be the biggest area of improvement on this year's team, led by promising junior college transfer James Gillum. Kill said Minnesota could use more two-back sets this year because of its improved depth and talent.

Nebraska: There's no question to Bo Pelini who the leader is on the Cornhuskers' defense. It's senior linebacker Will Compton. "He has a lot of personality. I hear a lot of people commenting on Will's personality. He's a fun guy, but he's a guy that really, I thought, last year started taking his game to another level."

Northwestern: Kain Colter played several different positions last year, but coach Pat Fitzgerald is confident Colter can thrive as a full-time quarterback this season. "He has more experience going into his junior year than Mike Kafka and Danny Persa did when they were his age. So he's got a lot of experience. We got an opportunity to see his skill set a year ago, especially when you looked at the Nebraska game. I think, obviously, he did some very special things in that game, but also in every game. He's a very dynamic quarterback."

Ohio State: Neither running back Jordan Hall nor defensive end Nathan Williams will be totally ready to go when camp opens in a little more than a week. But both of them could be back in action for the Buckeyes a bit sooner than originally expected. Ohio State coach Urban Meyer pronounced Williams (knee) and Hall (foot) ahead of schedule in their rehabilitation, though how quickly they could return to help the team is still somewhat unclear. According to Meyer, Williams is "cutting and accelerating" as he attempts his comeback and Hall "is moving along fast" and could still be back by the third week of the season after cutting a tendon in his foot in June.

Penn State: Senior linebacker Michael Mauti is not happy with the NCAA's decision to let Penn State players transfer without restrictions. "It's a joke," Mauti told reporters. "It's an absolute joke. There has been coaches hounding our players, like 10 to 12 calls a day. They're on our campus, outside of our apartments, outside of our classrooms. It just doesn't seem right."

Purdue: The Boilermakers have a chance to make some noise in the Leaders Division with what looks like their best team under Danny Hope. But they'll have to make key improvements. "We have to be a much more disciplined football team from top to bottom." Hope said. "That was a huge emphasis this past spring. And we have to stay together as a team, and leadership from coaches all the way down to the players will be an important factor."

Wisconsin: Maryland transfer Danny O'Brien has been working out with the Badgers this summer and has already made an impression. "It seemed like after just a week that he's been part of the team for years, just like Russell Wilson," offensive tackle Ricky Wagner said. Coach Bret Bielema also said quarterback Curt Phillips has recovered from knee problems and will add depth to the position.
Tracking Big Ten Media Days
Want the latest from Big Ten media days? Adam Rittenberg and Brian Bennett are on the scene and tracking it all in the Big Ten blog. Follow along. Big Ten blog.
Michigan QB Denard Robinson
RecruitingNation
Michigan: WolverineNation


Follow everything Michigan at WolverineNation: Michigan Wolverines football, basketball, news, recruiting and more.
• WolverineNation | Blog

| Recruiting news
RecruitingNation
Ohio State: BuckeyeNation


Follow everything Ohio State at BuckeyeNation: Ohio State Buckeyes football, basketball, news, recruiting and more.
• BuckeyeNation | Blog

| Recruiting news