Red Raiders Ruffin It
After directing an impressive victory over Texas A&M in 2007, interim Texas Tech defensive coordinator Ruffin McNeill was serenaded like a rock star by Red Raiders fans after his team's aggressive, swarming performance helped dismantle its biggest rival.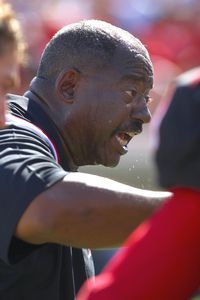 Wesley Hitt/Getty Images
Ruffin McNeill is focused on improving the Red Raider defense.
The self-deprecating McNeill deflected much of the praise after that game, joking that the fans had "a little bit too much to drink" to be flattering him in such a manner. But after several other strong defensive performances late last season, Tech coach Mike Leach saw the benefits in the promotion, making McNeill's role a permanent one after the Red Raiders' Gator Bowl victory over Virginia.
McNeill's hiring was a popular one among Tech players, but will be one of the most scrutinized in the Big 12 this spring -- particularly with the unprecedented hype bouncing through the Red Raiders' program after last season's 9-4 record.
"I'm very excited to get things going and start working around the kids," McNeill said. "The philosophy and package won't change that much. We're going to be trying to build the house one brick at a time."
It will be McNeill's third opportunity as a coordinator after earlier stints calling defenses at Appalachian State and UNLV.
"I'm familiar with the job and I'm excited about the opportunity," he said. "The role isn't anything new and you always learn from things you do well and not well. I've messed up some things and done well on other things at times. I learned from the other two experiences to make sure the kids know what we want and can handle what we are asking them."
The return of QB Graham Harrell and WR Michael Crabtree will provide an enviable starting point for an offense that loses only one starter. But the key to the Red Raiders' ultimate success will be the continued development of McNeill's defense. The result likely will determine whether the Red Raiders can contend for the school's first Big 12 South Division title and its first BCS bowl appearance in school history.
McNeill's work helped turn around the '07 campaign. He took over for Lyle Setencich, who resigned after Tech was blistered for 610 yards in a 49-45 loss to Oklahoma State in its conference opener.
After that trauma, McNeill said he worked on building his team's battered psyche by simplifying the defense's demands. The Red Raiders responded by allowing opponents an average of 349.7 yards per game over the rest of the season -- an improvement of nearly 56 yards per game from the first four games of the season.
McNeill's comfort level should increase. Tech's defensive line is set for an upgrade with the return of defensive end McKinner Dixon, a standout as a freshman who comes back after a stint at Cisco Community College. The Red Raiders' biggest challenge will be to find replacements for steady corner Chris Parker and hard-hitting safety Joe Garcia.
"Every day during practice, we emphasized fundamentals and the scheme," McNeill said. "The biggest thing was making them believe in themselves. I know that sometimes when young kids have something bad happen, they tend to lose confidence. The one thing I tried to do was coach on a positive level.
"It doesn't mean that I won't coach them up. But we backed off and eliminated some of the thinking and reading they were doing and just let them play."
Pride Of The Horns
Texas will be the first Big 12 team to conduct its spring scrimmage when the Longhorns culminate practices Saturday in Austin.
Colt McCoy
will quarterback the "Pride" team that will consist of Texas' offensive starters against a "Tradition" squad that will include Texas' first-team defense and an offense led by backup QB
John Chiles
. Coach Mack Brown came up with the team names from the Longhorns' traditional slogan that says: "The pride and winning tradition of the Texas Longhorns will not be entrusted to the weak nor the timid."
Funny, most schools usually just use their team colors to differentiate scrimmage teams.
The influence of new defensive coordinator Will Muschamp will be highlighted at the final scrimmage. Among the players who have been praised by Brown for their work this spring are defensive ends Henry Melton, Brian Orakpo and Lamarr Houston.
"We've had the most physical practices we've ever had," Brown said. "We were more physical last spring, but this spring we've just continued. Obviously, Will's come in with some new defensive thoughts and we're working on those."
Race To The Finish
Iowa State coach Gene Chizik will be sorting through the closest quarterback competition in the conference this spring, as Austen Arnaud and Phillip Bates compete to be the Cyclones' starter.
Arnaud is a third-year sophomore who got most of the backup work behind Bret Meyer last season, appearing in six games and throwing 37 passes. That work has prepared him for his chance this spring, he said.
"It's night and day," Arnaud told The Des Moines Register. "This time last year, I didn't know any of the plays. Now, I've run them on the field and in practice. It's a little bit easier, but we've still got some kinks to work out."
Bates saw action in nine games last season in a variety of gadget roles, most notably as a receiver. His 38-yard reception helped wrap up the Cyclones' upset over Iowa -- the signature victory in Chizik's short tenure. Moving Bates to quarterback will make finding receivers this spring one of Chizik's primary chores. Only three returning ISU receivers caught more than two passes in 2007.
Tim Griffin covers college sports for ESPN.com. You may contact him at espntimgriff@yahoo.com.
Men At Work

Kansas is scrambling for a replacement for Outland Trophy finalist Anthony Collins, who declared for the NFL draft after the Jayhawks' Orange Bowl victory over Virginia Tech. Coach Mark Mangino is considering a variety of options, with 25-year-old native Australian Nathan D'Cunha the most intriguing. D'Cunha, a 6-foot-6, 307-pounder from Campbelltown, New South Wales, played one year of junior college football at Santa Barbara (Calif.) Community College. Protecting quarterback
Todd Reesing
's blind side will be a huge point of emphasis for the Jayhawks. D'Cunha is a raw but willing prospect after playing Australian rules football most of his life.
"They are totally different sports," D'Cunha said. "For rugby and Australian rules football, you have to be more conditioned. You have to be ready to run 40 minutes in a row. I think American football is more of a violent sport. Australian football is just a lot of running."
Extra Points

• Several Kansas newspapers have reported that Kansas State is actively seeking to drop a Sept. 6 game against Fresno State in favor of a Division I-AA team.
However, the Wildcats' plans are being hamstrung because they can't find a suitable schedule replacement for both themselves and the Bulldogs.
The move comes as coach Ron Prince seeks a contract extension after a disappointing 5-7 record in 2007. Prince's bid would be bolstered by a bowl trip, which might be a stretch if the Fresno State game remains on the schedule. The Wildcats already face a tough road trip to Louisville and a tougher cross-division slate that includes games against Texas Tech, Texas A&M and Oklahoma.

• New Nebraska coach Bo Pelini has put the Cornhuskers through a rigorous offseason conditioning program in hopes of getting his team in better shape. The change is noticeable to senior defensive end Zach Potter after only a few weeks.
"I joked with my dad that I could actually feel an ab," Potter said. "You couldn't see it, but I could feel it. I think a lot of guys toned down and got in better shape than they've been in the past."

• So much for the apple falling close to the tree -- at least on Baylor's defense. Redshirt freshman Matt Singletary, son of NFL Hall of Famer and former Baylor standout linebacker Mike Singletary, has been working at slot receiver this spring after coming to the school as a defensive end.
"In our offense, we look for what we call a big slot," Art Briles told the Waco Tribune-Herald. "We want a guy from about 250 to 270 who can move and turn upfield and get after somebody with a mean look on their face. Hopefully, Matt can do that. We're kind of checking him out."

• Texas A&M backup quarterback Jerrod Johnson will get his best chance to catch new coach Mike Sherman's attention this spring as starter Stephen McGee's work will be limited as he recovers from offseason shoulder surgery.
Sherman also is working with a variety of formations with Jorvorskie Lane at fullback, giving him the ability to play Lane and elusive TB Mike Goodson at the same time.

• Oklahoma's rebuilding receiving corps received a setback when redshirt freshman Ryan Broyles, one of the early standouts of spring camp, suffered a broken collarbone and will miss the rest of spring practice.
Broyles was expected to play last season as a freshman, but was suspended shortly before the 2007 season after he was arrested for stealing gas from a Norman convenience store by using a pump key and override codes. He was reinstated before bowl practice and dazzled OU coaches by mimicking West Virginia QB Pat White.

• Former minor league pitcher Brandon Weeden is in the mix for the backup quarterback job at Oklahoma State. Weeden, 23, pitched for five seasons in the minors after he was a second-round selection of the New York Yankees in the 2002 amateur draft.
OSU coach Mike Gundy said that Weeden's maturity has helped him as he battles with
Alex Cate
for the backup position behind starter
Zac Robinson
.
"I never count on those guys," Gundy said. "I usually expect them to fade out in a couple of months. They usually get here and think it's too hard -- baseball isn't like college football because what they go through in the offseason is nothing like we do. But Brandon has just kind of hung around and hung around. He likes it."