Working On Night Moves
Kansas State coach Ron Prince has been around college students long enough to know their nocturnal habits.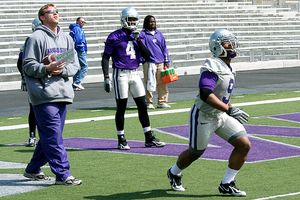 Kansas State University
Kansas State's lone day practice comes on Saturdays.
That's why Prince has scheduled most of his team's spring practices at night, hoping it will give his players a chance to work on their studies during the afternoon. KSU's spring practices begin at 8:20 p.m., and the work concludes by 10:30 p.m.
"Nowadays, most of them don't go to bed until midnight anyway," Prince said. "We just figured this would be the best way to let them keep their schoolwork up while they were practicing. I'm as confirmed as anybody that they are in school to get their degrees."
After watching his team struggle through a 5-7 record last season, Prince has closed all of his practices, with the exception of the spring game. He has joked to reporters that he is throwing the Berlin Wall around his team this spring for the night practices.
"I love having open practices, and I know the players love to participate in them," Prince said. "But we didn't play well late last year. I'm not going to reward them with having open practices. We're going to work in solitude. I don't like to have this attitude, but I wanted to make a point to the players. I want to see how they perform and react to this."
The late work is cutting into the players' television and video-game-playing time, but quarterback Josh Freeman understands his coach's reasoning.
"I don't particularly like this, but it's being done for the betterment of the team," Freeman said. "We're working out at night, which is a time you might normally want to relax after school and practice. But it's kind of a blessing. We don't have anything going on during the afternoon, so I either kick back or do my papers then."
The Wildcats are working this spring without leading returning wide receiver Deon Murphy, who is being held out of practice because of academics. Murphy led the Big 12 in punt returns and also produced 57 receptions last season.
"This could end up being a blessing in disguise for us," Freeman said. "It should benefit us by building some depth at the position. Deon's a great player and a burner, but we're having a bunch of other guys step up. We're getting guys a lot of reps, and they are really improving with the playing time."
No Holds Barred
New Nebraska coach Bo Pelini has forbidden his teams from frequenting select Lincoln watering holes this spring after several Cornhuskers were involved in several alcohol-related incidents earlier this year.
In order to ensure his team was heeding his edict, Pelini and Nebraska assistant athletic director of football operations Jeff Jamrog made an unannounced stroll through several bars last Thursday night, according to a report in the Lincoln Journal Star.
During Pelini's trip, patrons at a couple of the bars greeted him with chants of "Bo, Bo, Bo" to welcome the new coach as he searched for any miscreants.
Nebraska quarterback Joe Ganz told the Journal Star that Pelini has said the lockdown will remain through the end of the semester.
"We're grown men," Ganz told the newspaper. "We understand what we have to do to help us get there. Like all college kids, we like to go out and have fun with each other. But if it's something we're going to have to sacrifice, it's not really a big [one] to make if we want to do what we want to do."
How much are Cornhuskers fans gravitating to Pelini's leadership style? More than 240 posts were recorded on the Journal Star's blog giving opinions about his midnight stroll. The reaction was overwhelmingly in favor of Pelini's take-charge leadership.
The excitement apparently is spilling over to the Cornhuskers' upcoming April 19 spring game as well. Nearly 65,000 tickets already have been sold, selling the stadium out nearly 10 days before the event. With complimentary tickets included, Nebraska officials are expecting a capacity crowd of more than 81,000 at Memorial Stadium for the spring game.
Hitting A Horn Run
Texas' biggest offensive question this spring was developing confidence in the Longhorns' running game after the departure of Big 12 rushing leader
Jamaal Charles
. If the Longhorns' production in the spring game is any indication, it looks like coach Mack Brown's team might be in better shape than anticipated.
Texas averaged nearly 5.5 yards per carry in its final scrimmage, scoring three touchdowns on 40 attempts. But the biggest revelation was the play of versatile sophomore quarterback John Chiles, who tallied a scrimmage-high 75 yards on nine carries.
Brown limited Chris Ogbonnaya's work this spring because he's familiar with him after two seasons as the Longhorns' third-down back. That left the majority of the carries in the spring game for Vondrell McGee and Fozzy Whittaker.
"I thought Vondrell did some good things and Fozzy has had a great spring and he's really looked good," Brown said. "So, right now, those three guys would still be competing in the fall to see who will step up."
Tim Griffin covers college sports for ESPN.com. You may contact him at espntimgriff@yahoo.com.
Grand Opening

After struggling in its first scrimmage, Oklahoma's offense sustained flashes of success in the Sooners' most recent scrimmage.
Quarterback Sam Bradford thrived in the first unveiling of the Sooners' new no-huddle offensive scheme, passing for 158 yards and a 3-yard touchdown pass to tight end Jermaine Gresham. Backup Joey Halzle passed for 177 yards as the Sooners' offense scored twice in the scrimmage. Oklahoma's offense was shut out at the first scrimmage.
"Today was probably about as game-like as we've had with the no-huddle," Bradford told the Oklahoma City Daily Oklahoman. "I thought our tempo was good, and for the most part, we were on the same page. I like what we did today with it."
The Sooners will conclude their spring practice with their annual scrimmage on Saturday.
Extra Points

• Four contenders for Texas Tech's starter at running back are locked in a battle that is too close to call with a week still remaining in spring practice. Senior Shannon Woods, junior Kobey Lewis and sophomores Aaron Crawford and Baron Batch all are fighting for playing time.
"Shannon has looked really good and is the most polished of the four," Tech coach Mike Leach said. "Both Crawford and Batch are more powerful physically and run and block like it. And Kobey has a lot of precision to read his pass routes and then square them off."
While Leach hopes that one of the contenders will emerge, all have different strengths that could make a rotation of the four players the Red Raiders' best offensive option.
"I still think you have to feature one guy," he said. "But they've all looked very good and competitive to the point where they are all really close."

• Converted I-back Cody Glenn has been one of the biggest surprises in Nebraska coach Bo Pelini's retooled defense. Glenn switched to linebacker early in spring practice and has been a prime playmaker at the Cornhuskers' early practices.
Glenn, who has rushed for 579 career yards and 14 touchdowns as a backup to Marlon Lucky, is already receiving some work with the Cornhuskers' first-team defense. He produced an interception in his first defensive practice and has earned continued playing time at the new position.

• Missouri's defense has struggled with injuries throughout spring practice. Starting linebackers Sean Weatherspoon (torn labrum) and Van Alexander (leg injury) both have been injured in the past week.
Those losses only aggravated depth problems at the position after Connell Davis surprisingly left the program last week. Davis, a converted running back, produced 13 tackles in 13 games and recovered three fumbles last season.
Before spring work began, backup linebacker Marquis Booker was kicked off the team two days after he was arrested on suspicion of unlawful use of a weapon. The Columbia Daily Tribune reported that police reports revealed that Booker was a passenger in a car driven by wide receiver Jeremy Maclin that was found to contain a 9 mm handgun. Booker told Columbia police when the car was pulled over that he was the owner of the gun.

• Oklahoma State is hoping for a big production upgrade from the addition of seven junior college transfers. Coach Mike Gundy is particularly excited about the new players on defense, where the Cowboys lose five starters from a unit that ranked 101st nationally in total defense and 112th in pass defense last season.
"These guys kind of give you a buffer," Gundy said. "People say we're going all juco, but that's not the case. We have 18 [high school] recruits, and that gave us the opportunity. If we didn't have room for a class of 26, we never would have done this."
Gundy is counting on the junior college players to increase competition throughout the spring.
"By midseason, they should all be ready," he said. "Some will play earlier than that. And I think they all should be a factor by the middle of the year."
One of the early standouts has been safety Lucien Antoine, a head-hunting 6-1, 205-pound safety from Fort Scott (Kan.) Community College. OSU coaches refer to Antoine as "The Punisher."