No Offense
Spring games typically are vanilla affairs that don't feature much in the way of diverse offensive philosophy. In addition, defenses have seen offenses for the entire spring and know every nuance and snap count of the quarterbacks they are facing.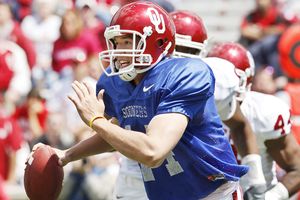 AP Photo
Sam Bradford didn't find much success in OU's spring game.
That familiarity sometimes breeds strong defensive performances, but still does not entirely explain the offensive struggles seen at both Oklahoma and Kansas during their respective spring games.
Oklahoma's defense dominated the offense in the Sooners' Red-White game, producing six interceptions including three returns for touchdowns. The team comprised of the first-team offense and second-team defense claimed a 69-40 victory in a scoring system that awarded points for many accomplishments ranging from long plays to forced punts.
Returning starting quarterback Sam Bradford, who led the nation in passing efficiency and tossed an NCAA freshmen-record 36 touchdown passes last season, struggled through a miserable day against his own teammates. Bradford was picked off three times, including two after defenders tipped low-flying passes.
Some of Bradford's throwing problems were exacerbated by windy conditions. Bradford completed 12 of 25 passes for 191 yards. The rest of the Sooners' quarterbacks were worse, completing only 9 of 33 passes.
Those struggles led Oklahoma coach Bob Stoops to joke about returning to the wishbone offense when the weather conditions are so daunting.
The Sooners' offense was missing some pieces. Starting guard Duke Robinson and top running backs Chris Brown and DeMarco Murray missed the entire spring. And top-projected receivers Ryan Broyles and Adron Tennell sat out the game.
But Oklahoma's secondary was the biggest revelation. A unit depleted by the graduation of D.J. Wolfe, Marcus Walker and Darien Williams and the early departure of Reggie Smith to the NFL was the team's major question mark heading into spring practice.
Cornerback Dominque Franks produced three interceptions, including a 57-yard TD return in the first minute of the scrimmage. Other Oklahoma defensive backs also showed flashes throughout the spring. "Hopefully they know they can count on us a little bit in a game," Franks told the Tulsa World. "But we're going to prove it every week when we step out on this field."
Kansas similarly struggled during its spring game, looking little like the offensive unit that in 2007 ranked second nationally with an average of 42.8 points per game.
First-year defensive coordinator Clint Bowen's starting unit, which returns nine starters from last season, played with confidence. Starting quarterback Todd Reesing struggled leading the Blue team to a lackluster 17-3 offensive effort. Reesing passed for 227 yards, but was intercepted twice and sacked three times.
"On offense, I didn't think it was very pretty," Reesing said. "We struggled with a lot of execution things, myself included. We had too many mistakes on the offense and with dropped passes. The running backs didn't protect, and I missed throws. Things aren't just going to happen for us. We have to show up and make them happen."
The Kansas offense didn't score a touchdown until an 8-yard toss from Reesing to Dexton Fields early in the fourth quarter. The Jayhawks' defense notched a combined 20 tackles for losses, including six sacks. And Reesing's first-team unit sputtered without key performers like leading rusher Brandon McAnderson, starting tight end Derek Fine and starting tackles Anthony Collins and Cesar Rodriguez -- all gone from last season.
Of particular concern was a rushing game that combined to produce only 90 yards for both teams on 49 carries -- an average of 1.84 yards per carry. "I thought defensively we looked sharp. I believe we have a chance to have a pretty dog-gone defense again," Kansas coach Mark Mangino said. "But we've got to get some improvement in the running game and that goes with the offensive line. And I think once we make some adjustments with the offensive line, then the offense can move the ball better."
Heralded incoming running back Jocques Crawford watched the game. Crawford is finishing up at Cisco (Texas) Junior College and expects to move to Lawrence in early June.
Mangino has said he expects Crawford to immediately challenge for a starting job. And Crawford was even more confident after watching his competition struggle at the scrimmage. "I really like my chances," Crawford told reporters at the game.
Spreading The Word
Missouri was one of the early proponents for a no-huddle spread offense. It allowed the Tigers to cram more offensive plays per game than most teams.
Since implanting the up-tempo attack in 2004, the Tigers have ranked at least fifth or better nationally in average offensive plays per game in each season. But it didn't come without some initial hesitancy from Missouri coach Gary Pinkel, who said that he needed to be convinced by offensive coordinator Dave Christensen before deciding to commit to the offense.
"When we made the change to the new offense, you soul-search about it, because it's a career decision," Pinkel said. "But after doing enough study, I felt it was the right thing. But when Dave came in a month later and said he wanted to go no-huddle all the time, I had to think about it a little bit."
The results, keyed by quarterbacks Brad Smith and Chase Daniel have enabled the Tigers to become an offensive juggernaut in recent seasons. That success has made other schools interested in learning about Christensen's no-huddle. Coaches from Florida, Colorado State and Ohio State visited Columbia this spring to take notes on the Tigers' offensive philosophy. "I hear a lot of people are using that now," Pinkel said. "I think it's one thing that is really good in what we do and other people are seeing the advantages of it. It's been really important in what we've tried to do here."
Six teams in the Big 12 -- Colorado, Kansas, Kansas State, Missouri, Texas Tech and Oklahoma -- have either committed to or are experimenting with the no-huddle this spring.
Tim Griffin covers college sports for ESPN.com. You may contact him at espntimgriff@yahoo.com.
Just For Kicks

With the return of 10 starters on offense and eight on defense, Texas Tech coach Mike Leach would appear to be in good shape for 2008. But Leach is wrestling with one nagging worry this spring after the departure of Alex Trlica, who developed into the most consistent kicker in NCAA history. Trlica finished with a record string of 233 consecutive extra points before he graduated. "I am concerned about this, because it takes time to break a kicker in," Leach said. "I think we've got good people to work with at the position, but it is kind of a concern."
Punter Jonathan LaCour and walk-on Cory Fowler are competing for the kicking job, and Donnie Carona was the first placekicker to sign a national letter of intent in Leach's coaching era. Carona was a first-time, all-state selection as a running back for Monsignor Kelly Catholic High School in Beaumont, Texas.
"He does a good job, and we hope that he can do it as a freshman," Leach said about his scholarship offer to Carona. "We did in part because our cupboard was empty. If it's a little bit up in the air and the guy is good, it's easier to give him one. I also liked his kicking ability and his toughness when he played the other positions."
Husker Watch

It seems that Bo Pelini is all around the Nebraska program. Not only has the new Nebraska coach made late-night checks at various Lincoln-area bars to check on miscreant players, Pelini and other coaches are also showing up unannounced at his players' classes to check on attendance. The Lincoln Journal-Star reported that Pelini's plan is the most far-ranging in the history of the program. "Everything counts in this program, from the time you wake up in the morning until the time you go to bed at night," Pelini told the Journal-Star. "We're going to hold you accountable in every aspect of what you do. If we can't count on them to do the right things off the field, we can't count on them on the field, either." And how much is the Husker Nation lapping up Pelini's arrival? A sellout crowd of more than 81,000 is expected Saturday for the annual Red-White spring game. Some tickets that originally were priced for $10 are fetching $95 through some secondary ticket-sellers.
Extra Points

• Colorado linebacker Jake Duren's dismissal from the team aggravates a loss at the Buffaloes' biggest defensive weakness this spring. Duren, a transfer from the University of Northern Colorado, was arrested on suspicion of first-degree criminal trespass. He was released after posting a personal recognizance bond. His arrest came fewer than 24 hours after his most productive scrimmage with the Buffaloes. Duren notched seven tackles and produced an interception in his last work before his dismissal. He becomes the fifth Colorado player since January to be involved in an incident investigated by police.
• Walk-on defensive end Tyler Sale has one of the most interesting stories in the Big 12 this spring. Sale was a handler last season for Ralphie, the Colorado mascot. But the 6-foot-3, 255-pound defensive end has decided to return to football after recovering from two knee injuries suffered in high school. "It feels incredible strapping a helmet back on," Sale told the Boulder (Colo.) Daily Camera. "It makes you feel a little bit rusty getting in a stance and all that stuff. Hopefully it will come back real soon, but it feels great to be back out here, flying around and smelling sweat in the air."

• One of Iowa State coach Gene Chizik's biggest goals is to get more pop from an offense that seldom produced big plays last season. The Cyclones' longest run was 37 yards, and their longest pass was 55 yards. Including all returns, ISU had only two plays longer than 50 yards during the entire 2007 season.
Chizik hopes the quarterback combination of
Austen Arnaud
and converted wide receiver
Phillip Bates
will help boost the production. He expects to regularly use both quarterbacks, alternating them depending on game situations. "I think we're getting more explosive … it's something that we need," Arnaud said. "It scores points for us. It's just me and Phillip working together trying to make those things happen on offense. We're getting more comfortable with the offense now so we can make those plays."

• After Ian Campbell struggled at linebacker last year, Kansas State coaches are excited about his return to defensive end this season. Campbell's production diminished as he was often schemed out of plays. He produced only 11 tackles for losses and 4½ sacks last season after notching 17½ tackles for losses and 11½ sacks in 2006.
"He'll probably play with his hand down more than he did," KSU defensive coordinator Tim Tibesar said. "We're still going to try to move him around so teams can't zero in on him. He's obviously one of the better players in the Big 12, so we've got to take advantage of the things he can do."