Rules Of Attraction
With spring practices complete across the Big 12, the focus shifts from the current players to the future ones. A huge change in recruiting is in effect that has split coaches across the conference.
A new NCAA rule approved in January forbids college football head coaches from visiting high schools during the spring evaluation period that stretches from April 15 through May 31.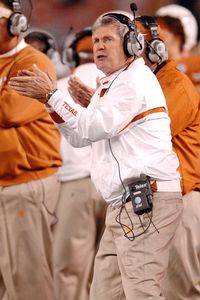 Kirby Lee/Image of Sport/US Presswire
Texas coach Mack Brown doesn't mind not hitting the recruiting road this spring.
While Mack Brown will be sitting in his desk in Austin, Texas, waiting for reports on potential members of his newest recruiting class, Colorado coach Dan Hawkins wishes he was still on the road, talking to high school coaches and administrators as a way to learn more about his recruits.
The rules change has been bashed by coaches across the country. LSU coach Les Miles specifically blamed Brown for its installation.
"The guy who pushed this was Mack Brown because Mack doesn't have to leave his office ever, and that's an advantage for him," Miles told reporters last week. "That's just because it's Texas."
In the past, campus visits by head coaches were permitted during the spring evaluation period. During that time, coaches were able to watch any spring practices and could speak with any high school official, but were forbidden from talking to the player.
But that didn't stop chance meetings -- called "bumps" in the recruiting world -- from occurring at practice or somewhere in the school during their visit.
The new rule does allow assistant coaches to visit high schools during the spring evaluation period. Head coaches can contact prospective recruits at summer camps or clinics or on their college campus.
Brown said he has never recruited at high schools during his coaching tenure with the Longhorns.
"We've done it the same way for 10 years," Brown said. "… If I go into a school [to recruit], being the head coach at the University of Texas, a lot of kids would want to talk to you and it could put you in a difficult spot because you can't talk to them. We decided it would be impossible to enforce because we couldn't do it properly.
"Very honestly, you couldn't talk to the kids, you just watch them practice. You have to trust your assistant coaches. They'll bring film and evaluations back. We'll all just have to do a better job of organizing across the country."
On the other hand, Hawkins has relished his opportunity to recruit at high schools.
"I enjoy going out, seeing coaches, watching kids participate and going to the schools, " Hawkins said. "I understand some of the ramifications behind the ruling. But it's hard when you can't basically do your job."
Even though he couldn't talk to the prospective recruits, Hawkins said that he gleaned a better understanding about his recruits by talking to their teachers and coaches.
"The way that recruiting rules have gone … you can watch a player in the fall one time if you're lucky," Hawkins said. "You have to go off a bunch of film, and when they took the text messaging away, it hurts in terms of your relationship of figuring out that guy.
"You're putting out a lot money and a lot of your reputation and not being able to have the same kind of evaluation that you'd like to have -- especially in terms of getting a feel of who a guy is and what he's about. That hurts, there's no doubt about it."
Just For Kicks
Spring games often aren't very exciting, but it might be hard to find a more soporific outing than Kansas State's spring game. Josh Cherry accounted for all of the scoring on a 51-yard fourth-quarter field goal that boosted the White to a 3-0 victory over the Purple. The two offenses combined for 204 yards, and the KSU quarterbacks completed 10 of 28 passes.
Winning team members dined on steak after the narrow victory while the losers ate bologna sandwiches. Despite the lack of offensive firepower, KSU coach Ron Prince was pleased with what he saw.
"I didn't have any concerns at all," Prince said. "Our defense played well. We played a real game with real stakes. Our coaches wanted to win the game, and in the commitment to win it, that's how it turned out. I guess I saw it a little differently than those who like to write otherwise."
Gotta Be The Shoes
Texas A&M athletic director Bill Byrne has held an annual "state of the program" discussion with Aggie fans throughout his tenure. More than 1,200 people turned out for Byrne's most recent session earlier this month.
One of the most intriguing questions asked his reasoning for the Aggies' move last year from Nike to adidas as the department's primary apparel provider.
The San Antonio Express-News reported that Byrne detailed a meeting with a Nike representative in which he requested a similar deal as A&M's major rival, Texas.
Byrne said he was offended when the Nike official told him, "You're not as good as they are and you're probably never going to be." That blunt assessment, Byrne said, made his move to adidas easier. The adidas deal also provides more money for A&M than their Nike offer, Byrne said.
Calling The Shots
Texas Tech coach Mike Leach raised multitasking to a new level during a recent Big 12 teleconference when he watched film of his team's spring game with several coaches at the same time he was fielding questions from several reporters.
At one point, Leach cut off the moderator to make a point on a play to one of his coaches. But it was nothing like an earlier teleconference several years ago that Leach still chuckles about.
"One time, I got in trouble for ordering lunch on one of these deals, so I'll probably read about watching film here and letting that interrupt this press conference," Leach said. "I ordered Chicken Express and that wasn't exactly a big hit."
Tim Griffin covers college sports for ESPN.com. You may contact him at espntimgriff@yahoo.com.
Work In Progress

Kansas quarterback
Todd Reesing
struggled at times during spring practice as the Jayhawks became accustomed to key offensive personnel losses like starting tackles Cesar Rodriguez and Anthony Collins, leading rusher Brandon McAnderson and starting tight end Derek Fine. Because of the new personnel, Kansas coach Mark Mangino said he's trying to convince Reesing to be patient in working with the offense. Reesing sputtered in the Jayhawks' spring game after he was intercepted twice and sacked three times.
"I don't expect him to put up obscene numbers, but I do expect another strong year," Mangino said. "The biggest thing we don't want is for him to feel that he has to carry the offense on his back on every play. We have plenty of playmakers that make for a good supporting cast for Todd."
Development Project

New Baylor coach Art Briles has made developing wide receiver
David Gettis
one of his top projects this spring. Gettis was a heralded recruit coming out of Dorsey High School in Los Angeles, but has struggled after enrolling a year late because of NCAA Clearinghouse issues. Gettis snagged 31 receptions last season but has scored only one touchdown during his college career.
Briles has been impressed with Gettis' development during the spring, when the Baylor receiving corps was depleted by injuries to John David Weed (broken hand), Mikail Baker (broken hand) and Ernest Smith (mononucleosis).
"He intrigues me, and rightfully so," Briles said about Gettis. "He wants to be good and we expect a big year out of David. But he's not a polished receiver and still has a long way to go to be a guy you can depend on every play."
Extra Points

• Colorado coaches were hopeful that moving squat offensive lineman Kai Maiava to fullback would make him a key blocker in the Buffaloes' backfield. Instead, Maiava has told Colorado coaches he wants to leave the program and transfer to a school on the West Coast.
Maiava was named by Colorado coaches as the program's top freshman player last season and earned freshman All-America honors from a couple of national publications.
His father, Scott Mahoney, was a three-year letterman for Colorado as an offensive lineman in 1969-71. And his uncle is Dwayne "The Rock" Johnson, a former Miami defensive lineman who became famous as an actor and a wrestler.

• Iowa State placed a premium on developing a running game this spring after struggling all last season. The Cyclones produced an average of 123.7 yards per game last season -- an improvement over their averages in the past two seasons, but still not close to what Coach Gene Chizik would like his running game to be producing.
"I know this," Chizik said, "we tried to run the football last year and we weren't good at it. We have to run the football here -- we feel strongly about it."
Jason Scales, Alexander Robinson and J.J. Bass all are competing for the starting job. Each back had a 100-yard game last season, but there wasn't much separation in the spring. And Bass might have fallen out of the competition after he was indefinitely suspended by Chizik for unspecified reasons late in spring practice.

• Despite unprecedented expectations around his program, Texas Tech coach Mike Leach wasn't happy with an uneven performance by both of his starting units in the Red Raiders' spring game.
"I think their heads are in the newspapers," Leach told the Lubbock Avalanche-Journal. "I think those guys are reading too many press clippings, buying into everyone saying how good they are. They haven't played a down yet this year and they haven't proven a thing. We don't know that we can beat Lubbock High School right now."
The offenses were a combined 7-for-26 on third-down plays. And even Biletnikoff Award winner Michael Crabtree wasn't immune, with two of the Red Raiders' five dropped passes.

• New Nebraska coach Bo Pelini has been intrigued by several players he inherited after taking over the Cornhuskers' program following last season's disappointing 5-7 record.
"You know, it's not like you can go out and make trades or you can go out and draft or anything like that," Pelini said. "What we're trying to do is take the gentlemen that are on campus and develop them and try to push them to reach their potential.
"There's talent here. They're eager and they're learning every day. And what I've seen is guys getting better. But how that's going to equate to wins and losses, that's not something we're real focused on right now."