Step Class for Spartans
The message comes off as cliché, unless you know the history.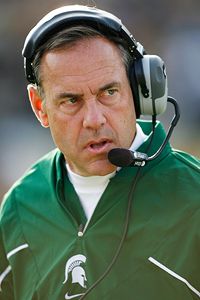 Joe Robbins/Getty Images
Michigan State's Mark Dantonio is taking a new approach to offseason conditioning.
Mark Dantonio knows the history. At Michigan State, progress has been fleeting in recent seasons. Great Septembers are followed by miserable Octobers. National rankings disappear. So does national respect.
The Spartans were heading down a familiar path in Dantonio's first season as coach, starting 4-0 before dropping five of their next six games, all by seven or fewer points. Then, the all-too familiar script changed, as Michigan State won its final two games to qualify for its first bowl since 2003.
Dantonio wants things to stay that way.
"We took two steps forward last year, and we need to take another step," he said. "We need to finish games. We won seven; could have won 10, 11, but we didn't. We've got to be able to play when things are on the line, which we did at the end of the season.
"But we're not there yet."
After a season spent adjusting to Dantonio's heightened standards for performance and discipline, players were tested again this winter. During the Fourth-Quarter Program, a series of taxing 70-minute workouts that usually start at 5:30 a.m., each man received daily grades.
"We continued to put an emphasis on attention to detail and working through the mental toughness aspects," Dantonio said. "We're having fun with it, as much fun as you can have that time of day. There's been nobody who's been late, nobody who's missed."
The on-field work begins Monday as the Spartans open spring practice. Michigan State returns the starting backfield of quarterback Brian Hoyer and running back Javon Ringer, but it must build depth at both positions and find replacements at wide receiver, defensive end, left tackle and other spots.
A defense that ranked 14th nationally in sacks (3.08 per game) and 11th in tackles for loss (7.69 per game) loses top pass-rushers Jonal Saint-Dic and Ervin Baldwin. Dantonio has a potential sacking successor in transfer Trevor Anderson, who followed him from Cincinnati to Michigan State and sat out last season. Anderson earned All-Big East honors as a sophomore at Cincinnati after recording six tackles and 13 TFLs.
"He can offset a guy like Saint-Dic or Baldwin," Dantonio said. "Obviously, he knows our system, and he was a dominant player last year on the scout team. He's always been the type of guy, since I've known him, that whatever he's attacked, he's been successful."
No player had more success under the new coaching staff than wide receiver Devin Thomas, who led the Big Ten in all-purpose yards (2,590) and ranked among the top 15 nationally in both receiving average (96.9 ypg) and kickoff return average (29.1 ypr). Thomas' early departure to the NFL and the graduation loss of tight end Kellen Davis create major playmaking voids.
Dantonio will lean on Mark Dell, who started at wideout as a true freshman, as well as several young players. B.J. Cunningham redshirted last season but turned heads in practice, and Michigan State signed three wide receivers in February.
"Whether it's one, two or three guys picking up Devin's workload, we're going to have to accomplish that to be successful," Dantonio said. "There's opportunity there. Last year, we were saying the same thing.
"We're trying to make that next step, and I believe that we will."
King of the Hill
MADISON, Wis. -- The on-field numbers have always been there for P.J. Hill: a Big Ten-leading 1,569 yards as a freshman, more than 1,200 yards as a sophomore despite missing nearly three games, 29 career touchdowns, a yeomanly 544 carries. But in the weight room, Hill's statistics were sorry -- until this past winter.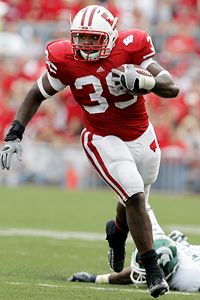 AP Photo/Andy Manis
P.J. Hill is enjoying his first healthy collegiate offseason.
The Wisconsin running back had never been healthy for a complete offseason and missed all of spring practice last year after right shoulder surgery.
"I was always banged-up before, so I could never really bench that much," Hill said. "Now I'm actually on the bench and up at 320 [pounds], feeling pretty good. It's just going to keep going up."
Hill is used to talking weight, but now it's not only about his body (for the record, he checks in at a stable 227 pounds, down from 242 two years ago). Finally satisfied with both his size and his strength, Hill is primed for an excellent spring.
Given the footsteps behind him, he needs one.
The two-year starter is being pushed by Lance Smith, Zach Brown and freshman John Clay. Smith rushed for 436 yards on 71 carries (6.0 average) last season despite being suspended for road games after being arrested on battery charges stemming from an alleged fight with his girlfriend. Brown started the final four games last season and rushed for 568 yards and five touchdowns.
Clay, a two-time prep player of the year in Wisconsin, mirrors Hill in size (6-2, 231 pounds) and showed impressive burst in Tuesday's practice.
"P.J.'s definitely healthier and better, but for the most part because of No. 32 [Clay], No. 5 [Smith] and No. 30 [Brown]," coach Bret Bielema said. "He's a two-year 1,000-yard rusher, put up a lot of good yardage against quality opponents, but the bottom line is he hasn't been able to go through an offseason until now. It's not only given him physical confidence but mental toughness."
Despite an impressive résumé as the starter, Hill knows the spring is about reclaiming what belongs to him.
"It makes me want it more," he said. "It's always in the back of a player's mind that somebody else wants the job and they're out there working just as hard as you. It's all about who's going to work even harder."
Adam Rittenberg covers college football for ESPN.com. He can be reached at espnritt@gmail.com.