License To Lead
Brit Miller has dislodged a helmet or two during his football career, but around the Illinois locker room, he's better known for swiping them.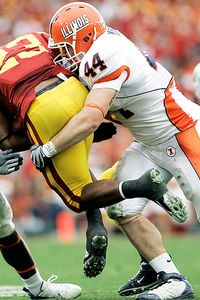 Jeff Gross/Getty Images
Brit Miller picked up 62 tackles for the Illini in 2007.
The senior linebacker is the pied piper of pranksters on a Fighting Illini squad filled with them. His favorite gag involves taking a teammate's headgear, taping weights to the inside, then depositing it in the cold tub.
"There's no easy way to get that out," Miller said. "If you've got a big-time weight in there, you have to go underwater and pick it up. And that's not good."
Fullback Rahkeem Smith was the most recent to go diving for his helmet.
"It took a while," Miller said. "And he's not a fan of the cold tub, either, so he was pretty reluctant to get in there."
Miller's penchant for pranks hasn't hurt his popularity with his teammates. That's a good thing, given the role he steps into and the beloved player he replaces.
Moving from strong-side linebacker to middle linebacker this spring, Miller is expected to direct a defense that has talent but several question marks. Until now, Miller went about his business, played hard, cracked jokes and left the leading to now-departed All-American middle linebacker J Leman.
His biggest challenge in 2008 will be complementing his fun-loving personality with a leadership style that demands respect.
"We need him to be a vocal guy because J always maintained that role for us," said Dan Disch, co-defensive coordinator and linebackers coach. "Brit's done a nice job in meetings, on the field, of going from the funny guy to getting it done and being a serious guy. He's just got to continue that progression where he knows when it's time to be the class clown and when it's time to buckle it up."
Illinois is coming off a Rose Bowl appearance but lost several mainstays from its defensive midsection. In addition to Leman, safeties Kevin Mitchell and Justin Harrison are gone, as is disruptive defensive tackle Chris Norwell.
Miller, a two-year starter who recorded 62 tackles (8.5 for loss) last season, became an obvious choice to lead.
"Having this responsibility, it's going to make me a better football player," Miller said. "I'm good friends with just about everybody on the team. I've never known a stranger. It's just natural for me to be in front of people."
The move to the middle should be smooth for Miller, who had practiced at middle linebacker behind Leman since his freshman year.
An effective edge blitzer last season, Miller will need to be more gap-conscious and disciplined with his decisions this fall. He also must mentor players like Martez Wilson, a heralded sophomore who likely will replace Antonio Steele at starting weakside backer.
"Being the middle linebacker, you get listened to a little more," Miller said. "You're in charge of the defense. I've been playing behind J at that position, and who better to learn from than him?"
Like Leman, Miller lived through the turnaround at Illinois, which endured consecutive two-win seasons in 2005 and 2006 before breaking through. The defense ranked last nationally in rushing in 2005 but improved to 36th last fall.
"Brit knows the difference between the '05, '06 and '07 defense, and what it takes for this group to be good," Disch said. "He's seen the really bad times. He's one of the guys that connects us from the past to what we hope is a successful future."
Chappell's Show
Indiana hasn't had to worry about a new man in the center of the offensive huddle, partly because there no longer is a huddle.
The Hoosiers are installing a new no-huddle offense in spring practice, and they're doing so with quarterback Ben Chappell at the controls. Chappell, a sophomore who appeared in three games last season, is taking snaps with the first-team offense after Kellen Lewis was suspended for an undisclosed violation of team rules.
Adapting to a new offensive system and a new quarterback -- not to mention life without star wide receiver James Hardy -- might seem overwhelming, but thus far, the Hoosiers are keeping pace.
"We've been going fast but under control," Chappell said. "We've done great so far, better than we really expected."
The switch to no-huddle, which came after Indiana's first bowl appearance since 1993, undoubtedly was made with Lewis in mind. As a sophomore, Lewis passed for 3,043 yards and 28 touchdowns, and also led the team in rushing with 736 yards and nine scores.
The multitalented quarterback will miss spring ball, but coach Bill Lynch is hopeful he will be back for the season. For now, Chappell is the leader.
"Obviously I was coming into a little different situation, but my approach to spring didn't change," said Chappell, who attempted only two passes last season, one of which was intercepted and returned for a touchdown. "I've been around a little bit -- I practiced all fall with the second team -- so all the guys are familiar with me."
Adam Rittenberg covers college football for ESPN.com. He can be reached at espnritt@gmail.com.
Damage Control
Iowa returned to the practice field this past Wednesday, but coach Kirk Ferentz continued to talk about what's happening off it. As expected, Ferentz addressed the rash of disciplinary problems afflicting his program.

Fourteen players have been arrested or charged with crimes since April 2007, and Ferentz, in an effort to change the culture at Iowa, wants to add a player development director who will primarily counsel first-year players. Eight of the players arrested or charged were in their first or second years.
"We've brought this upon ourselves," Ferentz said. "You have to work toward finding solutions and correcting it. If we can't do that, then it's going to continue, and we're not going to be successful in any regard."
Ferentz also announced that wide receiver Anthony Bowman has decided to transfer. Bowman and wideout Dominique Douglas were suspended last summer after being accused of credit card fraud. Douglas has since left school.
Brown Out
Michigan hopes to get Carlos Brown back before the end of spring practice after the running back broke a finger lifting weights two weeks ago. Brown, expected to compete with Brandon Minor and Kevin Grady for the starting running back job, missed three games last season after breaking his hand in preseason practice.

Wolverines coach Rich Rodriguez called Brown's broken finger "a freak accident" and said Brown would have auditioned at both running back and slot receiver. Brown also might have seen snaps at quarterback, the position he played in high school. Fortunately for the Wolverines, Grady is participating in practice after redshirting last season with a torn ACL.
Fading Front
The offensive line has become Purdue's most pressing concern in spring practice. Gone are guard Jordan Grimes and center Robbie Powell, and all three returning starters up front will miss spring practice with injuries, as will a promising reserve. Tackle Zach Jones (hip) and guard Zach Reckman (shoulder) underwent offseason surgeries, and tackle Sean Sester expects to have back surgery in the next few weeks.

Coach Joe Tiller thought he had a successor for Powell at center in Mike Chacksfield, but the freshman injured his knee shoveling snow back home in Cincinnati following a major storm in early March. Reserve linemen Eric Hedstrom and Garrett Miller both are coming off knee surgeries but will practice this spring.
Extra Points

• Kim Royston hopes to transfer from Wisconsin, but the free safety might not end up where he wants. Royston, who participated in Wisconsin's first two spring practices before deciding to transfer, hopes to head home to Minneapolis and play for Minnesota. The problem? Coach Bret Bielema grants transfers only to teams Wisconsin doesn't play for the next three years, a list that includes Minnesota.

• Running back
Walter Mendenhall
is transferring from Illinois. Mendenhall was expected to compete for the starting job vacated by his superstar brother, Rashard, but he's looking for a school where he can use his final season of eligibility.
When Rashard Mendenhall announced his decision to enter the NFL draft, he lobbied for his brother to succeed him in the Illini backfield.

• Ohio State running back
Chris Wells
will be held out of some contact drills this spring as he recovers from offseason wrist surgery. Wells, who played the entire 2007 season with a broken bone in his wrist, is practicing in a cast.
"At least for a couple weeks, he won't be cleared to go live with anyone, because you wouldn't want to risk it," coach Jim Tressel said.