History Buff
After watching the sick bay and the police blotter fill up with his players, Kirk Ferentz hopes history will soon be on Iowa's side again.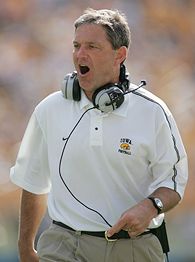 Scott Mussell/Icon SMI
Kirk Ferentz would like to see a more consistent effort in 2008.
Burdened by injuries and inconsistent quarterback play, Iowa went 6-6 last fall and missed a bowl for the first time since 2000. But the team's performance off the field was an even bigger disappointment: Fourteen players have been arrested or charged with crimes since April.
Ferentz, the Hawkeyes' head coach since 1999 and an assistant there from 1981 to 1989, has seen losing and legal problems afflict the program before, only to disappear quickly.
"We had our worst conduct year in 2001; probably had our best conduct year in 2002," Ferentz said. "And in '89, we had a 5-6 year, didn't go to a bowl and rebounded. The team was in Pasadena the next year. There are a lot of parallels there. The moral of the story is every year's different."
The familiar sequence doesn't mean Ferentz will stand idle and expect history to repeat itself.
He hopes to create a new position, the player development director, who will work mainly with first-year players (eight of those arrested were in their first or second years). The position hasn't been finalized, and Ferentz knows it's only one step toward solving the disturbing trend.
"By no means is it a panacea," he said. "The answer is with the players. There hasn't been a thing done in 2001 or this past year where the player didn't know better."
Could the string of transgressions be prevented by better screening during the recruiting process? Ferentz doesn't think so.
"Most instances, there would be no way to go back and say, 'Geez, we should have seen this,'" he said. "We've been pretty thorough with our evaluations. There are a lot of players we've chosen not to take that certainly were capable of playing here. I can think of more than several instances where that player went off somewhere else and didn't last."
Ferentz's evaluations this spring are taking place on the field. Aside from defensive tackle, where three-year starters Mitch King and Matt Kroul return, the two-deep is far from set.
Quarterback Jake Christensen struggled in his first season as the starter, completing just 53.5 percent of his pass attempts for the league's worst offense. Christensen didn't get much help from a line that allowed 46 sacks -- the sixth-highest total nationally -- and lost his top two targets (wideout Andy Brodell and tight end Tony Moeaki) to season-ending injuries.
Ferentz sees some similarities between Christensen and Matt Rodgers, who also struggled as a sophomore starter in 1989 before leading Iowa to a Big Ten championship the next season. Sophomore Ricky Stanzi and redshirt freshman Marvin McNutt are competing with Christensen this spring.
"He's ahead of the group, as you'd expect," Ferentz said of Christensen. "It's going to be somebody's job to knock Jake out of there. That could happen, I don't want to predict it, but I know this: He'll try to make it real tough for 'em."
Running back is a greater concern after the losses of Albert Young and Damian Sims. Sophomore Jevon Pugh recently left the team, and projected starter Shonn Greene isn't even on campus. He's finishing up at a junior college after academic issues caused him to leave Iowa.
Greene, who appeared in seven games in 2006, will be pushed by another junior college transfer, Nate Guillory, and incoming freshmen Jeff Brinson and Jewel Hampton.
"You hate to say a freshman's going to have to help us," Ferentz said, "but I don't think there's any doubt about it."
The Reel Truth
Like many college students in the upper Midwest, Minnesota linebackers Deon Hightower and Steve Davis spent the frigid winter watching horror movies together.
The problem: Hightower and Davis were the stars of the show.
As if a live look at last season wasn't punishment enough, Hightower and Davis met up throughout winter workouts to review every snap from 2007.
"It hurts," Hightower said. "It hurts being down when you see our defense put up the numbers that it put up."
The Gophers ranked last nationally in total defense (518.7 yards per game), 115th in pass defense (289.3), 114th in rush defense (229.3) and 109th in scoring defense (36.7 points per game). They gave up a school-record 6,224 yards and surrendered 30 points or more in 10 games, including all three overtime losses during a 1-11 season.
Former Duke coach Ted Roof has taken over as defensive coordinator, the fourth man to hold the job in the past five seasons. Roof's system is quickly catching on in spring practice.
"It's aggressive and he breaks it down where you can understand it and make plays," Hightower said. "It's not a lot of thinking."
Seven starters return from last year's unit, but the competition is open at almost every position. Of Minnesota's 31 incoming players, 20 will play defense, including junior college transfers Tramaine Brock and Rex Sharpe.
Hightower praised the spring performances of Davis and defensive end Will Brody. Head coach Tim Brewster has a background in offense, but he's spent more time with the defense this spring.
"His message to the defense is we cost us some games last year, and we've got to be better," Hightower said. "He's been in our meetings a little bit more."
Work In Progress
Steven Threet appears to hold a slight edge in the race to become Michigan's starting quarterback, but the competition is far from over. Threet, a transfer from Georgia Tech, led the first-team offense to a field goal and a touchdown on its first two possessions in Saturday's scrimmage. Walk-on Nick Sheridan worked with the second-team unit, while David Cone led the third-stringers.
"Today they weren't particularly sharp, but they competed," coach Rich Rodriguez told reporters.
Few offensive players distinguished themselves in the scrimmage, which featured six dropped passes, four interceptions and two fumbles. The Wolverines didn't run much of the option for which Rodriguez is known.
"We were pretty generic," Rodriguez said. "Why show your hand? There may be folks here you don't want to see."
Adam Rittenberg covers college football for ESPN.com. He can be reached at espnritt@gmail.com.
Linebacker U. in Limbo?

Before Friday, the line of succession was set in Happy Valley: Paul Posluszny to Dan Connor to Sean Lee. But after Lee tore the ACL in his right knee, Penn State is suddenly facing the unfamiliar reality of going into a season without a fail-safe dominant linebacker.
Lee sustained the injury on a noncontact play in Friday's practice and will undergo surgery in two to four weeks. With an estimated rehab time of nine months, he likely will redshirt the season and return in 2009.
Sophomore Bani Gbadyu, who had only six tackles last season, stepped into Lee's spot at Saturday's scrimmage. Tyrell Sales must take on a greater load with Lee out, and the status of several suspended defenders (Chris Baker, Phil Taylor, Navorro Bowman) is not yet known.
Buckeyes Brothers?

After making waves with his parting shots about Michigan, former Wolverines offensive lineman Justin Boren could stick it to his old team in a different way. Boren, who in a statement wrote that Michigan's "family values have eroded" in recent months, could consider Ohio State as a potential transfer destination. His father, Mike, told the Detroit Free Press that Ohio State would be "a good fit" for his son. Justin Boren attended Ohio State's practice on April 8.
Ohio State, meanwhile, has offered a scholarship to Boren's younger brother, Zach, a junior linebacker at Pickerington (Ohio) Central High School.
Green Light

Stephfon Green has yet to touch the ball in a game for Penn State, but the warp-speed running back continues to generate buzz in practice. Green turned heads last summer in the preseason but ended up redshirting the year. He's once again gaining attention this spring as he competes for carries with projected starter Evan Royster. At the first scrimmage media members could attend, Green ran 45 yards on his first carry.
Coach Joe Paterno said he hasn't seen Green in enough pressure situations to make a definitive judgment, but Green's teammates are sold on his potential. Linebacker Sean Lee called the redshirt freshman "lightning."
"Stephfon Green's a problem," defensive end Josh Gaines told the Altoona Mirror. "He's a great guy. He's the fastest running back I've seen here. He has the best moves I've ever seen. People should look out for him."
A Fresh Brew

Northwestern wide receiver Andrew Brewer doesn't mind waking up at 5 a.m., even if it's just for spring practice. When Brewer fractured his humerus during a blocking drill weeks before the 2007 opener, his return date seemed very much in doubt. But he caught a break when it was determined he didn't need surgery on the shoulder.
"The surgery would have delayed me in the long run, no matter what," Brewer said. "They were saying they were potentially going to have to take out the plate and screws later on. Any time you cut off muscle, it's a slower recovery."
Brewer wore a hard cast for several weeks, then a custom-made splint, but went cast-less by mid-October and worked on his running. A former quarterback who started three games as a freshman, Brewer is projected to start at wide receiver this fall.
"I've worked my way pretty much close to 100 percent," he said.
Extra Points

• Ohio State coach Jim Tressel didn't specify why defensive backs Donald Washington, Eugene Clifford and Jamario O'Neal were held out of Friday's practice or whether suspensions would be forthcoming. Washington, a projected starter at cornerback, returned to the field for Saturday's scrimmage, while Clifford and O'Neal, both reserve safeties, continued to watch from the sideline. "Sometimes when you don't do what you're supposed to do, you lose your car keys," Tressel told reporters.

• Senior Jaycen Taylor has inched ahead of classmate Kory Sheets in their seemingly never-ending competition to become Purdue's starting running back. Boilermakers coach Joe Tiller gave Taylor "a slight edge" in the contest, calling him the more consistent back. Sheets has started more games (21-4) and scored more touchdowns (22-8) than Taylor the past two seasons, but he has been prone to fumbling. "He's a reckless ball carrier," Tiller told the (Lafayette) Journal and Courier. The Boilermakers added depth to their wide receiver corps last week with Georgia Tech transfer D.J. Donley, who caught eight passes for 101 yards as a freshman last fall.

• Arthur Ray Jr.'s football career is once again on hold after an infection was found in his leg, near the spot where a cancerous tumor had been removed. The Michigan State offensive line prospect withdrew from school and will undergo another surgery on the leg. Michigan State has set up a fund to help Ray's family with the upcoming hospital expenses. "The cancer is gone, so that's a good thing," Spartans coach Mark Dantonio told reporters. "But he has six weeks in a cast, and he's got to have IVs three times a day, and then they'll take the cast off, go back and refix it. He can return here back in the fall, but it's probably going to be a year or so before he's able to play."

• Sophomore Jay Valai has made a strong push this spring to become Wisconsin's starting strong safety. After replacing Aubrey Pleasant in the Badgers' Outback Bowl loss, Valai has continued to impress the coaches in practice. For much of the spring, he has worked with the first-team defense alongside Shane Carter, a returning starter at free safety.