Missing In Action
BATON ROUGE, La. -- LSU coach Les Miles took particular delight in reminding the media last week that his was the only vote that counted in whether or not suspended quarterback Ryan Perrilloux returned to the team.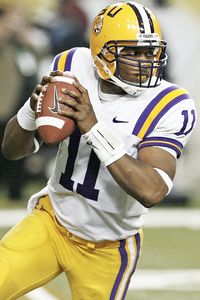 Mike Zarrilli/Getty Images
LSU is practicing without suspended QB Ryan Perrilloux.
This much we know: Perrilloux is serving his third suspension in less than a year. The Tigers don't have any experience behind him at quarterback, and most of his teammates have voiced optimism that he will be back.
The Tigers opened spring practice on Friday, and Miles has remained mum on the subject. But there is a plan in place for Perrilloux to return provided he does all of the things Miles has laid out for him.
Will he do those things? Only time will tell, and it's a long ways to the Aug. 30 opener against Appalachian State. But Perrilloux's teammates are staying on top of him.
Senior receiver Demetrius Byrd said he talks to Perrilloux every day and that Perrilloux is going to class and taking care of his business.
"I think everything is going to work out," Byrd said. "I'm hoping he comes back and [we] would welcome him back. I talk to him all the time. I get on him all the time. I ask him, 'How are classes going, man?' just to keep him going. He's like, 'I'm going. I'm going. I'm good. Don't worry about it.'
"He's going to be all right. He's going to do what he needs to do to get back on this team, and we're going to welcome him. Until then, we've got to make sure we take care of our own business and keep growing as an offense."
Senior center Brett Helms acknowledged that there were some mixed feelings on the team concerning Perrilloux, and rightfully so. After all, if he can't be counted on to make it to team functions and meetings and to make it on time, how can he be counted on to lead this team?
No wonder Miles is having second thoughts about whether or not he wants to hand over the keys to the Tigers' offense to a guy who's been anything but a beacon of responsibility.
Still, Helms doesn't think Perrilloux has crossed the point of no return as a teammate and deserves another chance.
"I hope he'll be back, and I think he should be back," Helms said. "I don't think it's anything too bad that he did. But that's between him and Coach Miles. Whatever Coach says, we'll go along with it. You block for whoever's back there, and that has to be the mentality of everybody on this team."
With Perrilloux not taking part in spring workouts, redshirt freshman Jarrett Lee and junior Andrew Hatch have been sharing the quarterback duties.
Miles said Hatch, who began his career at Harvard, was probably ahead in the management of the offense. But the Tigers' receivers have been impressed with Lee's ability to get rid of the football. The Brenham, Texas, product was one of the top quarterback prospects in the state when he came out of high school last year.
"He throws a nice ball and has a nice release, not a Ryan Perrilloux release, but a good one," Byrd said.
Sounds like some subtle lobbying, doesn't it?
"I'm not the coach," Byrd said. "Coach Miles makes those decisions. But if I were the coach, I'd give him another shot."
Playing The Percentages
Georgia junior quarterback Matthew Stafford showed steady improvement in each of his first two seasons as a starter. The goal for Stafford's third season is to improve his completion percentage to 65 percent or better.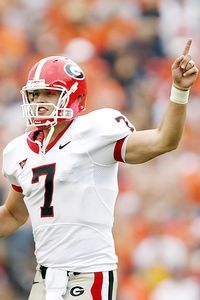 Kevin C. Cox/WireImage
Matthew Stafford hopes his spring work results in an improved completion percentage in the fall.
Stafford completed 55.7 percent of his passes in 2007, while throwing for 2,523 yards, 19 touchdowns and 10 interceptions.
"I just need to be more consistent with the easy throws, the underneath and short throws," Stafford said.
Stafford said he spent the offseason watching film of all the incompletions he threw during the 2007 season.
"I felt like I never completed a ball all year," he said.
Georgia coach Mark Richt said Stafford showed better decision making and patience in Georgia's first spring workout on Monday.
"I don't know if he's better or not," Richt said. "I think everybody around him is, too. If you protect better, then you'll be able to hold the ball longer. You'll be able to put the ball exactly where you want it without being under duress. Plus, I think that Matthew is more willing than ever to take what a defense gives him. I saw that [Monday] more than I saw in a long time. He was just as apt to zip it out in the flats instead of going for the curl or deeper route."
Chris Low is a college football writer for ESPN.com. Send your questions and comments to Chris at espnclow@aol.com.