Sweet Home Alabama
TUSCALOOSA, Ala. -- Nick Saban is not into predictions, but he will make one.
His nomadic ways are behind him.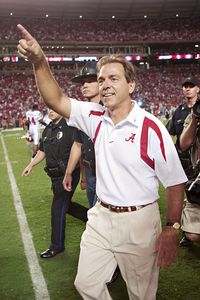 Wesley Hitt/Getty Images
Nick Saban wants to get the Tide pointed in the right direction.
Saban, entering the second year of an eight-year, $32 million contract at Alabama, said the only other challenge he wants to tackle in his coaching career is returning the Crimson Tide to prominence.
"This is it for me," Saban said this week. "I'm 56 years old. I've moved around, in my opinion, too much. I've made some mistakes. I learned about myself in each one of those jobs. Even going to Miami, I learned about myself and what it means to me to be a college coach and how much I enjoyed that. This is an outstanding opportunity. I'm going to stay here and do this.
"There are no other horizons for me."
When Saban left the Dolphins to take the Alabama job following the 2006 season, it was his third head coaching job in four years. He's never stayed at one head coaching stop for longer than five years and was heavily criticized for stating vehemently that he would not be the coach at Alabama and then ultimately taking the job.
Saban understands that because of his history of moving around, his name will continue to pop up at different places; this happened last season when it appeared that Les Miles might be leaving LSU for Michigan.
"Again, there's nothing else out there for me," he said. "I feel an obligation and responsibility to the people here who gave me this opportunity and our fans who have supported us in a very positive way. I'm happy and anxious to stay the course here and try to build the kind of program these people can be proud of." That said, Saban thinks the current media scrutiny coupled with soaring coaching salaries will make it rare from now on that a coach stays at one place for a long period of time.
"From my perspective, the old days of people staying at a place forever and being there forever are over," said Saban, who won two SEC titles and a national title at LSU. "The way the media is and the way people get fired now, and with the business side of our profession and the money everybody makes now, it's going to make it more and more difficult for people to stay some place for 25 years. I don't think you're going to see that, and because you're not going to see that loyalty on one side, you probably won't see it on the other.
"I'm not saying that I'm advocating this. I'm just saying this is the way it's become."
The Amazing Race
Mike McCall, the sports editor for the Independent Florida Alligator student newspaper, is one of the students taking up Urban Meyer's invite to potentially race against some of the Gators' players in the 40-yard dash at the spring game on April 12.
The first round of trials began on Thursday, and the field will be sliced to five finalists. Meyer said it's his way of giving back to the students for their support.
"Somebody had to do it. I guess I'm the fastest, although I'm not fast," said McCall, who plans to write a column about his experience. "I think [former Florida offensive lineman] Drew Miller ran a 5-something at the [NFL] combine. If I can beat Drew Miller's time, I'll still have my dignity, but I have no shot at this thing."
McCall, who also covers the Gators as a freelancer for the Miami Herald, said there's been a buzz around campus among students ever since Meyer announced what he's doing.
"Not many other coaches are doing something like this to involve the student body," McCall said. "They all ask you to come out on game day to support them. But to actually put somebody on the field against players? Kids will line up around the block to get a chance to do that."
Road Block
Nick Saban is not real pleased with some of his SEC coaching colleagues who voted to take the head coaches off the recruiting road in the spring.
At least eight SEC coaches voted against allowing head coaches to go out in the spring, and Saban wonders if it was because some were simply too lazy to do the legwork.
"Everybody's got a little paranoia that you're doing something you shouldn't do, that you're bumping into a prospect or talking to a prospect or whatever, and I don't think that's the issue here at all," said Saban, who pulled in one the country's top-rated recruiting class this year and started the trend of SEC head coaches going out on the road in the spring when he was at LSU.
"I think it's because some people wanted to do it and did it more than others. It made some of the others who didn't do it a little skeptical about the ones who did, and I don't think that's fair, either. You're penalizing the people who're willing to work and go do it. It's one of those deals that, 'If I'm not willing to do it, I don't want the other guy to be able to do it,' and that's not right. That doesn't make it right."
Chris Low is a college football writer for ESPN.com. Send your questions and comments to Chris at espnclow@aol.com.
State Of Suspension
Stephen Garcia will spend the next few months waiting and wondering if he'll ever take a snap in a game for South Carolina.

By some accounts, he was perhaps the favorite to be the Gamecocks' starting quarterback this fall, but Garcia was suspended by the university earlier this week following his third run-in with the law since arriving at South Carolina. His latest ordeal involved an underage drinking citation on March 22, his second alcohol-related incident.
South Carolina coach Steve Spurrier said he's stepped aside and that Garcia's fate now rests in the hands of university officials. Still, Spurrier said he's not giving up on Garcia, and the redshirt freshman from Tampa, Fla., will have a chance to return to the team on Aug. 15 if he meets certain requirements and is readmitted to school. Among those requirements are substance-abuse testing and alcohol counseling. He's being allowed to finish this semester.
The Gamecocks open the season Aug. 28 against NC State, and sophomore Chris Smelley (4-2 as a starter last season) heads into the remainder of the spring as the guy to beat. Junior Tommy Beecher is also getting some reps.
"I am sure that Stephen Garcia has set a record for most publicity for a South Carolina football player who's never played a down," Spurrier told reporters this week. "Maybe we ought to start talking about the guys who are playing."
Extra Points

• Florida receiver Percy Harvin may be shelved or at least limited for the rest of the spring with a right heel injury that's plagued him. He was scheduled to undergo an MRI on Wednesday.

• Upon further review, first-year Auburn offensive coordinator Tony Franklin will wait until preseason practice in August to pick his starting quarterback.
The race is too tight between Kodi Burns and Chris Todd to make a call this spring. Todd, a junior college transfer, has also been limited by a sore throwing shoulder. Franklin wants to see what a healthy Todd can do before making a decision.

• Tennessee brought in junior college receiver Kenny O'Neal last season hoping he could put a jolt into the Vols' deep passing game. But he played sparingly and was academically ineligible for the bowl game.
He'll now miss most of the rest of this spring practice because of academics. O'Neal, who started his career at Florida State, was the top-rated junior college receiver in the country when the Vols signed him.

• Saban said it took a while for opposing teams to take advantage last season when Alabama lost the five players because of textbook violations.
The Crimson Tide routed Tennessee 41-17 the day after the suspensions were handed down, but Saban said that game was deceiving.
"It's almost like a deer that gets shot and keeps running for a while," he explained. "I don't think Tennessee had a chance to adjust. But as time went on, people adjusted and exposed us a little bit, and it really affected our offensive line."

• After a string of off-the-field arrests earlier this year, the Tennessee players signed contracts stating that they would stay out of trouble and would also adhere to a self-imposed curfew. Senior receiver Josh Briscoe drew up the contracts.