Center Of Attention
COLUMBIA, S.C. -- Steve Spurrier's not counting on Stephen Garcia for the fall, but the South Carolina coach isn't counting him out of the Gamecocks' quarterback equation, either.
Garcia's latest scrape with the law, an underage drinking citation on campus last month, was his third since arriving at South Carolina and got him suspended from the university. He'll have a chance to come back in August, but would only have two weeks to prepare for the Gamecocks' opener against NC State.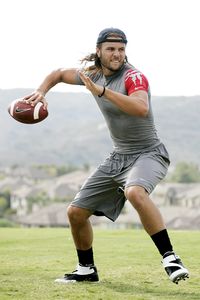 Tom Hauck/Getty Images
Stephen Garcia has yet to throw a pass that counted for the Gamecocks.
Garcia, a redshirt freshman, sat out the 2007 season after being arrested twice in a two-week span. He's now missed the last two spring practices.
"We hope he makes it back," Spurrier said. "He's got a lot to do, and I mean a lot. He's got a lot of requirements to meet if he's going to be readmitted to our school. He could make it. He says he's going to, so we'll wait and see."
It was even suggested to Garcia that he might want to try and get a fresh start elsewhere, possibly closer to his Tampa, Fla., home where he has a young child. But Garcia has assured Spurrier that he wants to be at South Carolina.
While Garcia has stolen most of the headlines with his off-the-field escapades, sophomore Chris Smelley and junior Tommy Beecher have battled it out for the starting job this spring. Spurrier said it's been close enough that he may play both next season.
"If two are very equal in talent, I don't think it's that big a deal to play two," said Spurrier, who has routinely shuffled through quarterbacks. "What you would hope for is that one guy is clearly your best and he can be your leader and the guys look to him. But both of these are very, very close talent-wise. They both run a 4.7. They're both 6-2½ and both weigh about 215 or 220. It's amazing the similarities."
Smelley, who started six games last season, said he was motivated somewhat by all the Garcia talk in the offseason and how he was going to swoop in and take the job this season.
"You can't be looking over your shoulder at what's coming or who's behind you," Smelley said. "You just have to try and become a better player everyday. I came in with the mind-set of really stepping up, becoming a leader for this team and being the man this year. I think I've performed pretty well in the spring and hopefully I'll continue to get better."
Smelley is definitely healthier. He hurt his throwing shoulder in the first game last season, and it was never the same the rest of the way. He underwent arthroscopic surgery in the offseason and said it's recovered nicely.
Back In Good Graces?
LSU quarterback
Ryan Perrilloux
won't play in the Tigers' spring game on Saturday, but he'll be allowed to rejoin the team in full beginning Sunday.
Les Miles obviously believes in giving third and fourth chances, as most coaches do when it comes to talented players. But the interesting thing now is how well received will Perrilloux be among his teammates.
Clearly, he's going to have to win back his teammates' trust after missing all of spring practice and showing the dependability of a kindergartener throughout much of his career. He's been suspended three times, although Miles says that Perrilloux has not reached the point of being a divisive influence on the team.
"He is doing pretty well in the classroom and busting his tail to get back on the team," Miles said. "He hasn't broken the law. It is my hope, like it is with my children, that if they are misbehaving, they will correct that behavior and learn to do some things that are respectful and allow us to promote him."
Redshirt freshman Jarrett Lee and Andrew Hatch, a transfer from Harvard, have been splitting the first-team snaps at quarterback during Perrilloux's absence this spring.
New Kids On The Block
Georgia will end its spring Saturday with its annual G-Day game, and it will be a pretty uneventful afternoon for many of the Bulldogs' veterans.
Coach Mark Richt doesn't want to take any chances with a lot of the regulars, some of whom are nursing injuries. What that means is plenty of chances for some new faces.
True freshman tailback Richard Samuel, who enrolled early, has been especially impressive this spring. He just turned 17 in February and is a bigger and stronger back right now than redshirt freshman Caleb King. Samuel broke off a long run in the last scrimmage that had everybody talking. The other true freshman to watch is split end Tavarres King, who only weighs 172 pounds, but has caught everything this spring.
A pair of junior college newcomers from a year ago have also made a big push this spring. Defensive end Jarius Wynn appears poised to take over for Marcus Howard, the star of the Sugar Bowl last season.
"Wynn is the guy who could be special on the edge," Georgia defensive coordinator Willie Martinez said.
Also, Wynn's former teammate at Georgia Military College, Vince Vance, has solidified himself as the starting left guard on the offensive line.
Chris Low is a college football writer for ESPN.com. Send your questions and comments to Chris at espnclow@aol.com.
Here Comes The Rain
Nobody's ready to proclaim Chris Rainey as Florida's every-down tailback just yet.

But the more the diminutive Rainey touches the ball this spring, the more apparent it becomes that the Gators will find ways to get him the football.
Rainey had two touchdown catches of 50 yards or more in the last scrimmage and he has been their most consistent backfield threat this spring.
After undergoing shoulder surgery last season and missing all but four games, he'll be a factor at tailback, receiver, in the slot and on special teams this season. The Gators have applied for a medical redshirt for Rainey.
USC transfer Emmanuel Moody also remains in the picture at tailback, but hasn't picked up things as quickly as Florida coach Urban Meyer would have liked this spring.
Never Mind The Stats
OK, it wasn't an offensive explosion for Mississippi State last Saturday in its spring game. The Bulldogs threw five interceptions, and the game was scoreless after four quarters, forcing overtime.

But offensive coordinator Woody McCorvey was nonetheless pleased with the progress the offense made this spring, which will be a requirement in the fall if the Bulldogs are going to take another step and contend for the Western Division crown.
Starting quarterback Wesley Carroll threw just six passes in the spring game, and starting tailback Anthony Dixon ran just one time for 10 yards.
Mississippi State coach Sylvester Croom said the Bulldogs purposely didn't show much in the spring game, but said he exits the spring feeling significantly better about the Bulldogs' ability to throw the ball down the field.
Extra Points

• South Carolina has moved Eric Norwood from defensive end to outside linebacker hoping to free him up to make more big plays. The Gamecocks will have two of the biggest linebackers in the SEC. Middle linebacker Jasper Brinkley and Norwood are both closer to 270 pounds than they are 240.

• Florida's Percy Harvin is expected to undergo surgery after being shut down for the spring with a heel injury. Meyer said an MRI showed damage to the heel bone and that Harvin had experienced knee and hip problems because he was compensating for the heel. Meyer said Harvin would be back in time for the start of preseason practice.

• Mississippi State starting left offensive tackle Mike Brown has been booted from the team after he and Quinton Wesley were arrested last week after someone reported gunfire outside dormitories on the MSU campus.

• Maybe Georgia defensive coordinator Willie Martinez is a tad superstitious. He plans to visit with the Ohio State coaches later this spring. Some of the LSU coaches made a similar trip last spring and the Florida coaches the spring before, and it turned out pretty well for them. The Tigers and Gators have won the last two national championships.

• Auburn's Kodi Burns had one of his best days of the spring in the Tigers' final workout on Wednesday by hitting 12-of-15 passes for 213 yards and two touchdowns.
His strong finish ensured that the Tigers' quarterback race will continue throughout the summer and into preseason practice.
The concern with Burns had been his ability to throw the ball with any consistency. Junior college newcomer Chris Todd had been more consistent this spring in the passing game.