Cat-ching up on Offense
It's no revelation that the cornerstone of Kentucky's breakthrough the past two seasons was an offense that moved the ball and put up points against everybody.
Just ask defending national champion LSU.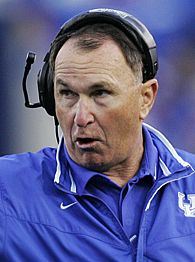 AP Photo/Ed Reinke
Rich Brooks would like to see more consistency on offense this spring.
But if the Wildcats are going to make it three winning seasons in a row -- something that hasn't happened in Lexington (at least in football) since the mid-1950s -- they might have to find a different modus operandi.
The offense has struggled this spring, and that shouldn't come as a surprise with the likes of Andre Woodson, Keenan Burton, Rafael Little, Steve Johnson and Jacob Tamme all gone.
There still hasn't been any clear separation at quarterback, where Curtis Pulley and Mike Hartline are battling for the starting job. They have some big shoes to fill. Woodson threw an SEC-record 40 touchdown passes last season and tossed 71 over his final two seasons.
Kentucky coach Rich Brooks isn't expecting that kind of production from Pulley or Hartline, but he does want to see more consistency across the board. In Saturday's scrimmage, the defense kept the offense out of the end zone. The only points came on a 49-yard field goal from Lones Seiber.
The windy conditions skewed things, but Pulley finished 8-of-15 for 66 yards and an interception, and Hartline was 5-of-14 for 38 yards. Both are capable runners, which should give the Wildcats a different dimension. Pulley redshirted last season after playing receiver in 2006. Hartline backed up Woodson last season and was a top hurdler in high school.
One of the reasons Brooks has had such a difficult time evaluating his quarterbacks this spring is that the receivers have made very few plays around them.
"Our receivers don't understand the intensity of the game right now and what is required for them to be an SEC receiver," said Brooks, whose Wildcats will hold their spring game this Saturday. "Our whole receiving corps needs to step it up, and they've got to help the quarterbacks."
Kentucky's most experienced receiver, senior Dicky Lyons Jr., hasn't exactly caused everyone to forget about Burton and Johnson. His performance this spring has been so-so, and offensive coordinator Joker Phillips also wants to see more leadership from a player who caught 56 passes for 655 yards and seven touchdowns last season.
Don't be surprised if a few true freshmen break into the receiver rotation this fall, namely Aaron Boyd. Aaron is the younger brother of former Kentucky quarterback Shane Boyd and a top prospect from the state of Kentucky last year.
Berry on Offense for Vols
The book on first-year Tennessee offensive coordinator Dave Clawson when he took the job in January was that he specialized in getting his most dynamic playmakers the ball.
Clawson opened the Vols' scrimmage last Saturday with 11 different formations and personnel groupings. There was another new twist earlier this week in practice, as star safety Eric Berry took a few snaps at quarterback.
Berry, one of the top freshmen defensive players in the country a year ago, was joined at quarterback by sophomore receiver Gerald Jones. The Vols used the "G-Gun" package a few times last season with Jones at quarterback, but this was the first time Berry had been at quarterback since arriving in Knoxville. He played quarterback in high school in Fairburn, Ga., and is as electrifying in the open field as anybody on Tennessee's team.
Don't look for defensive coordinator John Chavis to hand him over full time, but the Vols would be wise to borrow him some on offense next fall. He's that good.
"We're just trying to get the ball in the hands of good players," head coach Phillip Fulmer said.
Jones also got a look at quarterback for the first time this spring on Tuesday and hopes to see even more time there this fall. He scored a pair of touchdowns last season while lining up at quarterback.
One thing Jones won't do is give Berry any advice.
"He don't need any advice," Jones said. "He's Eric Berry. If he gets the ball in his hands, he's going to do what he's going to do."
Weight Watchers
Vanderbilt coach Bobby Johnson thinks several factors have helped the Commodores close the gap the past few seasons with some of their SEC brethren.
They've been able to recruit higher-caliber players and, just as importantly, develop those players. As many as four ex-Commodores could be drafted by the NFL later this month.
Much of that development starts in the weight room, where Vanderbilt speed, strength and conditioning director John Sisk has made a profound impact on the program. "Coach Sisk has done a fantastic job, and you can see it in the numbers. But that's what is great about coach Sisk. He's not a numbers pusher," said Johnson, whose relationship with Sisk dates to 1994 ,when Sisk was a Furman strength assistant in Johnson's first year as the Paladins' coach. "He doesn't care what you bench-press and how much you can squat. He's trying to find out what will make our guys better football players." The Commodores have won 14 games over the past three seasons, their best three-year run since winning 14 from 1992-94. They've broken through and beaten Georgia, South Carolina and Tennessee along the way. And just as telling have been all the games they were in and lost in the final minutes -- Georgia and Tennessee last season, Alabama and Arkansas in 2006 and Florida and Kentucky in 2005. "It's on us to keep it going and build on what some of these guys leaving accomplished," senior safety Reshard Langford said. "I think one of the biggest differences in where we used to be and where we are now is that we've been in better shape than most of the teams we've faced. That's an edge we've got to keep."
Chris Low is a college football writer for ESPN.com. Send your questions and comments to Chris at espnclow@aol.com.
Rebel Run
Mississippi junior tailback Cordera Eason doesn't have much interest in merely keeping Enrique Davis' seat warm until the heralded true freshman arrives on campus this summer.

Eason is serious about holding on to the starting job, even though first-year Ole Miss coach Houston Nutt typically has played two or three running backs. Eason's only problem this spring has been a few too many fumbles, but he held on to the ball in the Rebels' spring game on Saturday and rambled for 101 yards on seven carries, including touchdown runs of 46 and 44 yards. This is Eason's first real chance to play after picking up the scraps behind
BenJarvus Green-Ellis
and
Bruce Hall
the past two years. The 5-foot-10, 224-pound Eason has the size and speed to be a marquee back in the SEC. He'll also have some help. In addition to Davis, Nutt has toyed with
Dexter McCluster
some in the backfield. McCluster lined up at receiver, running back and quarterback in the spring game. He caught eight passes for 106 yards and rushed five times for 35 yards and a touchdown. "Put the ball in his hands, and he makes things happen," Nutt said of the 5-foot-8, 165-pound McCluster.
Rush to Greatness?
If you're looking for the next great pass-rusher at Florida, Carlos Dunlap just might be your man.

The sophomore defensive end was one of the Gators' most improved players this spring and capped it off with four sacks in the spring game Saturday. He had three in the first half and showed the kind of burst coming off the edge that can lead to nightmares for opposing offensive tackles. Dunlap may still have a ways to go when it comes to playing the run. But as a pass-rusher, he's a star in the making. "He could be a force in the Southeastern Conference, and if you're a force in the SEC, that means you're one of the better players in America," Florida coach Urban Meyer said.
Extra Points

• Nick Saban's take after wrapping up his second spring practice at Alabama is that the Crimson Tide's understanding, attitude and leadership are all better. Now it gets down to continuing to build the talent well. Depth will be a problem for the Tide again this fall. "Like I said before, we've got enough show dogs around here. We're looking for some hunting dogs," Saban said after Alabama's A-Day spring game. "That's the look we're looking for. We've got enough of them worried about how their britches fit and how they look out there, how their hairdo is. We need some guys who want to go dominate the guy they're playing."
• A year after drawing a staggering 92,000 fans for Saban's first spring game in Alabama, the luster has obviously worn off. The Tide had
only
78,200 in attendance for their spring game last Saturday at Bryant-Denny Stadium. Sophomore running back
Terry Grant
was the star with 108 all-purpose yards, including a 75-yard screen pass for a touchdown. Grant exits the spring as the Tide's most dependable offensive weapon.

• Kentucky senior tailback Tony Dixon will miss the last week of spring practice, including the Wildcats' spring game on Saturday, after spraining the MCL in his left knee during a scrimmage last week. Dixon should be back in time for summer workouts and the start of preseason practice in August. Even with the loss of Little, the Wildcats will be extremely deep in the backfield. Sophomore Moncell Allen, a 225-pound bowling ball, has had his moments this spring. Sophomore Derrick Locke is the speedster of the group and has split his time with the track team. Junior Alfonso Smith also will factor into the equation. The Wildcats had three backs with 72 or more carries a year ago (Little, Locke and Dixon).

• Say this for first-year Arkansas coach Bobby Petrino: He's not afraid of marathon scrimmages. The Razorbacks scrimmaged for more than three hours and ran nearly 180 plays last Friday. It was a rough start for the offense, but sophomore quarterback Alex Mortensen came in and led the Hogs on two touchdown drives. He connected with Rod Coleman on a long touchdown pass and hit tight end Andrew Davie for another long pass to set up a short touchdown run.

• LSU coach Les Miles didn't hold back on what he thinks of his defensive line coming out of spring practice. Following the Tigers' spring game on April 5, Miles said bluntly, "Our defensive line will be dominant. … We knew that going in, and we know that coming out." And, yes, that's an LSU defensive line minus Glenn Dorsey, who was the most dominant interior lineman in college football a year ago.

• Nutt may not be new to the SEC, but his arrival at Ole Miss undoubtedly has piqued the interest of the Rebels' fans. A Grove Bowl record crowd of 28,311 turned out for the spring game.