Head Of The Class
Knoxville, Tenn. -- It's probably fitting that Tennessee discovered Arian Foster while scouting someone else.
Former offensive coordinator Randy Sanders was in San Diego five years ago for a high school playoff game to check out quarterback
Richard Kovalcheck
. Sanders liked what he saw from Kovalcheck, but he liked this running back on the other team even more.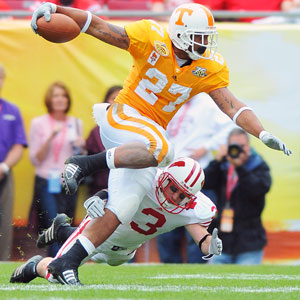 Steve Mitchell-US Presswire
Arian Foster is closing in on the Vols' rushing record.
Kovalcheck wound up signing with Arizona and later finished a pretty nondescript career at Vanderbilt. That running back ended up coming East to Tennessee and is now bearing down on the Vols' all-time career rushing record.
In his own way, Foster has been one of the more underrated and underappreciated players in recent Tennessee history. He needs just 684 yards to break Travis Henry's record of 3,078 yards set from 1997-2000. Some of the players Foster would pass along the way include Jamal Lewis, James Stewart, Cedric Houston and Jay Graham -- all of whom had NFL careers. Foster, who's currently in seventh place, has already passed the likes of Reggie Cobb, Charlie Garner, Travis Stephens and Aaron Hayden. "It's a little bit surreal because I still don't think of myself being nearly as good as those guys, and I'd say probably a lot of people agree," said Foster, who had 1,193 yards last season and 12 rushing touchdowns, the most by a Vol since Graham had 12 in 1995. "I'm going on my fifth year, and just sustaining a job here because of the talent pool that runs through Tennessee is a great feeling. My father taught me that football is nothing more than a life-teacher. It brings out people's personalities. I'm modest and humble about what I've been able to accomplish here, but I'm not satisfied. I'm not sure what people will say about me when I'm gone. What I hope they can say is that I was a champion. That would mean more than any record I might break." The only bummer for Foster this spring was seeing his fullback,
David Holbert
, go down with a devastating knee injury that will knock him out for the second straight year. As a tribute to Holbert, Foster plans to wear Holbert's No. 30 jersey against UCLA in the Sept. 1 opener. "It's my way of saying we haven't forgotten about him or how hard he worked to get back," Foster said.
Fulmer Endures
Now that Houston Nutt has traded his Fayetteville, Ark., address for one in Oxford, Miss., Tennessee's Phillip Fulmer is the only head coach in the league that's in the same place now as he was 10 years ago. Fulmer, entering his 16th full season at Tennessee, hasn't been without his detractors. After humiliating defeats to Florida and Alabama, the fan restlessness reached an all-time high on his watch last season and columnists at both the Memphis Commercial Appeal and Knoxville News-Sentinel have called for his job in the past year. But in the next few weeks, Fulmer will see his financial package at Tennessee sweetened to an average of approximately $2.5 million annually, which still places him seventh in the league. Fulmer, who will turn 58 in September, deflects any talk about how much longer he wants to coach, other than saying he fully intends to go out on his terms. Those closest to Fulmer insist he has no interest in coaching well into his 60s. One hint of how much longer Fulmer might coach can probably be found in the record book. He has 147 career wins and would need 27 more to surpass Gen. Robert Neyland (173 wins) as the all-time winningest coach in Tennessee history. That would take at least three more seasons. Fulmer also has a chance to move into second place behind only Bear Bryant in all-time SEC wins. Fulmer (95 wins) is currently sixth. Steve Spurrier (98 wins) is just ahead of him and tied with Ralph "Shug" Jordan for fourth. Vince Dooley (105 wins) is third and John Vaught (106 wins) is second. Depending on how well Spurrier fares the next couple of years at South Carolina, Fulmer could conceivably move into second place behind Bryant (159 wins) within the next two years. To do so, he would need to average six SEC wins over the next two seasons. In four of the past seven seasons, Fulmer has won at least six SEC games. Spurrier said Fulmer's longevity is the kind of thing you're probably not going to see much of in the SEC down the road. "It's hard to win all the time," Spurrier said. "Phil's done a great job there at Tennessee, staying for 16 or 17 years. Whew, that's a long time in this league. "Schools that have already won, like Tennessee … when they're not winning as much, [the fans] believe you ought to be up there competing for it every year. If you're not, you just never know. Look at Phil last year. We probably saved his job when we didn't fall on that fumble."
Spurrier Names Starting QB
Granted, Spurrier has been known to go through quarterbacks the way most people do socks. But the Head Ball Coach has his quarterback, at least for now. He said earlier this week that South Carolina would enter preseason practice in August with
Tommy Beecher
as the starter. The fourth-year junior hasn't started a game since high school and was listed behind
Chris Smelley
when spring practice began. The reality is that Spurrier will almost certainly play both, and he still hasn't given up on redshirt freshman
Stephen Garcia
, assuming Garcia gets back into school and is half as good at making headlines on the field as he is off it. Smelley didn't help himself by throwing five interceptions in the first half of South Carolina's spring game last Saturday. But Beecher threw three interceptions in the game, and one of his picks was returned 82 yards for a touchdown by cornerback Mike Newton. "At some point, one of the quarterbacks has to really show a strong commitment level to really, really want to be good," Spurrier said after the spring game. "Right now, I don't think any quarterback we have here really knows what playing well is all about, and I guess that's my fault." A few days later, Spurrier pegged Beecher as his starter. His reasoning was that Beecher had been more consistent over the course of spring practice, showed a stronger arm and that there needed to be a starter named heading into the summer. Stay tuned because there's sure to be more developments in the fall.
Chris Low is a college football writer for ESPN.com. Send your questions and comments to Chris at espnclow@aol.com.
NFL Or Bust?
With Bobby Petrino taking over at Arkansas this season, there are now four ex-NFL head coaches in the SEC.

But here's the catch: None of the four lasted more than two seasons in the NFL, and all four left the league with a losing record. Petrino was 3-10 before jumping ship from the Falcons toward the end of last season. Alabama's Nick Saban was 15-17 with the Dolphins. South Carolina's Steve Spurrier was 12-20 with the Redskins, and Kentucky's Rich Brooks was 13-19 with the Rams. In seven combined seasons, none of the four made a playoff appearance and Saban's 9-7 record with the Dolphins in 2005 was the lone winning season. • As Arkansas closes out its spring this Saturday, Petrino likes the way the passing game has progressed. In particular, he said the Hogs have been more efficient on third down. Senior quarterback
Casey Dick
was 26-of-39 for 309 yards, three touchdowns and two interceptions in last week's scrimmage.
London Crawford
caught two of Dick's touchdowns and is showing signs that he might be one of the Hogs' top playmakers in the fall. Petrino said the 6-foot-2 junior receiver gave the offense a dimension that was missing the previous scrimmage when Crawford sat out with a sore hamstring. "We need London to be a player for us," Petrino said. "He needs to be a guy we can rely on to make the big play. I think right now, if you look at our receivers, he's the guy that runs with the ball the best after the catch. Physically, he's very strong and really has good hands at the line of scrimmage, so if you come up and press him, he has a chance to win."
Extra Points

• While most eyes will be on Alabama senior quarterback John Parker Wilson next season, the key to the Crimson Tide's offensive success will hinge on the five guys blocking for him. At least, so says senior center Antoine Caldwell.
"We need to take it on our shoulders," Caldwell said. "There's so much experience and so much talent up front. There's really no excuse for us not to get it done. I also think we've got one of the best offensive line coaches in the country [Joe Pendry]. He's been on both levels. He knows what he's talking about, and with Coach [Jim] McElwain [as offensive coordinator], there's a sense of excitement on offense I haven't seen in a while."

• Arkansas cornerback Darrell Glasper, a 5-foot-8 walk-on, was the star of the Razorbacks' scrimmage last Saturday with two interceptions and three pass breakups against the first-team offense. Both of his interceptions came off Casey Dick. Glasper, who started his career at LSU, was filling in for the injured Jamar Love, who had a bruised quad. This isn't just a spring fling for Glasper, who will get his chance. The Hogs are having to replace all four starters in the secondary. Glasper redshirted last year, so he still has three years of eligibility remaining.

• Senior split end Kenneth Harris was named Georgia's best all-around offensive player for the spring, another indication that the Bulldogs should be just fine at receiver this fall. Junior Kris Durham was named the most improved receiver, and the True Grit Award went to senior flanker Mohamed Massaquoi. The true freshman receiver who turned heads was Tavarres King, who's extremely thin, but caught everything. Of course, arriving this summer is heralded true freshman A.J. Green.

• Kentucky exited spring practice without naming a starting quarterback. Coach Rich Brooks said it was too close to call between Curtis Pulley and Mike Hartline. Another one to watch in the fall might be Will Fidler, who has recovered nicely from offseason shoulder surgery. He had a 57-yard touchdown pass in the spring game.

• As if Florida needed more weapons on offense, tight ends Cornelius Ingram and Aaron Hernandez showed enough promise this spring that the Gators added a two-tight end set to their package. The only thing holding Ingram back was an ankle injury.

• Ole Miss sophomore Allen Walker, who had earned a starting outside linebacker job this spring, was suspended indefinitely last week by Houston Nutt after being arrested and charged with driving under the influence of alcohol.

• Opening the 2007 season with five returning offensive line starters, the 2008 Vanderbilt team is likely to start the season with a unit featuring a combined three career starts.