USC, Vols find answers at QB while Hokies, OSU still have questions
Lettin' Loose, Irish Style
SOUTH BEND, Ind. -- In a real game, the fight and the flip would have had dire consequences.
Two Notre Dame players would have been ejected for their roles in a scuffle following Harrison Smith's touchdown return. Running back Robert Hughes would have earned an unsportsmanlike conduct penalty for flinging the ball after reaching the end zone.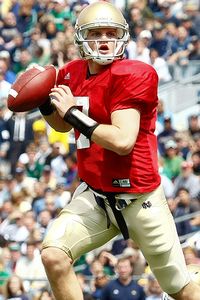 Andy Altenburger/Icon SMI
QB Jimmy Clausen impressed in Notre Dame's spring game.
But in the spring game, neither incident hurt the Fighting Irish. In the long run, both could help them.
Players reached and, at times, exceeded their emotional limits Saturday. Did they go too far? No doubt. But it beats the alternative.
"I thought we were allowed to at least celebrate a little bit," said Hughes, who rushed for 100 yards. "You play football to have fun. It's supposed to be the game you love, so why go out there and not play with emotion?"
But the Irish didn't play with great emotion last fall, enduring quite possibly the worst season in program history. If Notre Dame wasn't the nation's worst team, it was the most uptight.
"Our team came out and the other teams are partying, having a good time, ready to go," coach Charlie Weis recalled. "Our team's going out there like tin soldiers."
Weis took the blame for that and tried to change the attitude. He even brought back the f-word.
"Making plays was the emphasis, and fun was a residual, positive effect," Weis said.
Smith achieved both when he picked off a Jimmy Clausen pass and raced to the end zone early in the second half.
"We're kind of sick of people talking about us," Smith said. "There's only a couple ways you can change that. One is getting tight, worrying about what people are saying. The other is doing what we're doing."
Clausen countered with 24 seconds left, lofting an 8-yard fade to Duval Kamara for the game-winning touchdown. It was a throw Weis said Clausen couldn't have made last season.
"You've got to be yourself and play like you played in high school," Clausen said. "You can't change for anyone. … Guys are doing that now."
Take the Keys and Drive
KNOXVILLE, Tenn. --
Jonathan Crompton
has waited for three years to show what he could do with the full set of keys to the Tennessee offense.
AP Photo/Wade Payne
Tennessee is handing over the reins of its offense to QB Jonathan Crompton.
The Vols' fans only had to wait one play Saturday to see what they hope is just a glimpse of what they can expect from the fourth-year junior quarterback this fall. Crompton, throwing the ball on time and looking very much in control, opened Tennessee's Orange and White spring game with a 74-yard touchdown pass to Denarius Moore.
When he was finished, Crompton had completed 13 of 20 passes for 266 yards and three touchdowns in leading the White team to a 38-16 win over the Orange team. But Crompton was still kicking himself afterward, because his final pass of the scrimmage was an interception over the middle right into the chest of linebacker LaMarcus Thompson.
"That one bad play is the one that kills you," Crompton said. "You can't make two or three good ones and then a bad one. That will get you beat in our league."
Everybody, from Tennessee coach Phillip Fulmer, to first-year offensive coordinator Dave Clawson, to Crompton's teammates, were all in agreement when they exited Neyland Stadium on Saturday: Crompton was ready.
After redshirting his first year at Tennessee in 2005, Crompton then spun his wheels most of the past two years behind
Erik Ainge
. But now this year he held the reins.
Perhaps the best thing for Crompton is that he got a clean break with the entire offensive staff (save offensive line coach Greg Adkins) being new.
When David Cutcliffe took off to be the new head coach at Duke, everything and anything that had happened the past two years on offense (good and bad) was just that: in the past.
The other thing Crompton has going for him is an underrated arsenal of playmakers. Gerald Jones, who lined up at both receiver and then quarterback in the Vols' version of the old single wing on Saturday, has a chance to be one of the SEC's most electrifying offensive players next season.
"One of the best things [Crompton] did was use the players around him," Clawson said. "As coaches, we talk about putting the ball in the hands of our best playmakers. Ultimately, that falls on the quarterback, and he's proven that he's going to do that."
One QB or Two?
BLACKSBURG, Va. -- The numbers made it
Sean Glennon
's day, but the Virginia Tech coaches made it just another Saturday.
Glennon, who led the Hokies to the ACC title last season, threw for 119 yards and two touchdowns in Saturday's Maroon and White spring game.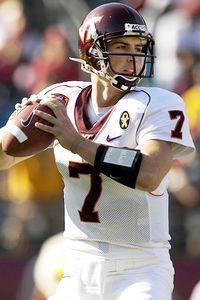 Scott A. Miller/US Presswire
Will Virginia Tech QB Sean Glennon be sharing snaps in 2008 as he did in 2007?
Tyrod Taylor, who split time with Glennon at the end of last season, completed 11 of 19 passes for 67 yards and one interception.
Glennon's team won 24-3, but it hardly determined whether the Hokies will continue to use a two-quarterback system in 2008.
"We're really going to study this," coach Frank Beamer said. "The White team got the better of it, Sean got the better of it. I was surprised the Maroon team didn't protect a little better. … We'll evaluate it. That will continue."
Glennon said he would prefer to be the lone starter, but will share the job again if asked.
"I think any quarterback would be lying to you if they said they didn't want to take every snap," he said. "Of course I want to be out there as much as possible. But if the coaches feel like what we did at the end of the season last year gives us the best chance to win this year, I'm just going to do what I can when I get in there."
Taylor made one glaring mistake -- an interception that was returned 55 yards to the 1-yard line -- and he was the victim of dropped passes and was sacked three times.
"I don't want to say the white team had an advantage, because I think both teams competed very well," Taylor said, "but they had more experienced guys on their squad."
Beamer is still weighing the option of redshirting Taylor, a decision both of them will tackle this fall.
"I would have to think about it," Taylor said. "It wouldn't be a right-away answer."
Run for Heisman?
COLLEGE STATION, Texas -- After a strong debut in the first unveiling of coach Mike Sherman's offense, Texas A&M tailback
Mike Goodson
had a simple description for his 2008 aspirations.
AP Photo/L.G. Patterson
Texas A&M running back Mike Goodson rushed for 711 yards last season.
"Heisman, baby," Goodson said, leaving little doubt of where he would like to spend the second weekend in December.
Goodson thrived in his early work Saturday in the Aggies' spring game, rushing for 58 yards on eight carries on the first possession. His big early effort -- his only carries of the day -- helped set the tone for the spring game.
"There was not much after that, but it was fun while it lasted," Goodson said. "It felt good. I want to have a 1,000-yard season. Getting the ball like that, I can do it."
Working Goodson so much early was a big part of Sherman's plans in his first public appearance at Kyle Field with his team since his hiring in November.
"I wanted to run the ball because I wanted to see some toughness," Sherman said. "We know we have some pretty good running backs. Goodson played extremely well. He's a very dangerous weapon who needs to have the ball in his hands."
Sherman's first spring game -- a rare evening contest -- attracted an estimated crowd of about 32,000. Fans seemed more excited about the "other" activities that night than any action on the field. There was an obstacle course competition involving members of the 12th Man at halftime, a postgame fireworks show and a chance for autographs after the game.
Some of that was understandable. The second half dissipated into situational groupings that were hard for spectators to follow, except for a 100-yard interception return by Chevar Bryson on a pass by redshirt freshman quarterback Ryan Tannehill on the final play.
Jorvorskie Lane, who switched to fullback before spring practice started, missed Saturday's scrimmage with an upset stomach. Linebacker Von Miller and defensive end Paul Freeney sat out for what Sherman termed "personal reasons."
Grade A(-) Performance
LOS ANGELES -- On Saturday,
Mark Sanchez
won over a bunch of the skeptics who scratched their heads last week when Pete Carroll named him USC's starting quarterback over
Mitch Mustain
, the ballyhooed Arkansas transfer.

The fourth-year junior connected on 16 of 24 passes for 203 yards and three TD passes to go with one interception that came off a trick play. Among those touchdowns was a picture-perfect deep ball to speedy
Ronald Johnson
, which delighted the crowd of 22,000 that was eager to see Sanchez go for some big plays. Sanchez labeled his performance an "A-minus" when asked to grade his work, which should be noted, came against USC's first-team defense.
The part that has the Trojans coaches really excited is that Sanchez improved from week to week over the course of the spring, and Saturday certainly appeared to be an ideal showing to go into the summer and build on.
"I just got more and more comfortable and I really feel very confident," he explained, adding that he's gained a better sense for when to step up in the pocket, when to try to make a play with his feet and knowing when to ditch the play. That growing confidence is exactly what the coaches were hoping for. Carroll was also pleased with his other QBs, Mustain and redshirt freshman Aaron Corp, who completed a 25-yard TD strike to Travon Patterson in the second overtime to give the White team a 39-36 victory over the Cardinal.
"What a day it was for the quarterbacks," Carroll said. "We have a very exciting team. They play with a lot of energy, toughness and speed. If we keep working, we're going to have a nice team. I like where we are right now."
Analysis: Notre Dame Spring Game
Motion or Motionless?
MORGANTOWN, W.Va. -- West Virginia coach Bill Stewart hired offensive coordinator Jeff Mullen from Wake Forest in order to put some presnap motion into the Mountaineers' spread offense. We'll have to take Stewart's word for it. Quarterback
Pat White
described the Mountaineers' offense on display in the Gold-Blue Game on Saturday afternoon as "very watered down."

Out of 75 or so snaps Saturday before an estimated crowd of 18,000 at Milan Puskar Stadium, the Mountaineers went into motion on exactly two plays. Mullen didn't even want to call those two, but he confessed, "I ran out of calls."
Just as well: The Mountaineers busted one of them, a third-and-2 that began with a wide receiver going into motion illegally and ended with White turning to hand the ball off and no one being there. White, being White, sprinted around the right end for 5 yards and a first down.
The Gold (offense) beat the Blue (defense) 59-15 in a scrimmage that consisted only of situational play calls.
Stewart has no problem with people knowing what changes West Virginia will make. He just doesn't want the changes seen.
"We're going to throw more than the bubble screen," Stewart said. "I don't care who [knows] that. We're going to put the ball over the 'backers and in front of the safeties. We have got to put the ball in there to make [the defense] play that area of the field."
White, the Big East Offensive Player of the Year two years running, completed 12-of-16 for 133 yards, one touchdown and one interception. West Virginia needs a back big enough to run between the tackles and depth on both lines. But the Mountaineers still have speed on both sides of the ball. Like cash, speed never goes out of style.
Solemn Reminder
BLACKSBURG, Va. -- They wore maroon and burnt orange T-shirts, decked out in Hokies gear for the spring football game, but the somber look on their faces was a sobering reminder of why this game was not played last year.

In the Drillfield across the street from Burruss Hall, fans slowly filed around the memorial dedicated to the 32 victims killed in a campus shooting spree on April 16, 2007. Some placed new flowers at the stones, others took pictures. A lone ribbon was looped across a post just outside of Norris Hall, where most of the shootings took place.
It was a stark contrast to the tailgating and pickup football games going on a short walk away. Many fans who wandered around campus in the hours before kickoff wore T-shirts that read "Hokies United." The crowd of roughly 30,000 in Lane Stadium was reminded of the tragedy when defensive end Orion Martin carried out a black flag with the signature ribbon on it -- the "Hokie Spirit" flag -- and there was a moment of silence.
This year the game was played, and the fans stuck out a steady rain and cool weather to watch it.
Race for Second Place
COLUMBUS, Ohio -- The future of the program watched from the stands as Ohio State's backup quarterback battle concluded -- at least until August. With phenom Terrelle Pryor in attendance, redshirt freshman
Joe Bauserman
caught
Antonio Henton
this spring in the race to be
Todd Boeckman
's backup.

The next time Pryor returns, it will be as a quarterback on the roster and not just a spectator in a rain-soaked spring crowd of over 76,000.
Pryor will now have to fight two worthy contenders to be the backup to Boeckman. Bauserman was ranked behind Henton all of last season, but following Saturday's Scarlet and Gray game, coach Jim Tressel called the backup quarterback race dead even.
"I think they're competing against themselves first to become as good as they can be," Tressel said. "It's way too far out to worry about who's your backup."
Bauserman entered Ohio State after three seasons as a pitcher in the Pittsburgh Pirates organization. He hadn't thrown a football since high school, and early on it showed.
Bauserman proved the rust is now gone, heaving an impressive 51-yard touchdown strike to sophomore Taurian Washington on Saturday. He later had a 63-yard touchdown pass to Washington negated by a holding penalty, but that didn't take any of the luster off a throw that sailed over 60 yards in the air. Boeckman proved last year how well he can throw the deep ball, but Bauserman probably has the strongest arm on the team. He finished with 125 yards in Saturday's scrimmage.
"His upside is phenomenal," receiver Brian Hartline said. "He's a jack of all trades. He's a ridiculous pool player, he's sick at pingpong, he can throw the heck out of the baseball, he's a heck of a basketball player … he's a full-blown athlete."
And now he is a viable candidate to push Pryor as the backup quarterback in the fall.
Watch: Mizzou Spring Game Highlights