Out Of Practice
There's no shortage of drama in Charlottesville, Va., and spring practices haven't even begun. When the Cavaliers finally do start practice on March 21, a significant number of lockers will be empty.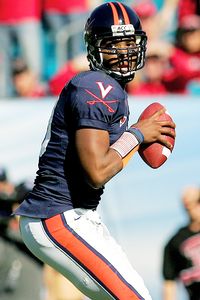 Sam Greenwood/Getty Images
Jameel Sewell won't be throwing passes for the Cavs this spring.
Four players -- including starting quarterback Jameel Sewell, cornerback Chris Cook, linebacker Darnell Carter, and wide receiver Chris Dalton -- are in academic trouble and are not currently enrolled in the spring semester. Defensive end Jeffrey Fitzgerald, who was the Cavaliers' best hope at filling the crater left by All-American Chris Long, is also no longer in school. Patrick Kane, Fitzgerald's coach at Hermitage High School, said Fitzgerald is transferring for personal reasons. And junior defensive back Mike Brown is facing criminal charges.
"We're hoping that if [Sewell] does everything he needs to do, they'll let him come back next semester, but that's a UVA deal," said Kane, who also coached Sewell. "In the past, their policy has been two semesters."
Brown's future remains uncertain, too.
According to Lt. Melissa Fielding of the University of Virginia oolice department, Brown was charged with one count each of grand larceny, possession of stolen property with intent to sell, altering serial numbers and possession of marijuana. On Feb. 6, police responded to a call from the Central Grounds Parking Garage, where the victim reported four items worth more than $3,400 stolen from his vehicle.
Virginia coach Al Groh, who was on the road last week, has declined to address the media until his spring practice press conference later this month, but did issue this statement about Brown through assistant director for media relations Jim Daves:
"We take allegations of this nature very seriously," Groh said. "At this time we are currently gathering the facts. In view of the nature of the allegation, Mike Brown is not participating with the program at this time."
Here's a breakdown of who will be missing and possible candidates to replace them:
Out: QB Jameel Sewell: Threw for 2,176 yards, 12 touchdowns and nine interceptions in 2007. Completed 58.8 percent of his passes and started all 13 games.
IN? Peter Lalich: Played in eight games as a true freshman in 2007 and threw the ball just 61 times. Threw for 321 yards, two touchdowns and one interception. Marc Verica or Scott Deke could also earn time.
Out: Cornerback Chris Cook: The senior played in nine games last season, had one interception and six passes defended.
In? Ras-I Dowling started several games while Cook was hurt, as did Mike Parker (four pass breakups, two fumble recoveries). As a true freshman last season, Dowling played in 12 games, had nine pass breakups and two interceptions.
Out: Linebacker Darnell Carter: A backup to leading tackler Jon Copper, earned just one tackle in six games.
In? Copper returns.
Out: WR Chris Dalton: Did not play last season.
In? All of the receivers are back, including Kevin Ogletree, Virginia's leading receiver in 2006 who missed last season with a torn ACL. Dalton's status would have remained the same this season unless he made huge improvements.
Out: Defensive end Jeffrey Fitzgerald: The No. 4 tackler on the team, with 73 total tackles, including 11½ for loss and seven sacks. Will be sorely missed, especially with the departure of All-American Chris Long.
In? Alex Field and Sean Gottschalk both played sparingly last season. Field finished with 11 tackles and 1½ sacks. Gottschalk had four tackles in nine games.
Out: Cornerback Mike Brown: Redshirted in 2007 after suffering a season-ending knee injury.
In? Losing Brown and Cook hurt the depth in the secondary, but Vic Hall, Parker and Dowling have some experience. Trey Womack might also get a chance to play a more significant role.
Something To Talk About
If Xavier Shannon and Miami head coach Randy Shannon didn't bear as much of a family resemblance, odds are nobody would know they're father and son. They rarely talk to each other and work on opposite sides of the ball.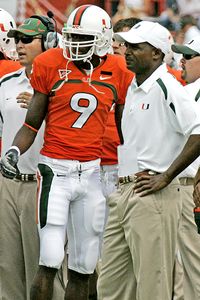 Icon SMI
Focusing on his son Xavier isn't part of Randy Shannon's spring plan.
And that's exactly how Randy Shannon wants it.
"I don't talk to him," Shannon said at his spring football press conference. "I don't. I don't talk to him. I don't say much to him at all. ... I told the coaching staff, I said, '[If] he wants to come to school here, I'm not talking to him. I haven't talked to him.' I don't say much to him but 'Hi,' and that's about all I say to him now."
After graduating early from FIU, Shannon is in his fifth and final year of eligibility and is pursuing his master's in enrollment management -- the main factor in his decision to transfer.
Recruiting coordinator Clint Hurtt and offensive line coach Jeff Stoutland were responsible for putting the transfer through because they thought the 6-foot-1, 298-pound lineman could help.
"To me, it's not really playing for my dad," Xavier said. "It's playing for the University of Miami, in my opinion. He's just one of the coaches that happens to be at the school. If he wasn't here it would still be the University of Miami."
Shannon wasn't quite sure of his son's age ("What is he, 22 maybe?") or where's he playing, for that matter. ("Offensive line somewhere," Shannon said. "I think they've got him at center.") The one thing he was sure of is that Xavier Shannon is not on scholarship.
Like father, like son.
"It doesn't bother me at all," Xavier said of the standoffish football relationship with his father. "I don't even know he's here."
Heather Dinich is a college football writer for ESPN.com. Send your questions and comments to Heather at espn.hd@hotmail.com.
King Of The Hill
Among UNC football coach Butch Davis, basketball coach Roy Williams (whose team is ranked No. 1 in the nation) and baseball coach Mike Fox (whose team is ranked No. 2 in the nation), Davis carries the most clout in Chapel Hill.

At least during spring football when one of his starters is on the basketball team and another is playing in the outfield.
It's a cordial arrangement among the three coaches that leaves no doubt that football is the top priority.
Greg Little, who has traveled and practiced with the basketball team since December, is also expected to be the football team's top rusher in 2008. When football practices stop for spring break, he'll join the Tar Heels at the ACC Tournament. And Kendrick Burney, who plays baseball, started all 12 games at cornerback last season.
"Both of those guys, their No. 1 commitment is to the football program," Davis said. "They know how important they are. They're both returning starters and they want their football career to continue to blossom."
Little's career appears to be on the fast track, which is why Johnny White, last season's leading rusher, was moved to cornerback. One thing Davis doesn't want to see in 2008 is running back by committee. Little, a former receiver, started the last two games of 2007 and racked up 300 yards and two touchdowns.
Day Of Remembrance

A morning ceremony and an evening candlelight vigil will highlight a "Day of Remembrance" at Virginia Tech on April 16 in memory of the 32 shooting victims who were killed on campus last year. Classes will be cancelled, but this year, spring football practice will still be held that day, and the rest of the athletic events will go on as scheduled. The softball team has a home game against Liberty.
Sign Of The Times
Spring football practice began Saturday at Clemson, but coach Tommy Bowden still hasn't signed the contract extension that was presented to him in early December.

"We are working on the details and expect to have it finished soon," Clemson athletic director Terry Don Phillips said in a statement through Tim Bourret.
"I have a contract lawyer," Bowden said. "There are no issues. It's about dotting the i's and crossing the t's."
Season Of Change
First-year Georgia Tech coach Paul Johnson apparently doesn't have much use for tight ends. One is moving to offensive tackle, one to the defensive line and one to wide receiver -- at least for now. And redshirt freshman Willie White, a wide receiver last fall, will begin the spring at defensive back.

Johnson has an open mind about his quarterback, too. He said recently that it's not out of the question that this year's starter is someone who, say, played defensive back last year. The reality of the situation is this: Sophomore
Josh Nesbitt
and senior
Calvin Booker
are the only two quarterbacks who have any college experience.
Extra Points

• NC State coach Tom O'Brien is scanning the roster -- and the infield -- for possible quarterback candidates. Russell Wilson, a 5-foot-11 second baseman who redshirted last season, will get a good look this spring as a possible alternative to Daniel Evans. (As a group last year, the quarterbacks threw 23 interceptions and 14 touchdowns). And in an effort to improve upon last season's 89.2 rushing yards per game, O'Brien moved John Bedics and Ted Larsen, part-time starters at defensive tackle, to offensive guard.

• If you can't beat 'em, hire 'em. Maryland last week hired former Oregon State assistant Lee Hull, who coincidentally helped the Beavers beat the Terps this past season in the Emerald Bowl. Hull replaced Kasey Dunn, who left last week after just two months in College Park to join the Seattle Seahawks.

• To compensate for the departure of quarterbacks coach Jeff Mullen, who became the offensive coordinator at West Virginia, and defensive coordinator Dean Hood, who became the head coach at Eastern Kentucky University, Wake Forest coach Jim Grobe reshuffled the responsibilities on his staff.
Brad Lambert, Wake Forest's linebackers coach, will take over as defensive coordinator. Tim Billings, Wake's wide receiver coach the last two years, will coach the secondary. Former Demon Deacon quarterback Tom Elrod will move from tight ends and fullbacks to the quarterbacks. Recent hire Steve Russ will take over with the tight ends/fullbacks and first-year assistant Brian Knorr will work with the wide receivers.