Shell Game
Considering former Maryland assistant James Franklin recruited a significant amount of the top playmakers on the Terps' roster, it was only fitting he returned this season to coach them.
During his stint as receivers coach from 2000-2004, Franklin was in the homes of quarterbacks Chris Turner, Josh Portis and Jordan Steffy, as well as their favorite target, receiver Darrius Heyward-Bey.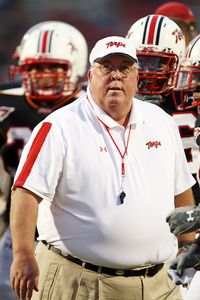 Jamie Squire/Getty Images
Ralph Friedgen won't be calling plays for the Terps in 2008.
Now he's helping them switch to a West Coast style offense.
"I still know a lot of the guys on the team," said Franklin, who spent the past two seasons at Kansas State. "That really helped with the transition; they're familiar with me and knew me."
So did the guy who hired him.
For the first time in three seasons, coach Ralph Friedgen has relinquished his reigns on the offense, allowing him to revert to his role as CEO of the program and for Franklin to call the plays and coach the quarterbacks. Friedgen also felt comfortable enough with Franklin to name him assistant head coach
"When you've had as much success as Ralph has had over his career -- and he cares so much about Maryland and cares so much about our success -- it's hard to just hand that over to somebody else and think they're going to do as good a job as what you would do," Franklin said. "That's part of the reason of us having some familiarity and history together … that helped with that process, having similar beliefs."
"I know Ralph is a demanding guy, I know he's a tough guy, so coming back here, I knew exactly what I was getting myself into," Franklin said. "To be honest with you, he's been better than anybody I could've ever expected. I don't have all the answers, but I'm smart enough to realize I have a tremendous resource in Ralph Friedgen. Whatever we're going to do, I go through it with him first, make sure we're all on the same page."
As for Friedgen's new role?
"It's taken a lot off me, it really has," he said. "I've really found that I can spend more time with the players. That's something I wasn't able to do and wasn't doing a very good job of it. It was just a matter of time. When I look back and see a lot of the things I could've been doing that I wasn't able to do, that's helped tremendously."
Weight Watchers
Duke coach David Cutcliffe immediately stopped the first winter workout he witnessed as the Blue Devils' new coach and asked each player to get on a scale. He also took body fat percentages that he said "were frightening."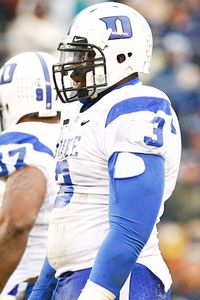 Andy Altenburger/Icon SMI
Vince Oghobaase and the Blue Devils have been shedding pounds.
"We had little fat guys," Cutcliffe said. "… a bad way to start."
This spring, Cutcliffe said he's seen a difference -- a collective 351-pound difference.
"We all took it to heart," said defensive tackle Vince Oghobaase, who weighed in at 298 and has dropped to 292. "We didn't want to be called that anymore."
They also want to win.
"You can't win if you can't run," Cutcliffe said. "… We didn't understand that."
Now they do.
After an intense eight-week conditioning program that began Jan. 10, the Blue Devils are still pushing to lose a few hundred more pounds, and Cutliffe said it's already translating onto the field at spring practices.
"I don't feel -- I know I see a completely different football team," Cutcliffe said after a recent practice. "They went through two hours and 25 minutes of being drilled as fast and hard as you can drill them and they made it through it. Eight weeks ago they would not have come close to being able to practice like we expect them to practice."
The players have clearly bought into it.
Oghobaase said he is eating smaller portions and paying closer attention to what he's eating (he even gave up pizza -- his favorite). Every Thursday, each player now has to weigh in.
"Everybody is taking it real serious," Oghobaase said. "It's not a joke."
Brown Delivers
In Tallahassee, Florida State defensive end Everette Brown has earned a reputation for his manners and community service. He recently visited the city's juvenile system to speak to the kids about the importance of education and how to use sportsmanship off the field.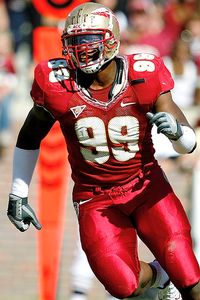 Joe Robbins/Getty Images
Everette Brown registered 6½ sacks for the Noles in 2007.
"I just felt like I had something to leave for the younger kids now, and that's what motivates me to continue to do community service," he said. "I try to leave a word of wisdom there for the young in hoping at least one will catch it and run with it."
On the field, he's a little meaner. And the Seminoles certainly need him to be.
Because of recent team-wide suspensions, Brown is the only defensive end on scholarship going through spring practices. And he's quickly shown he could be one of the best pass rushers in the ACC.
"It does create more opportunities for me to be the leader for the defensive line," said Brown, who led the team in sacks last season, despite starting just eight games. "… At the same time it's motivation to stay healthy and work hard and try not to lose a beat the whole time."
Brown's other priority this spring, he said, is to help usher the younger defensive linemen along. If the Seminoles are smart, they'll take Brown's advice and "run with it."
Heather Dinich is a college football writer for ESPN.com. Send your questions and comments to Heather at espn.hd@hotmail.com.
Passing Moments
When Georgia Tech senior receiver James Johnson heard that the Yellow Jackets intended to hire former Navy coach Paul Johnson, he went to his computer and did a little research to find out exactly how many times the Midshipmen threw the ball (136) and how many times they ran it (804).

After being labeled as "the other Johnson" for starting opposite 2007 first-round draft pick Calvin Johnson, this was supposed to be his year. James Johnson sat down with his new coach, who assured him they're going to do whatever it takes to win games.
"We're going to run the football if we can," Paul Johnson said. "Does that mean that we will never throw it? No. I would hope we can protect a little better with bigger guys. We may throw the ball more here because we want to, not because we have to."
That's exactly what they've been doing this spring.
"We specialize each section of practice for run and pass," James Johnson said. "One is just as strong as the other."
However, James Johnson has decided to pass on the Yellow Jackets. Georgia Tech confirmed on Wednesday that Johnson has decided not to play for the Jackets during his senior season.
Good Medicine
Clemson freshman linebacker Stanley Hunter woke up for one of the Tigers' 5:30 a.m. winter conditioning practices, but never made it out of his dorm room. A change in his medication caused Hunter to have an epileptic seizure.

Hunter, who was aware of his epilepsy before he came to Clemson in January, missed the first half of spring practices but returned on March 24 and immediately impressed coach Tommy Bowden at a position already thin.
"He's got back on medication, they've got him regulated and he's come back out and done really, really well," Bowden said. "With us losing some linebackers, he'll have to play this year for sure. Whether he starts or not remains to be seen."
There are a few openings.
Starting middle linebacker Cortney Vincent was suspended from spring practices for violating an unspecified team and athletics department policy. Reserve Antonio Clay is not in school this semester for personal reasons.
Also missing from spring practice is star running back James Davis, who injured his shoulder in the final practice before the March 13 spring break and will miss the rest of spring practices, "just for precautionary reasons."
Freshmen Diaries
The X's and O's came a little fast for Miami freshman linebacker Arthur Brown, who took his playbook back to his dorm room to study it every night.

Apparently, Brown learned something this spring.
Brown had a team-high eight tackles and grabbed an interception in the Hurricanes' spring game this past weekend and highlighted a talented freshman class expected to contribute soon.
"The biggest thing that shocked me was how much we put in in a little bit of time, with the playbooks and stuff like that," Brown said. "It was a real fast pace to me, but it's something you've got to catch up to speed with. It's something I wasn't necessarily used to coming from high school, but I got the hang of it and I got adjusted. I just started off slow."
Brown wasn't the only freshman linebacker to finish fast. Sean Spence had two interceptions in the spring game, including the game-winner just outside the goal line on the final play against redshirt freshman quarterback Robert Marve.
"The freshmen that came on campus this semester did a great job for us," coach Randy Shannon said. "I think that will help them out for next season. They're not true freshmen, they know the tempo … those guys will be in the mix for the plan next year."
Line Of Succession
While outsiders might want to deem Peter Lalich Virginia's next quarterback, coach Al Groh isn't as quick to put his most experienced returner at the top of the depth chart.

"Put it this way," Groh said, "The coaching staff is probably the only people who haven't anointed the quarterback yet, that have decided what we'll do it on is performance, rather than being anointed. So therefore we're giving all three quarterbacks similar turns in terms of reps and similar turns with each particular unit."
Lalich played in eight of 13 games last year, compared with senior Scott Deke, who has played one game in the past four seasons, and sophomore Marc Verica, who hasn't played yet.
Extra Point

Chris DeGeare, a two-year starter at right guard, was declared academically ineligible and will miss the spring. That will open up an opportunity for redshirt sophomore Russell Nenon, whose experience grew during the final weeks of last season.