The Guy Who Replaces The Guy
Chris Crane is well aware the Boston College quarterback watch has begun.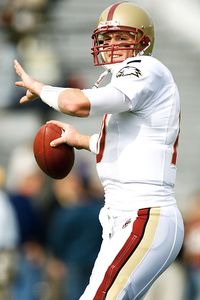 Andy Altenburger/Icon SMI
Chris Crane has the task of filling Matt Ryan's shoes.
After all, there is life after
Matt Ryan
, and Crane happens to be it.
"It's a lot different when everyone is looking at you," he said.
Crane, a senior who has started just one game over the past three seasons, is one of the biggest unknowns in the ACC this season but also the Eagles' most experienced returner and the favorite to win the job.
"A lot of people are looking to the guy who's going to fill Matt Ryan's shoes, and that can be a little ominous," Crane said. "It's hard to follow an act like that, but I've been behind him for a while and I've been dealing with it for the past couple years, but I just have to say I've learned a lot from him."
Crane is a self-described drop-back passer with the size and speed to elude rushers. He said he has met with offensive coordinator Steve Logan about how the playbook will change this season to suit his strengths.
"We've gone over it and we believe that we can create an offense that conforms to what I do best, not what Matt did best," Crane said. "Next year, you'll probably see things that will be the same -- because it worked so well -- and things that are a little bit different, because I do things a little bit differently than Matt, and I'm more comfortable with certain types of plays."
For now, Crane is atop the spring depth chart, but he's getting some competition from redshirt freshman Dominique Davis and junior college transfer Codi Boek. Crane has the edge in experience -- namely eight games in 2006, when Ryan's foot was broken.
"That kind of helped out coming in now," Crane said. "It's not like the first time I've had to almost be the starting quarterback during practice."
Only now he IS the starting quarterback at practice.
Sifting Through The Backs
Tailback Kenny Lewis Jr. already knows what it's like to start in place of Branden Ore -- he did it in the first quarter of the Orange Bowl, when Ore was suspended. Now Lewis is trying to become Ore's permanent replacement. Lewis is one of a host of backs competing for the vacant spot left by Ore, who was dismissed from the team in March.
"When it comes to being on the field, everybody can run the ball," Lewis said. "That's what we're here for. Basically it's getting the experience, the reps and the pass protection is a big key for coach [Billy] Hite. He wants everybody to know who we have on what play, where they're coming from and how to call off the blitzes. Once we recognize that, then you'll be able to see who should be out there."
Redshirt freshman Josh Oglesby had his best spring practice to date on Wednesday, coach Frank Beamer said. Oglesby is in the mix, along with redshirt freshman Darren Evans and Jahre Cheeseman, who Beamer has said is "very steady" this spring.
"I think they'll be OK," Beamer said. "There's no substitute for experience or maturity. Those guys are going to have their hands on the ball on a lot of our plays. They're going to be involved somehow. I don't think there's any question that experience means a lot, but the other side of it is we got good talent. Now we're just going to have to grow, and that part of it is kind of exciting to see how quickly these guys come along."
Beamer also needs some help at receiver, where he lost all four starters. Starting cornerback Victor "Macho" Harris spent the first eight spring practices at receiver before moving back to corner on Wednesday. Apparently, the audition went well.
"We fully expect him to get some plays as a wide receiver next fall," Beamer said. "I think he's got the ability to do it. That's in our plans right now."
Quarterback Tyrod Taylor suffered a mild sprain of his left foot and will be re-evaluated on Monday.
Zoning Out
While much of the attention this spring has been on Paul Johnson's offense, the Yellow Jackets have quietly been tweaking their defense under first-year coordinator Dave Wommack.
Bye-bye blitzes.
Instead of zone blitzing over 80 percent of the time, Wommack's scheme will allow the defensive ends to rush the passer from the edge more, and highlight a veteran line on an otherwise inexperienced defense.
"There's a lot of ways to line up 11 guys on defense," Georgia Tech defensive line coach Giff Smith said. "Coach Wommack coming in has really expanded that coveragewise, a lot of stuff we're doing. I think we'll be able to do a little bit more four-man pressure instead of having to zone blitz all the time."
Giff said he expects Michael Johnson, a 6-foot-7, 260-pound end who can run, to have a "breakout year." Derrick Morgan is the other starting end. Two 300-pound tackles, Vance Walker and Darryl Richard, will also be tough to push around.
Heather Dinich is a college football writer for ESPN.com. Send your questions and comments to Heather at espn.hd@hotmail.com.
Keeping It Tight
Sure, 6-foot-5, 226-pound Wake Forest tight end Ben Wooster knows he has to block, but catching the ball, he said, that's "the best part of the game."

This spring, Wooster is having some fun.
In the Demon Deacons' first spring scrimmage, Wooster racked up 147 yards, including a 63-yard touchdown catch.
It's a sign the position is evolving under offensive coordinator Steed Lobotzke.
"Coach Lobo, the offensive coordinator, has done some great things in the offseason involving the tight ends in the deep game without eliminating the short passing game," said Wooster, who spent last season behind seniors John Tereshinski and Zac Selmon. "It's given me and the other tight ends the opportunity to make some big plays."
Extra Points

It's not a stretch to think Duke quarterback Thaddeus Lewis could finish the season as one of the most productive quarterbacks in the ACC (only Matt Ryan and Cullen Harper threw more touchdowns last year), but in order for that to happen, he has to find somebody to throw to.
And right now, that list doesn't extend too far beyond senior Eron Riley.
Jomar Wright, the team's leading receiver a year ago, has graduated. Raphael Chestnut, who started four of five games before he tore his ACL, hasn't done much this spring. Austin Kelly, who played as a true freshman last year, combined with Sheldon Bell and Jeremy Ringfield for four starts last season.
"We want to pick it up as fast as possible so we can get out here, get more work done and become a better team," said Riley, who started all 12 games. "… The stuff we're learning now is much more complicated with a lot more ins and outs. Now we're trying to learn a concept instead of just a play."

• After averaging just under 100 rushing yards per game last season, the Tar Heels are looking for some consistency out of the backfield this spring.
All three tailbacks -- Greg Little, Ryan Houston and Devon Ramsay -- got at least 10 carries to show what they could do on Monday in the final spring scrimmage. Together they accounted for 137 yards and three touchdowns.
Little, who spent the majority of last season at wide receiver, led the trio of backs with 51 yards on 11 carries.
"I kinda like this running back thing," he said. "I can definitely see myself being here, settling down in the running back position. I feel like I can make big strides there."

• There's more than one important player named "Chris" that Virginia desperately needs to replace. In addition to standout defensive end Chris Long, the Cavaliers also have to worry about losing kicker Chris Gould.
During a season in which Virginia won an NCAA-record five games by two points or less, three points every now and then came in pretty handy.
Out with one Chris, in with another.
So far, redshirt freshman Chris Hinkebein is struggling with his accuracy and consistency, although his kicks have been long enough.
"We're trying to work on some things with him to smooth that out, with style and so forth, but it is a situation of concern," coach Al Groh said. "The field goal kicking was such a significant factor in our success last year. Obviously Chris Long is going to be tremendously missed, but we're acutely aware of the tremendous impact Chris Gould had on the team, and if there's a dramatic drop-off in that production how it could significantly affect -- not necessarily how the offense and defense perform -- but what the scoreboard looks like at the end of the game."

• Last year's starting quarterback got the fewest reps in the Terps' one-hour scrimmage on Sunday, when Chris Turner threw the ball just three times. After five concussions and inconsistent play have marred his career, it's the last chance for senior Jordan Steffy to run Maryland's offense. Coach Ralph Friedgen said Steffy "made a move" on Sunday when he completed 8 of 10 passes for 65 yards.
"It would mean a lot [to start], that's what I'm playing for," Steffy said. "I'd be a fool going into the season content with how things are going."